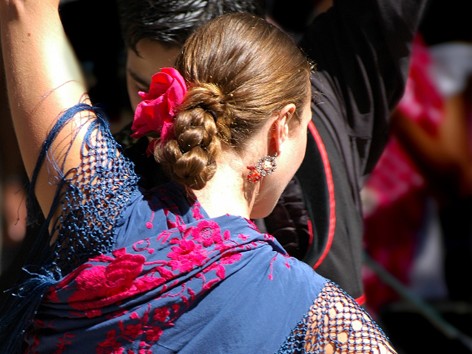 GeoStats:
Population: 40,491,051
Passport/Visa Requirements: Passport needed by citizens of the U.S. and Canada. A tourist visa is not required for a visit of up to three months.
Predominant Religion: Christian (Roman Catholic)
Languages: Castilian Spanish (official), Catalan, Gallego, Basque, local dialects.
Time Zone: 1 hour ahead of Greenwich Mean Time (+1 GMT).
Voltage Requirements: 220 volts. 50 Hz.
Telephone Codes: 34, country code; 91, city code for Madrid; 93, city code for Barcelona.
Key Events
topSan Sebastian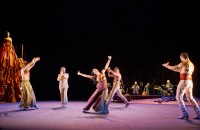 March
This enormous performing arts showcase is gaining an international reputation.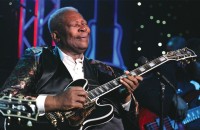 Third week of July
Known as Jazzaldia, this is one of Europe's oldest and most respected jazz festivals, attracting internationally famous musicians.
Semana Grande Fiesta
Mid August
San Sebastian's biggest annual festival features open-air concerts, Basque sporting events, street parties and nightly fireworks.
Late September
Now in it's 58th year, this festival attracts well-known film personalities from around the world.
topPamplona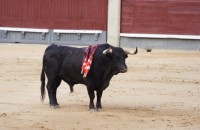 Festival of San Fermin
July 6-14
For a week this normally quiet town explodes to life, beginning each day with the running of the bulls (encierro), followed by bullfights and late-night celebrations.
topBarcelona
Spanish Formula One Grand Prix
May/June
International motor race held annually at the Circuit de Catalunya.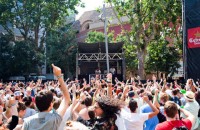 Mid June
This festival of advanced music and multimedia art is Europe's biggest electronic music event.
July
Named for one of its main venues, Teatro Grec, this is Catalonia's biggest festival of theater, music and dance, pulling top performers from all over the world.
Feast of St. Joan
June 23
The "Night of Fire" celebrates the summer solstice with bonfires, parties, traditional cakes, and fireworks off Montjuic.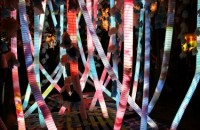 Festa Major
Mid August
During this week-long festival, the residents of Barcelona's Gracia district compete with each other for best-decorated street. Other events include parades with giant carnival figures, castellers creating human pyramids, live bands, food stalls, dancing and children's games.
La Mercè
Week around September 24
This massive five-day street festival held in honor of Barcelona's patron saint features parades, dances, concerts, and correfocs (fire runs) where individuals dressed as devils run through the crowd bearing sparklers.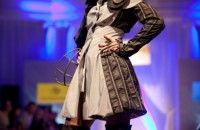 Mid February and early September
Women's and men's fashion shows, featuring top designers.
Fiestas de San Isidro
Mid May-Mid June
This series of festivals are Madrid's most lively. Events include the Fiesta Taurina (Spain's most important bullfighting fair), concerts, open-air dances, local costumes, and a traditional pilgrimage to drink "miraculous" water from the saint's hermitage.
Autumn Festival in Spring (Festival de Otoño en Primavera)
Formerly held in Nov, but as of 2010 occurs May-June
A five-week festival featuring Spanish and international theater, music and dance.
topSevilla
Semana Santa (Holy Week)
The week between Palm Sunday and Easter is honored in a big way here, with over 100 gilded floats paraded through the streets by masked celebrants in tall, pointed caps.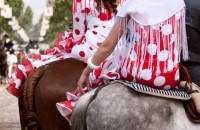 Feria Avril
Two weeks after Easter
Local clubs and neighborhood groups set up entertainment booths along the river for a week of late-night partying. Traditionally dressed riders parade on horseback each day from around 1pm.
Corpus Christi
Early June
Small boys known as the seise sing and perform traditional dances front of the cathedral's main altar, dressed in red and gold Baroque costumes.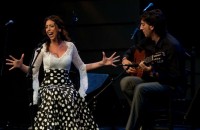 September, even years only
Top flamenco artists perform at this two-week festival, considered one of the world's most important flamenco-related events.
topJerez de la Frontera
Feria Internacional del Caballo
Mid May
Horse fair showing Andalucía at its most traditional, with daily parades of brightly costumed riders.
Grape Harvest Festival
First week of September
The nation's sherry capital celebrates the new crop with flamenco dances, equestrian displays and street entertainment.
topCórdoba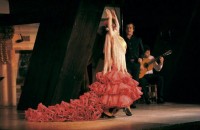 National Flamenco Competition
Mid-May every third year (next is in 2013)
This is the principal competition of its type in Spain, with prizes for song, dance and guitar categories.
Patio Festival
Early-mid May
Córdobans open their homes and patios to the public during this city-wide search for the most beautifully designed patio.
First two weeks of July
Each July, Córdoba becomes the "city of the guitar," with classes and workshops along with concerts by internationally famous musicians.
International Folklore Gala
Late August-early September
This prestigious event attracts folk singers and dancers from all over the world. Most performances are free.
topAround Spain
Fallas Fesival (Valencia)
Mar 15-19
In honor of St. Joseph, patron saint of carpenters, enormous wood and papier-mâché puppets are built, paraded, displayed and then set ablaze. Fireworks, street parties and processions complete the festivities.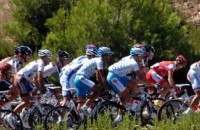 Late August-mid September
This annual three-week bicycle race is part of cycling's Grand Tour, along with the Tour de France and the Giro d'Italia.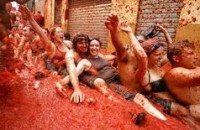 Last Wednesday of August
This week-long festival includes paella competitions, parades, music and fireworks, cumulating in the world's biggest tomato fight.
Copyright 2013 MyLittleSwans, LLC. All rights reserved. My Little Swans, the logo and Share a world of experience are registered Trademarks of MyLittleSwans, LLC. Use of this site constitutes acceptance of our Terms of Use and Privacy Policy.