The Nile Valley
topAbu Simbel
Aswan Governate
6am-5pm

Ramses II built his temples far up the Nile, well past any other monuments, in order to impress and intimidate his southern neighbors, the Nubians. The temples at Abu Simbel were relocated by UNESCO in the 1960s, when Lake Nassar threatened to engulf the site. They are now 688 feet back and 213 feet above their original position.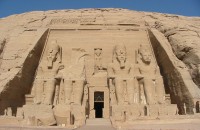 Great Temple of Abu Simbel
Hewn out of solid rock, this awe-inspiring temple was built in the 13th century BC as a monument to Ramses II. The façade features four colossal statues of the pharaoh enthroned, while the inner sanctum shows Ramses II seated with the gods of the great Egyptian cities.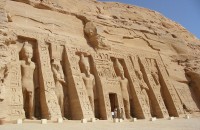 Temple of Hathor
Dedicated to the goddess Hathor, this smaller temple was built by Ramses II to honor his favorite wife Nefertari.
In ancient times, Egypt's southernmost city was a strategic military base and prosperous marketplace. Located downstream from the First Nile Cataract on a lovely portion of the river, it's a very relaxing place to visit. Aswan also boasts a particularly impressive souk.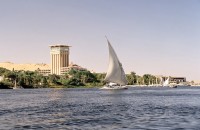 Elephantine Island
The oldest inhabited part of Aswan, this island was once a cult center for the worship of Khnum, the ram-headed god who created humankind. Three traditional Nubian villages now occupy the island's center.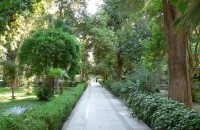 Kitchener's Island
Covered with lush botanical gardens, Kitchener's Island is a lovely place to relax or stroll.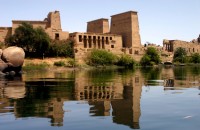 Island Temple of Philae
Once located on the island of Philae, this complex of temples was relocated to the island of Agilika to avoid the rising waters of Lake Nassar. The main building is the magnificent Temple of Isis, which combines ancient Egyptian and Greco-Roman styles.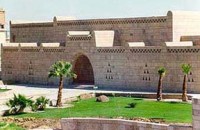 Off road to Aswan Dam
Daily 9am-1pm, 5-9pm (6-10pm summer);9am-3pm during Ramadan

This museum traces civilization in Nubia (the area between Aswan and Khartoum, Sudan) from its earliest settlements to the present day.

Aswan High Dam
Completed in 1970, this dam generates a large portion of Egypt's electricity; however, its construction threatened to submerge a number of ancient Egyptian and Nubian monuments. 24 of these were moved to safer locations or granted to countries who assisted with the project. The dam also submerged 300 miles of the homeland of the indigenous Nubian tribes, who had lived here for thousands of years and developed their own language, architecture, music and traditional jewelry.
topKom Ombo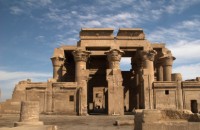 Temple of Kom Ombo
This Greco-Roman temple is remarkable for its beautiful setting and its symmetry – it has two of everything. The left side honors the falcon god Haroeris; the right side is dedicated to Sobek, the local crocodile god.
Almost exactly halfway between Luxor and Aswan, Edfu was sacred to the Egyptians as the site of a mythical battle between the falcon god Horus and Seth (who murdered Horus' father Osiris).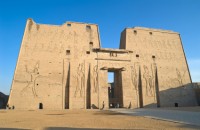 Temple of Horus
The largest and best-preserved Ptolemaic temple in Egypt. Though built in 237BC, it closely imitates much older Pharaonic designs.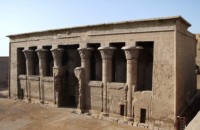 Temple of Khnum
Built in Greco-Roman times to resemble an 18th-Dynasty temple, this structure is dedicated to the ram-headed god Khnum, who created mankind out of Nile clay. The Roman hall features a marvelously detailed zodiac ceiling.
A wealth of important and fascinating ancient monuments has made this bustling city a tourist mecca.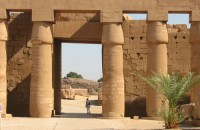 Temple of Karnak
Sgarua al-Karnak
2 mi NE of Luxor
Summer: 6am-6:30pm daily
Winter: 6am-5:30pm daily

Ancient Egypt's most important temple was dedicated to Amun, king of the gods. Built over 1300 years, the site grew increasingly large and complex as pharaoh after pharaoh made their mark. With colossal statues, exquisite carvings and a great hall supported by 134 giant columns, Karnak doesn't fail to impress.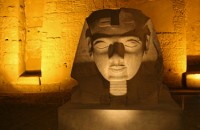 Karnak Sound and Light Show
Summer: 7:30pm, 8:30pm and 10pm
Winter: 6:30pm, 7:30pm and 9pm

The temple's complicated history is explained in this spectacular show, performed in several languages.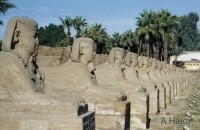 Temple of Luxor
Corniche el-Nil
Summer: 6am-10pm daily
Winter: 6am-9pm daily

On the Nile banks in the center of town, this elegant temple is approached by an avenue of sphinxes. At the entrance stands an 82-foot-tall pink granite obelisk; within, highlights include colossi of Ramses II, the superb papyrus colonnade in the Court of Amenhotep III, and the 13th-century Abu al-Haggag Mosque.
Luxor Museum
Corniche el-Nil
Tel: +20 095 370 569
9am-1pm, 4-9pm daily (5-10pm summer): 9am-3pm Ramadan

This museum houses an excellent collection of artifacts found in the Luxor area. Beautifully preserved New Kingdom statues are on display in the impressive new ground-floor hall.
Across the Nile from modern Luxor, the Theban necropolis is perhaps the world's richest archaeological site.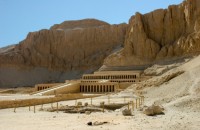 Temple of Hatshepsut
6am-5pm daily

Backed by sheer limestone cliffs, this impressive monument to Queen Hatshepsut rises from the desert floor in a series of terraces. Though the temple was damaged by later pharaohs, much exquisite decoration remains.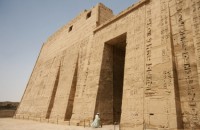 Medinet Habu
This seldom-visited temple is second only to Karnak in size and detail, and features a number of colorful, well-preserved reliefs.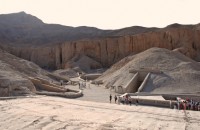 Valley of the Kings
7am-5pm daily
Ticket at West Bank kiosk is valid for 3 tombs only
Separate ticket for Tomb of Tutankhamun at Valley of Kings kiosk
Tickets for photography required at each tomb

New Kingdom pharaohs were buried here in the hopes that the remote location would deter tomb robbers. Nearly every burial chamber was raided, (Tutankhamun's being one notable exception), but the lavishly decorated chambers and corridors are stunning in themselves.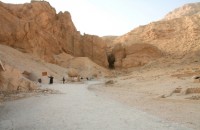 Valley of the Queens
7am-5pm daily

This valley contains nearly 80 tombs of royal wives and children, though only a few are open to visitors at any one time. The most famous is the glorious Tomb of Nefertari, regarded as the most beautiful tomb in Egypt.
topDendara
Dendara was the cult center of Hathor, the goddess of pleasure and love.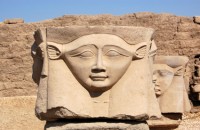 Temple of Hathor
This remarkably intact Greco-Roman temple imitates Pharaonic style. Highlights include richly detailed ceilings, and Hathor-headed columns in the hypostyle hall.
Copyright 2013 MyLittleSwans, LLC. All rights reserved. My Little Swans, the logo and Share a world of experience are registered Trademarks of MyLittleSwans, LLC. Use of this site constitutes acceptance of our Terms of Use and Privacy Policy.