Angra dos Reis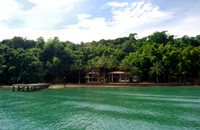 The stunningly beautiful Costa Verde ("Emerald Coast") stretches for miles just southwest of Rio. Named for the lush vegetation that covers the hills all the way down to the sandy shores and turquoise waters, this is one of Brazil's most scenic places. Though only 35 minutes from Rio by helicopter, it is still relatively undiscovered, offering both pristine rainforest and remote beaches.
The largest city on the coast, Angra dos Reis, is surrounded by some 365 islands and thousands of hidden inlets and coves. Accommodations are on the rustic side – think "James Bond" meets "Robinson Crusoe" – but there are an increasing number of chic, comfortable pousadas, or you can arrange to stay in a private villa. Our partner will provide you with your own boat and crew for exploring the islands and beaches, along with a personal host/guide.
topIlha Grande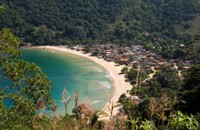 This 75-square-mile island is a nature preserve, kept unspoiled through ecological practices and a ban on motor vehicles. The dense jungle is home to exotic wildlife like parrots and monkeys – walking trails lead to waterfalls, secluded beaches and hilltop vistas.
60 miles southwest of Angra dos Reis
Used up until the 18th century as a port for exporting gold from Minas Gerais to Portugal, this UNESCO-listed town is a well-preserved colonial gem. Brightly painted houses line the picturesque courtyards and cobblestone streets. It's an ideal place to wander around, with a handful of interesting historic buildings to explore.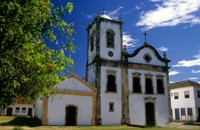 Igreja de Santa Rita
Rua Santa Rita
Open Wed-Sun 9am-noon and 2-5pm
Built in 1722 for use by the freed mulatto population, this is the oldest of Paraty's churches and a classic example of Brazilian baroque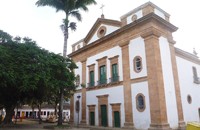 Igreja Nossa Senhora dos Remédios
Rua da Matriz
Open Tue-Sim 9am-noon, 2-5pm
This neoclassical 1787 building is Paraty's main church, and home to a modern art gallery,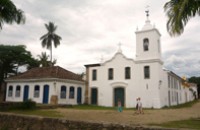 Igreja das Dores
Open daily 1-5pm
Dating from 1800, this small, graceful church was built for Paraty's elite. There's a fascinating cemetery in the courtyard.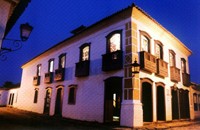 Rua Dona Geralda 177
Open Mon and Wed-Sun 10am-6:30pm
A beautifully maintained museum of the people and history of Paraty, with a gift shop selling locally made crafts.
Forte Defensor Perpétuo
A 20-minute walk north of town, this fort was built in 1703 to protect the town from pirates. It offers lovely views of the bay and houses a folk-arts center.
topAccommodations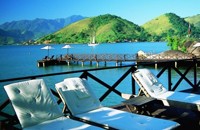 Estrada Vereador Benedito Adelino, 3700
Angra dos Reis
Telefax: +55 24 3364 2005
Exclusive boutique hotel with 27 bungalows facing the sea. Private beach, swimming pool, spa.
Copyright 2013 MyLittleSwans, LLC. All rights reserved. My Little Swans, the logo and Share a world of experience are registered Trademarks of MyLittleSwans, LLC. Use of this site constitutes acceptance of our Terms of Use and Privacy Policy.