Salvador da Bahia
Founded in 1549, Salvador was the original capital of Brazil, chosen for its strategic location on a cliff overlooking a large bay. Today it is the capital of the state of Bahia. Home to some of the finest colonial architecture in South America, Salvador is also known for its vibrant Afro-Brazilian culture. This African influence is seen everywhere from the unique Bahian cuisine, to the distinctive music and crafts, to the widely practiced Afro-Brazilian religious cult of candomblé.
The annual festivals – of which there are many – often share aspects of both candomblé and Catholicism. Salvador's Carnival features afoxés (groups of candomblé practitioners) carrying images of their African deities, and the Feast of Bonfim, celebrated in January, is dedicated to both Our Lord of Bonfim and the candomblé counterpart, Oxalá. If there isn't a festival happening during your visit, it's possible to attend a private candomblé ceremony, featuring ecstatic rituals of drumming, dancing and singing. Another local tradition worth experiencing is capoeira, a foot-fighting martial art disguised as a dance.
Salvador is the birthplace of Brazilian popular music, producing strongly rhythmic and percussive genres like axé, tropicalismo and afoxé that fuse African and Brazilian styles. With such an emphasis on music, dancing and celebrations, it's not surprising that Carnival here is considered one of the best in Brazil, rivaled only by the festivities of Rio and Olinda.
Salvador is divided into two areas, the historic Cidade Alta (Upper City) and the newer Cidade Baixa (Lower City), connected by steep streets and the massive Art-Deco Carlo Lacera elevator. Cidade Alta contains most of the city's colonial churches and museums, and is the cultural heart of Salvador, while Cidade Baixa is largely commercial.
topCidade Alta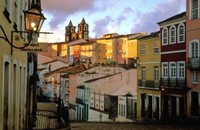 Largo do Pelourinho (Pillory Square)
A UNESCO World Heritage site, this district houses the most important collection of colonial buildings in the Americas. The charming cobblestone streets, lined with stunning churches and pastel-painted mansions, are an excellent place to wander. Pelourinho is also the center of Salvador nightlife, with a number of bustling bars and live music every night of the week (especially Tuesdays).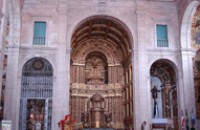 Catedral Basilica
Terriero de Jesus
Open Mon-Sat 8:30-11:30am and 1:30-5pm
This 17th century Jesuit church is the largest of the old center's famous churches. The gorgeous interior features a paneled, gilded ceiling and a striking gold-leaf altar.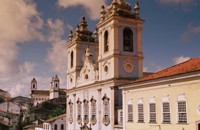 Igreja de Nosso Senhora do Rosario dos Pretos
Largo do Pelourinho
Open daily 9am-6pm
Begun in 1704, this Rococo-style church was constructed by and for slaves, who were not allowed in the city's other churches. Lively services are held on Tuesday evenings.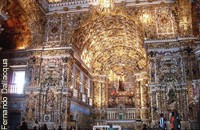 Igreja de São Francisco
Largo do Cruzeiro de São Francisco (also known as Praça Anchieta)
Open Mon-Sat 8:30am-5:30pm, Sun 7am-5pm
Dripping with gold leaf and hand-painted Portuguese tiles, this opulent Baroque church is one of the most extravagant in the Americas. The cloister features more exquisite tiles, depicting the marriage of the king of Portugal.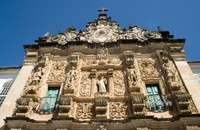 Igreja de Ordem Terciera de São Francisco
Next door to the Ingreja de São Francisco, this church is notable for its elaborate, high-relief Baroque façade and its reliquary, decorated in ornate 1940s Art Deco style.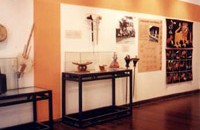 Terreiro de Jesus / Former School of Medicine complex
Tel: +55 71 3283 5540
Open Mon-Fri 9am-6pm, Sat-Sun and holidays 10am-5pm
This fascinating museum is devoted to African traditions and beliefs, and highlights the many African contributions to Brazilian culture. The collection include musical instruments, sculpture, costumes, textiles, and exhibits on popular religion and capoeira.
Museu de Arte Sacra
Santa Teresa Convent, Rua do Sodré 276, just south of Pelourinho
Housed in the 17th century convent of Santa Teresa, this is one of the finest museums of Catholic art in Brazil. The convent itself is exceptional, with many of the furnishings still intact, and the galleries, surrounding a quiet cloister, are filled with hundreds of icons, statues and paintings.
topCidade Baixa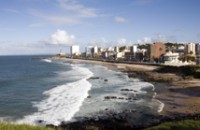 Praia da Barra
Salvador's city beach is lined with convivial bars and cafes. At one end is the famously picturesque lighthouse, "Farol de Barra," which offers a nautical museum and great views of the bay.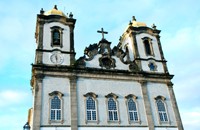 Igreja do Nosso Senhor do Bonfim
Known locally as Igreja do Bonfim, this large, rather plain church is fascinating for its role as a pilgrimage site and the focal point for religious festivals, such as the massive Lavagem do Bonfim ("washing of Bonfim") festival in January. The church is popular with both Catholic and candomblé practitioners, who come by the hundreds to pray for blessings. Small children gather outside the church selling fitas (brightly colored ribbons) to wear on your wrist for luck. Inside, the "Miracle Room" is covered with photos of supplicants, with notes attached requesting divine intervention or giving thanks, along with plaster, wood or silver casts of afflicted body parts.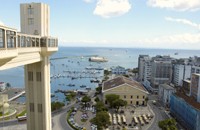 Mercado Modelo
Open Mon-Sat 8am-7pm, Sun 8am-noon
Located right near the Elevator Lacerda, this former customs building is well known for its large arts and crafts market. Though touristy, it's still very enjoyable, with the bustle of the market enhanced by music and capoeira performances. The merchants are eager, but friendly and not overly pushy. Don't be afraid to barter.
topAccommodations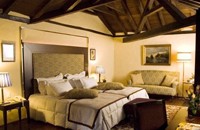 Pelourinho, Rua do Carmo, nº 1
Tel: +55 71 3327 8400
Located in a former Carmelite friary dating from 1586, this is Salvador's first luxury historic hotel, combining striking colonial architecture with elegant furnishings and sophisticated services.
Copyright 2013 MyLittleSwans, LLC. All rights reserved. My Little Swans, the logo and Share a world of experience are registered Trademarks of MyLittleSwans, LLC. Use of this site constitutes acceptance of our Terms of Use and Privacy Policy.