The Pantanal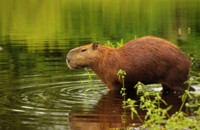 Spreading over large portions of Matto Grosso and Matto Grosso del Sul and into Paraguay and Bolivia, the Pantanal is the largest freshwater wetland in the world. The area teems with wildlife, far more readily visible here than in the deep forests of the Amazon – especially during the dry season, when animals cluster at the lakeshores and riverbanks. While the Pantanal lacks the types of famous game you'll find on an African safari, an excursion here might yield a jabiru (the world's largest stork), herds of capybara (the world's largest rodent), giant anteaters, giant otters, alligators, hundreds of bird species including macaws and toucans, several varieties of monkeys, even tapirs and jaguars if you're lucky.
We recommend a three-night stay, with boat, jeep and night safaris combined with aerial sightseeing. To avoid a long drive from the main airport, our partner suggests a charter flight from the airport to your lodge.
topAccommodations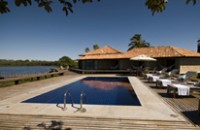 Luxury accommodations are scarce here, but Caiman Lodge offers two charming, comfortable lodges which can be rented out as private villas, while offering full hospitality services. Both feature swimming pools, large, well-equipped dining/living areas, air conditioning and hot water. Cordilheir Lodge has 5 double suites with balconies; Baiazinha Lodge offers 6 standard rooms, with balconies overlooking a lake.
Copyright 2013 MyLittleSwans, LLC. All rights reserved. My Little Swans, the logo and Share a world of experience are registered Trademarks of MyLittleSwans, LLC. Use of this site constitutes acceptance of our Terms of Use and Privacy Policy.