Jordan
Largely landlocked and mostly desert, Jordan also contains portions of the fertile Jordan River and the coral-rich Gulf of Aqaba, and has been home to numerous ancient civilizations. Now a constitutional monarchy, it's one of the most liberal countries in the region, but still very Arabic in flavor. For many travelers, Jordan is synonymous with Petra, the famous lost city. While no visitor should miss this awe-inspiring place, Jordan offers plenty of other cultural and geological treasures. During our five days here, we visited wind-carved wadis, Greco-Roman ruins, historic biblical sites and ancient Christian churches, and still didn't see it all. We spent most of our time exploring the capital city of Amman and the deserts of central and south Jordan – we were completely fascinated by Petra, but our day in Wadi Rum, complete with petroglyphs, camel rides and lunch at a Bedouin camp, might have been the kids' favorite.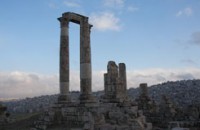 The modern and ancient capital of Jordan, Amman is one of the world's oldest continuously inhabited cities, and many civilizations – Nabatean, Roman, Christian and Arabic – have left their mark. Scattered around the city's seven hills (or jabals) are majestic Roman ruins, Byzantine churches and some of the most elaborate mosques in the Middle East, surrounded by bustling souks and the homes and office towers of a thriving modern metropolis.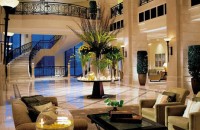 5th Circle, Al-Kindi Street
Jabal Amman
Amman, Jordan
Tel: +962 (6) 550-5555
Fax: +962 (6) 550-5556
Arguably Jordan's most luxurious hotel, with a hilltop location offering panoramic views. Indoor and outdoor pools, full-service spa.
Restaurants
Seasons
Breakfast 6:30-11am, Lunch 12:30-4pm, Friday brunch 1-4pm.
Buffet serving Arabic and international specialties, overlooking a landscaped terrace.
Asia
Lunch 12:30-3pm, Dinner 7-11pm
Contemporary Asian cuisine in a stylish room with views of the city. Smart casual attire.
Vivace
Lunch Sun-Thu 12:30-4pm, Dinner 7-11pm
Classic Italian cuisine in a casually elegant setting. Smart casual attire.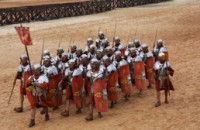 30 miles north of Amman, Jerash is the largest and best-preserved Roman architectural site outside of Italy. Traces of civilizations have been found here dating back to Neolithic times, but the area reached its golden age during Roman rule, beginning with Emperor Pompey in 63 BC. Over the next three centuries, numerous temples, civic buildings, colonnades and arches were built. Abandoned around 800 AD, the city lay buried in sand for centuries, which accounts for its remarkable preservation. Highlights include Hadrian's Arch, the Hippodrome (where horse racing was held), the Temple of Zeus, and the Forum, notable for its oval shape.
topKing's Highway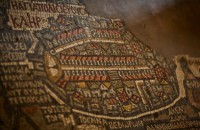 This 5,000-year-old route between Amman and Petra is rich with historic sites, from biblical to Byzantine. Be sure to stop at Madaba, "City of Mosaics," to view the world's oldest map of the Holy Land. Other worthwhile stops are Mt. Nebo, said to be the burial place of Moses, and the crusader castles at Shobak and Kerak.
The ancient city of Petra astounds visitors with its size and grandeur, the mystery of its origins and the splendour of its surroundings. The capital city of the Nabatean civilization, Petra's 800 buildings, tombs and monuments were carved out of the solid rock walls of Wadi Araba between the 3rd century BC and 106 AD. The narrow, twisting crevasses that lead to the city kept it hidden from Western eyes for over a thousand years, until it was discovered by a Swiss explorer in 1912.
Today, visitors arrive to Petra via the Siq, a narrow gorge leading into the city. Nighttime tours of Petra are available, and an amazing experience – the city is even more magical by candlelight. Be sure to bundle up for this walk, especially in the winter. Petra covers a vast area – the walk through the site is over 5 miles – and visitors could easily spend several days here, hiking around to various monuments and scenic viewpoints. However, the major sites can all be seen in a day. Highlights include the Treasury, the Royal Tombs, Petra Church, the Amphitheater and the Monastery.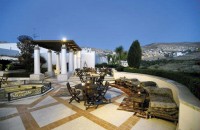 P.O. Box 214
71810
Petra
, Jordan
Tel: +962 3 215 7111
Fax:+962 3 215 7112
Email: resort.petra@moevenpick.com
The leading hotel in the Petra area, this resort is ideally located right at the entrance to the National Park. Swimming pool, roof garden, gym, shopping arcade.
topRestaurants
Al Iwan
Movenpick Resort
Dinner only, 7-11:30pm
Reservations: +962 3 215 7111
Award-winning Mediterranean cuisine in a luxurious atmosphere.
Al Saraya
Movenpick Resort
Reservations: +962 3 215 7111
Breakfast 6:30-10:30am, Lunch 12:30-3:30pm, Dinner 6:30-11:30pm
This restaurant offers a sumptuous breakfast buffet and international classics for lunch and dinner.
The Basin
Located within the old city of Petra at the foot of the Monastery hill. Superb food in an enchanting setting. Lunch only.
topWadi Rum
Known to Arabs as the Valley of the Moon, this desert valley is famous for its natural beauty and awe-inspiring geological formations, sculpted by thousands of years of wind and rain. Numerous ancient civilizations have also carved these rocks –Thamudic, Greek and Nabutean inscriptions and petroglyphs are everywhere. The British officer T. S. Lawrence was based here during the Great Arab Revolt of 1917-18 – some of the most memorable scenes from the film Lawrence of Arabia were filmed in Wadi Rum. Today the Wadi is home to several Bedouin tribes and is a popular climbing and trekking destination. We spent a very memorable day here: we had lunch at a Bedouin camp, took a camel ride into the desert, and were driven by 4x4 vehicle to several of the sites. On another visit, when we have more time, we plan to come back during the warmer months and stay at a desert camp.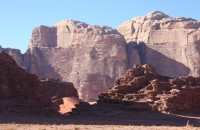 Highlights of the Wadi Rum include the Seven Pillars of Wisdom, Khazali Canyon in Jebel Khazali, Um Fruth Bridge, Burdah Bridge, and the Anafashieh inscriptions.
Copyright 2013 MyLittleSwans, LLC. All rights reserved. My Little Swans, the logo and Share a world of experience are registered Trademarks of MyLittleSwans, LLC. Use of this site constitutes acceptance of our Terms of Use and Privacy Policy.