Lima
Most travelers pass through Lima on the way to somewhere else, but it's worth spending at least a day exploring the sights and history of this vast city. At one time it was the capital not just of Peru, but of the entire Spanish Empire in South America. Founded by Spanish conquistador Francisco Pizarro in 1535, it features elegant colonial mansions, historic churches and convents, and a wealth of pre-Columbian archeological treasures. Most of the important historic buildings are in Central Lima (look for the iconic wooden balconies, a prominent feature of Colonial Lima), while the major museums are scattered around the outskirts. Bustling Miraflores is the city's commercial hub; trendy, bohemian Barranco offers lively bars, restaurants and cafes; chic San Isidro is the preferred address of the wealthy. To the south, a string of beaches attract surfers, swimmers and sunbathers, especially during the haze-free months of December and January.
topCentral Lima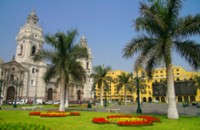 Plaza Mayor
Known until recently as Plaza de Armas, this is has been the site of many major events, from the founding of Lima, to public executions during the Spanish Inquisition, to Peru's declaration of independence in 1821. A number of historic buildings surround the square, including the cathedral, the Archbishop's palace (known for its elaborately carved, Moorish-style balconies) and the presidential residence.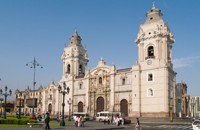 La Catedral
Plaza Mayor
Pizarro carried the first log for the construction of this cathedral, begun in 1535 but halted by numerous earthquakes over the years. The elaboate Baroque structure was completed in 1758, but had to be reconstructed after another major earthquake in 1940. The interior is relatively sedate – highlights include the intricately carved choir stalls and the mosaic-covered chapel containing Pizarro's tomb.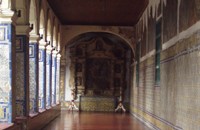 Jirón Ancash at Lampa
Museum and convent open daily 9:30am-5:45pm
Encompassing a church, cloisters, and two chapels, this colonial complex is filled with notable art and architecture. The cloister is lined with exquisite azulejos tiles from Seville, and features a machimbrado ceiling (mahogany pieces fitted together without nails) and frescoed walls. Other items of interest include the library, containing some 20,000 volumes of books from the 15th-18th centuries; the church's high altar, capped by a Moorish-style dome; and the maze of catacombs, with stacks of bones laid out in decorative patterns.
Iglesia de San Pedro
Jirón Ucayali at Azángaro
Built in 1636, this Jesuit church is an exceptionally fine example of early Colonial architecture. The simple exterior belies its elaborate interior, featuring gilded altars and ornate side chapels decorated with glazed tiles and Peru-school paintings.
topMajor Museums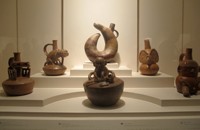 Av. Bolivar 1515, Pueblo Libre
Tel: +51 (0)1 461 1312
Open daily, 9am-10pm; December 24-26 and Jan 1, 9am-6pm.
If you visit only one museum in Lima, make it this one. Surrounded by gardens, this 18th-century viceroy mansion houses an excellent museum of pre-Columbian art. Though it's one of the largest private collections in the world, the museum is very digestible. On exhibit are a well-displayed assortment of pre-Columbian ceramics (including the famous collection of erotic pottery) along with exquisite gold and silver jewelry, and feathered and woven textiles, including an ancient fragment from Paracas with a record breaking 389-per-inch thread count.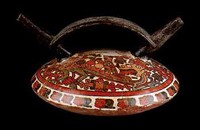 Museo Nacional de Arquelogica, Antropologica, e Historia de Peru
Plaza Bolívar, corner of San Martín & Vivanco, Pueblo Libre
Tel: +51 (0)1 463 5070
Open Tue-Sat 9am-5pm, Sun and Holidays 9am-4pm
Peru's oldest state museum houses a large and comprehensive collection of artifacts tracing the history of Peru from pre-Hispanic times through the Republican period. Highlights include an important collection of mummies and funerary bundles, intricately carved obelisks, and ceramics from the Nazca and Moche cultures. A blue line leads from this museum to the Lorca museum.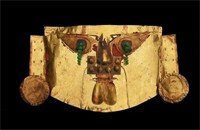 Alonso de Molina 1100, Monterrico
Tel: +51 (0)1 345 1292
Open daily 10:30am-6pm
If you didn't get your fill of golden earrings and masks or tapestries made of parrot feathers at the Larco museum, this private museum's huge display is sure to satisfy you. Exhibits are not well labeled, so an audio guide is recommended. There's also a vast collection of firearms and other weapons from around the world. The museum was hit by scandal in 2001, when the tourism protection board declared that most of the pre-Columbian gold pieces were fakes. It has since reopened with the assurance that all pieces are now genuine.
Museo de la Nación
Av. Javier Prado Este 2465, San Borja
Tel: +51 (0)1 476 9878
Open Tue-Sun 9am-6pm
Housed in a formidable concrete building, this museum offers a rich overview of Peru's ancient cultures, displayed chronologically on its three floors. Exhibits include a scale model of Machu Picchu and a replica of the Lord of Sipan burial site. It's a good place for travelers to get prepared for the important archaeological sites they're about to visit (or learn about those they won't have time to see).
topMiraflores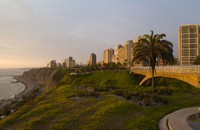 Lima's major commercial district is chock-full of shops, theaters, restaurants and clubs. The main shopping street is Avenida Lorca, while pedestrian San Ramon alley is filled with bars and sidewalk cafes. To the southwest, several beaches attract throngs of city dwellers during the summer months.
Parque Central
Parque Central is made up of two parks – Parque Kennedy and Parque 7 de Junio. Lined with artists and food vendors selling their wares, this wedge-shaped green space between Avenida Lorca and Diagonal is very popular with locals. On weekends, the park hosts a craft market, and couples flock here by the dozens to dance in the amphitheater.
Huaca Pucllana
Avenida General Borgoño, Cuadra 8
Open Wed-Mon from 9am-5pm

You don't need to leave Lima to view ancient ruins – this 1,500-year-old pyramid is right in the middle of Miraflores. Originally built by the Lima culture as a religious and administrative center, it was used for a variety of ceremonies, including human sacrifice and rituals involving the smashing of pottery. After being abandoned by the Lima around 700 AD, it was taken over by the Wari people, who used it as a burial place for their elite and a shrine. A wealth of remains and artifacts have been uncovered here, and excavations are still taking place.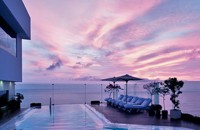 Av. Malecón de la Reserva, Miraflores
Tel: +51 (0)1 610 4000
Nearly all the rooms in this fashionable five-star hotel have ocean views. Rooftop pool.
topRestaurants
Calle Cantuarias 175, Miraflores
Tel: +51 (0)1 242 5387
Reservations recommended.
Consistently rated as one of Lima's best restaurants. Acclaimed chefs Gaston Acurio and his wife Astrid are renowned for combining uniquely Peruvian delicacies from the coast, the Andes and the Amazon with the best of French, Spanish and Japanese gourmet cuisine.
Avenida General Borgoño, Cuadra 8, Huaca Pucllana, Miraflores
Tel: +51 (0)1 445 4042
This serene restaurant serves nouveau Peruvian cuisine in a breathtaking location overlooking the ruins (which are illuminated at night). Ask to be seated on the covered terrace.
topBarranco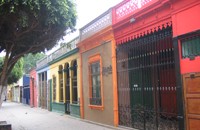 In the 19th century, Lima's elite chose this seafront neighborhood as the place to build their summer homes. These days, it's known as Lima's bohemian district, with houses, churches and municipal buildings painted in bright colors. Though many of the old mansions are crumbling, others have been renovated as part of a beautification program. The area abounds with chic, cozy restaurants and cafes, many along the Bajada de Banos footpath that leads to the sea. Stretching above the footpath is the Puente de los Sospiros (Bridge of Sighs), a favorite local landmark. Charming and tranquil during the daylight hours, Barranco comes alive at night, offering a large concentration of bars and clubs.
topRestaurants
Garcia y Garcia, 175, Barranco
Tel: +51 (0)1 619 9595
This exclusive culinary secret was started by Luis Alberto Sacilotto, the inspired Argentine chef. The hip, beautifully designed restaurant specializes in fresh seafood plates and other Limeño specialities.
Playa Barranquito, Circuito Vial Costa Verde, Barranco
Tel: +51 (0)1 252 9187
This sleek new restaurant and lounge overlooking the beach delivers what it calls "costa fusion," meaning adaptations of Peruvian coastal and Limeño dishes with largely Mediterranean influences.
Copyright 2013 MyLittleSwans, LLC. All rights reserved. My Little Swans, the logo and Share a world of experience are registered Trademarks of MyLittleSwans, LLC. Use of this site constitutes acceptance of our Terms of Use and Privacy Policy.