Amazon Rainforest
When most people hear "Amazon," they think of Brazil, but this massive tropical forest reaches into a number of South American countries, and covers half of Peru. Abundant wildlife is the reason to visit – a greater number of species lives here than anywhere else on earth. Jungle lodges provide charmingly rustic accommodations and naturalist guides who can tell you about the flora and fauna. On river excursions and jungle hikes, you'll have the chance to see brightly colored parakeets and macaws, nimble squirrel monkeys and red-maned howlers, caiman and giant river otters, perhaps even a jaguar or tapir. The thick vegetation means animals are harder to spot than on, say, an African safari, so patience, binoculars, and a skilled guide are key, but the experience makes for a unique and fascinating adventure. The forest is also home to indigenous tribes who still live in the traditional way – some have embraced ecotourism, and welcome visitors into their homes and villages; others remain isolated, on land prohibited to travelers.
topSouthern Amazon
This is the most ecologically diverse region in the Amazon, and therefore, in the world. The concentration of animals makes it a very desirable destination, with a number of quality eco-lodges to choose from. The region also features several large clay licks, areas of mineral-rich earth which attract macaws, tapirs, and other animals who eat the clay to aid their digestion.
topTambopata National Reserve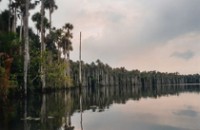 Most visitors arrive here via the port city of Puerto Maldonado, a short flight (approx. 1 hr) from Cusco. The surrounding forest is filled with wildlife, but still easily accessible, making it a good choice for visitors with limited time. Lodges are reached via the Tambopata or Madre de Dios rivers. Generally, the further out you go, the more pristine the forest, but you can spot monkeys and river otters a mere 30-minute boat ride from Puerto Maldonado, at beautiful, palm-fringed Lake Sandoval.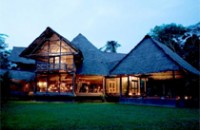 Located on the Madre de Dios River, a 45-minute boat ride from Puerto Maldonado, this rustically elegant lodge is one of the most luxurious options in the Peruvian Amazon. Rooms include 35 private, thatched-roof cabañas and a canopy tree house. The lodge prides itself on giving guests individual attention – a dozen rainforest excursions are on offer, from jungle treks to a treetop canopy bridge.
topManu Biosphere Reserve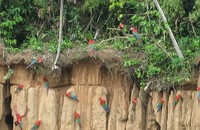 Covering 7,700 miles of cloud forest and lowland jungle, home to 1,000 species of birds and 200 species of mammals (including 13 types of monkey), this is an area of extraordinary biodiversity and has been named a UNESCO World Heritage Site. Getting here takes a little longer than getting to Tambopata, but it's worth it if you have some extra time.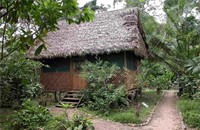 Birders and wildlife enthusiasts swear by this remote lodge on the Madre de Dios River. The best way to reach the lodge is via a 35-min charter flight from Cusco, followed by a 90-minute boat ride. Facilities include 22 private, ensuite bungalows with hot showers and a large, comfortable main lodge. Guides are top-notch and wildlife viewing is exceptional – the surrounding area features a mammal lick (the best place in the world to spot a tapir), a famous macaw lick, and two 120-foot canopy platforms.
topNorthern Amazon
River travel is an essential part of any Amazon rainforest expedition, but to see the mighty Amazon River itself, you need to head to northeastern Peru. Here, three major rivers, the Marañón, Napo and Ucayali, form the main tributaries to the Amazon. The most important city in this region is Iquitos, accessible only by air or boat. Wildlife is plentiful here, especially upriver from Iquitos, where the forest is protected by several nature preserves housing a huge diversity of mammals, birds, butterflies, and other fauna. The Northern Amazon is also the primary habitat for pink freshwater dolphins, found only in the Amazon basin. Accommodations include a variety of jungle lodges and three-decked river vessels, but we think the best way to experience this remote landscape is via a luxurious cruise on the Aqua or Aria riverboats, which can be booked through our partners.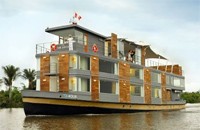 The 130-foot Aqua, launched in 2007, was the first true luxury ship on the Amazon. Her sister ship, the 147-foot long Aria, was launched in 2011. Carrying only 24 and 32 passengers respectively, these intimate ships allow passengers access to narrow tributaries, for up-close views of the landscape and wildlife. The vessels were custom-built to offer an exceptional degree of comfort, with amenities comparable to a five-star hotel.
Three-, four- and seven-night cruises are available, departing from Iquitos. Each cruise includes a variety of optional excursions into the jungle, from nature hikes to village visits, accompanied by a trained naturalist.

In addition to their dedication to service and luxury, Aqua Expeditions is committed to giving back to the local community and protecting the environment. Their Community Outreach Manager works at finding ways to conserve natural resources and support the local villages. Aqua also funds a Manatee and Rescue Center, which guests can visit, and their on-board paramedics treat patients in local communities when the ships are docked.
Copyright 2013 MyLittleSwans, LLC. All rights reserved. My Little Swans, the logo and Share a world of experience are registered Trademarks of MyLittleSwans, LLC. Use of this site constitutes acceptance of our Terms of Use and Privacy Policy.