Arequipa
Arequipa lies high in the Andes of southern Peru, at an elevation of 7,661 feet, surrounded by the snow-capped peaks of volcanoes. Though it's Peru's second largest city and an important center of industry, Arequipa is most famous for its exquisite colonial buildings built from sillar, a white volcanic stone, from which it gets its nickname La Cuidad Blanca (The White City). Another point of interest is nearby Cañón de Colca, one of the world's deepest canyons and home to the Andean condor.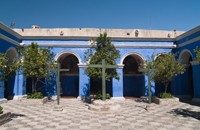 Calle Santa Catalina 301
Tel: +51 (0)54 221 21351-5451-54-221213-221213
Open daily 9am-5pm, high season 8am-5pm; Tue-Thu 8am-8pm
This monastery complex was founded in 1540 by Doña María de Guzmán, a rich widow who wished to enter the convent. Other wealthy novices followed, many of whom brought servants and other material comforts. Made up of cloisters, a church, flower-lined streets and a gallery of fine Colonial paintings, the complex takes up a full city block. The architecture is a mix of native and Spanish colonial styles – frescoes and brightly painted walls make a vivid contrast to the white stone. Though now open to tourists, it is still an active convent, home to some 20 nuns.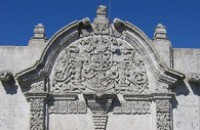 Casa del Moral
Calle Moral 318
Open Mon-Sat 9am-5pm
This 18th-century ancestral house is one of the best and most well-preserved examples of Baroque-mestizo architecture (blending colonial with indigenous styles). Of special interest is the stone gateway, featuring elaborately carved puma heads with snakes emerging from their mouths. Within are rooms furnished in period style and a collection of paintings from the Cusco school.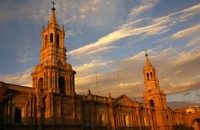 Catedral
Plaza de Armas
Open Mon-Sat 7-11:30am, 5-7:30pm; Sun 7am-1:30pm, 5-7pm
Cathedral museum open Mon-Sat 10am-5pm
Originally built in the mid-17th century and reconstructed several times after a series of earthquakes, Arequipa's cathedral is considered one the country's most important colonial churches. Constructed of local sillar, the cathedral contains altars and pillars of Carerra marble from Italy, a French pulpit, an English clock tower and a Belgian organ.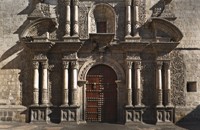 Iglesia de la Compañia
Corner of Calle General Moran and Alvarez Thomas
Open 9-11am, 3-6pm daily
One of the city's oldest churches, this Jesuit church is famous for its richly ornamental façade, its carved altarpiece blending Spanish Baroque with Inca motifs, and the San Ignacio chapel, with a cupola painted with jungle-like animals and flowers.
topCañón de Colca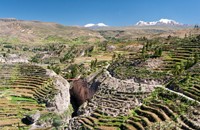 About 100 miles from Arequipa, this breathtaking chasm is 11,155 feet deep, more than twice the depth of the Grand Canyon. (Nearby Cotahuasi Canyon, at 11,560, is reportedly the world's deepest.) Colca Canyon was home to the agrarian Cabana and Collagua people, who built a system of terraces along the canyon walls – when the Spanish arrived, they ordered the scattered locals to move into a series of pueblos, which are still the valley's main towns. Many of the terraces are still used for cultivation.
The canyon is popular with visitors, who come for the amazing views, especially from La Cruz de la Condor, a lookout at the canyon's highest point. From here, you can watch the majestic condors circling over the valley, riding on thermals. With impressive 10-foot wingspans, Andean condors are the world's largest flying bird – though endangered, they are easily seen here. It's best to get to the lookout early, as the condors can only fly in the morning and late afternoon. (Be prepared for crowds, and watch your step, as there is no railing.)
Visiting Colca Canyon is most pleasant during the dry season. The best time to come is May-November.
topActivities
The Rio Colca is famous for its spectacular and challenging white-water rafting, perhaps the toughest descent in the world. Most of the rapids are Class IV or Class V – they're for experienced paddlers only, but the views are fantastic. Colca Canyon also offers plenty of biking, horseback riding and hiking opportunities. Be sure to spend a few days acclimating to the altitude before beginning any strenuous activities.
topAccommodations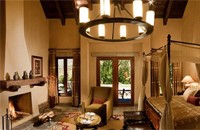 Reservations: +51 (0)1 610 830
This Orient-Express hotel is a collection of luxurious villas, set amid the serene beauty of Colca Canyon. 20 private casitas, intimate restaurant serving food from their own farm, relaxing Samay spa. A range of local tours and activities are available through the hotel, including birdwatching, hiking, horseback riding on Peruvian Paso horses, cooking classes, and stargazing.
Copyright 2013 MyLittleSwans, LLC. All rights reserved. My Little Swans, the logo and Share a world of experience are registered Trademarks of MyLittleSwans, LLC. Use of this site constitutes acceptance of our Terms of Use and Privacy Policy.