Noto
Destroyed by earthquake in 1693, this town was entirely rebuilt in lavish Baroque style. It was named a UNESCO World Heritage site in 2002, and has been substantially restored in the years since. The main pleasure here is strolling among the buildings and appreciating their exquisite details.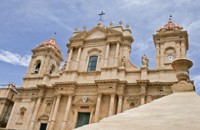 The Cathedral
Piazza Municipio
Though the dome collapsed in 1996 due to neglect, the cathedral still impresses with its three-flight staircase, twin-towered facade and beautiful frescoed interior.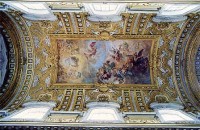 Bell tower open 9am-1pm and 4-8pm
This church features marvelous frescoes and great views from its campanile tower.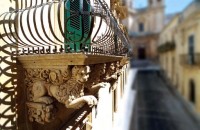 Via Nicolaci
Open 10am-1pm, 3pm to 1 hr before sunset
This palazzo is notable for its six unique balconies, elaborately sculpted with mythological figures. Several of the ornate interior rooms are open to the public.
Copyright 2013 MyLittleSwans, LLC. All rights reserved. My Little Swans, the logo and Share a world of experience are registered Trademarks of MyLittleSwans, LLC. Use of this site constitutes acceptance of our Terms of Use and Privacy Policy.