Taormina
With stunning views of the coast and Mt. Etna, this resort town has been a hugely popular tourist destination since the 19th century, when it was a don't-miss on every European Grand Tour. Founded as a colony of Syracuse, it was a major art and trade center for the Greeks, Romans, Spanish, and other subsequent rulers. The city is unique for its medieval character and for the sheer beauty of its vistas, beaches and bougainvillea-covered terraces. During the summer months, Taormina is overrun with tourists – it's best to go in spring or fall (spring is particularly lovely here).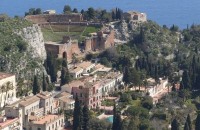 Greek Theater
Originally built by the Greeks in the 3rd century BC, this striking theater was heavily rebuilt by the Romans in the 1st century AD. It's the 2nd largest ancient theater in Sicily, after the one in Syracuse, and even more scenic, with its glorious setting overlooking the sea and Mt. Etna.
Villa Communale
Via Bagnoli Croci
Open 7am-midnight in summer, 8am-sunset in winter
Filled with beautiful Mediterranean and tropical plants and featuring a unique arabesque tower, this cliffside garden offers magnificent views of the coast. It was bequeathed to Taormina by Florence Trevelyan, an English aristocrat.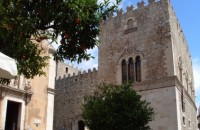 Palazzo Corvaja
Piazza Vittorio Emanuele
Tel: +39 09 42 23243
Open 8:30am-1pm, 4-8pm Tue-Sun
This grand 15th century mansion, decorated with motifs of limestone and black lava, was originally an 11th-century Arab tower. The piano nobile was once the royal residence of Queen Blanche of Navarre – the ground floor now houses the tourist office.
Castelmora
This village on the peak of Mt. Tauro, 3 miles above Taormina, can be reached by car or by climbing the Salito Castello path. The ruins of a medieval castle here offer one of the most famous panoramic views in Sicily.
topBeaches
Taormina doesn't have a beach per se, but the beaches of Mazzaro and Isola Bella are directly below, and can be easily reached by funivia (cable car). The Mazzaro Bay is dotted with caves and grottos – the aptly named Isola Bella is linked to the main shore by a narrow strip of land.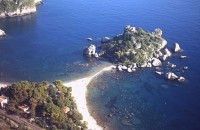 Copyright 2013 MyLittleSwans, LLC. All rights reserved. My Little Swans, the logo and Share a world of experience are registered Trademarks of MyLittleSwans, LLC. Use of this site constitutes acceptance of our Terms of Use and Privacy Policy.