Hanoi
Vietnam's capital is the oldest capital city in Southeast Asia – continuously inhabited for over 1,000 years, it has a gracious tranquility quite different from brash Saigon. As a center of industry, politics, and culture, both under the Emperors and the French colonists, Hanoi became known as a center of art and cuisine. Today, most of Vietnam's finest museums are here, and the city is famous for its sophisticated arts scene. From the ancient, mazelike streets of the Old Quarter, to the elegant boulevards of the French Quarter, to the stark Communist monuments near the old citadel, modern Hanoi is a fascinating place to explore.
Hanoi was founded in 1010 by Emperor Ly Thai To, who named it Thang Long, or "Soaring Dragon," after an auspicious dream about a dragon rising from the city. He structured Thang Long around a mighty citadel – to the east, an artisan and commercial area grew up to serve the emperor and his court (this developed into what is now the Old Quarter). The city declined after the 16th century, when the Imperial capital was moved to Hue. In 1831, its name was changed to Hanoi, or "City on the Bend of the River." Attracted by the strategic location, the French conquered Hanoi in 1882 and made it the capitol of French Indochina in 1887.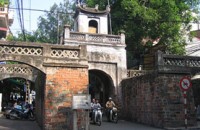 After Vietnam declared its independence in 1954, Saigon was declared the capital. During the American war, Hanoi's factories were the targets of bombs, but the Old Quarter and many of the city's landmarks remained standing. With hostilities ended and Hanoi's position as capital restored, it has grown increasingly large and modern. Motorbikes are taking the place of bicycles, and a street vendor is as likely to sell a knockoff handbag as they are a traditional craft, yet Hanoi's cultural heritage is still largely intact.
topThe Old Quarter
A tangle of narrow streets and bustling markets, this quarter dates back 600 years and is a UNESCO World Heritage site. The streets are named after the ancient trade guilds, and once specialized in certain goods – most begin with hang, meaning "merchandise," followed by the type of product: Hang Bac (Silversmith Street), Hang Ma (Votive Paper Street), Hang Mam (Pickled Fish Street). The district is nicknamed "36 Streets," though the actual amount is much higher – there may have been 36 guilds at one time, but the number was more likely chosen for luck (the auspicious number nine times the four points of the compass).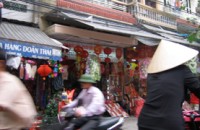 Today you'll find every imaginable type of item for sale, though not necessarily corresponding to the street name. The storefronts are tall and narrow, and the buildings extend far back – taxes were based on the shop's frontage, so this "tube house" style became the norm. The streets buzz with bicycle and motorbike traffic, and the narrow sidewalks are taken over by daily life – locals sipping beer on tiny stools, women cooking meals on low charcoal grills. The best (and most interesting) way to get around is on foot, but be sure to watch your step.
Bach Ma Temple
76 Hang Buom Street
The oldest religious building in the Old Quarter, this small temple is guarded by the statue of a white horse, symbol of a legendary magic horse who helped keep the original city walls from falling down.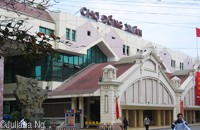 Dong Xuan Market
Dong Xuan and Hang Chieu Streets
This is the oldest covered market in Hanoi, established in 1889 – the new, vast three-story structure behind the original façade was built in 1996. Though many of the items sold are of dubious quality (cheap clothing, plastic toys and trinkets), the market is interesting for its sheer variety, especially the food halls.
topActivities
Cyclo Rides
Another fun and memorable way to explore the Old Quarter is by cyclo (pedicab). A parent and child can usually fit into one cyclo, but two adults would be a tight squeeze. Rides are inexpensive, so there's no real need for adults to share. The drivers know every inch of the Quarter, and will show you tiny side streets you might otherwise miss. They can be hired through your tour operator or your hotel – it's also very easy to find one on the street. If you hire one yourself, be sure to negotiate a price ahead of time and write it down.
topHoan Kiem Lake
This picturesque lake is at the heart of Hanoi, both literally and figuratively. It features prominently in local lore – according to legend, in the 15th century a turtle rose from the waters and presented a magic sword to a humble fisherman, Le Loi, who was then able to defeat the occupying Chinese. Later, when the fisherman (now Emperor) returned to the lake, the turtle rose again and took the sword back. Hence, the lake's name, which means "Lake of the Restored Sword." Today a unique species of giant turtle lives in the lake – it is considered sacred, and seeing it is very lucky.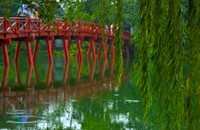 Hoan Kiem Lake is a popular spot for gathering and recreation. At dawn, residents come to jog, play badminton or practice tai chi – during the day, old men gather to play chess, couples stroll around the lake, and the lakeside restaurants fill with locals and tourists. The district to the east, also called Hoan Kiem, is arty and prestigious, home to the Opera House, the Water Puppet Theater, and the venerable Metropole Hotel.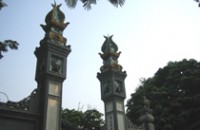 Den Ngoc Son (Jade Mountain Temple)
Open daily 8am-6pm
A gracefully arching, red-painted bridge leads to this temple on an island in Hoan Kiem Lake. Decorated with ornately carved dragons and eaves, the temple dates from 1880 and is dedicated to the spirits of medicine and literature.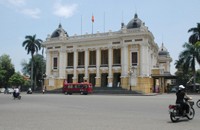 1 Trang Tien Street
Tel: +84 (04) 9330 113
Dating from 1911 and modeled on the Palais Garnier opera house in Paris, this Hanoi landmark is one of Indochina's finest examples of French-colonial architecture. During French rule, the opera house was at the center of Hanoi's cultural life – during the mid-1900s, performances tended to feature Communist themes. In 1994, it underwent a full renovation and today offers world-class performances of Vietnamese operas and ballets.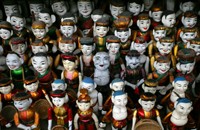 58 B Dinh Tien Hoag Street
Tel: +84 (04) 3825 5450
Shows daily at 5:15pm, 6:30pm and 8pm
The 1000-year-old art of water puppetry is unique to Vietnam and usually performed only in the north. Puppeteers stand waist-deep in water, hidden behind a bamboo curtain, as they guide the puppets through traditional tales of peasant life and mythical stories involving dragons and unicorns. This art form is intended for children, but adults generally enjoy it as well. The Thang Long theater is the best place in Vietnam to see a performance.
National Museum of Vietnamese History
1 Pham Ngu Lao Street, just east of the Opera House
Open daily 8-11:30am and 1:30-4:30pm
Serious history buffs will enjoy this museum, offering a comprehensive overview of Vietnamese cultures from prehistoric times through WWII. The building was one of the first built in the architectural style known as Indochinoise, incorporating French and traditional Vietnamese elements.
topAccommodations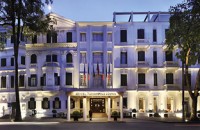 15 Ngo Quyen Street, 10000 Hanoi
Tel: +84(04) 3826 6919
This lovingly restored 230-room French Colonial-style hotel is an historic grand dame, situated between the Opera House and picturesque Hoan Kiem Lake, and within walking or pedicab distance to nearby highlights such as the Old Quarter. Opened in 1901, the hotel offers evocative century-old original architecture and a newer Opera Wing (which our partners prefer, finding the old wing dated). There's a peaceful inner courtyard and outdoor pool surrounded by three popular bars, plus Vietnam's best French and Vietnamese restaurants. A spa and fitness center round out the amenities.
topBa Dinh District
Encompassing the area of the former Imperial Citadel, this quiet, leafy area is still used by the military – the Hanoi Citadel (much smaller than the original) is here, along with the Ministry of Defense. The district also features the Presidential Palace and several of Hanoi's most interesting museums and historic sites.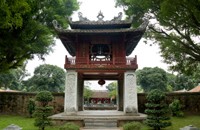 Temple of Literature
Quoc Tu Giam Street
Tel: +84 (04) 3823 5601
Open 8:30am-4:30pm
Founded in honor of the Chinese philosopher Confucius in 1070, this magnificent complex is nearly as old as the city itself. It served as a university for over 700 years, training Vietnam's mandarin class under the Chinese method. The complex features five tranquil courtyards, separated by elaborate gates. Lining the grounds are 82 stone stelae, mounted on tortoise-shaped pedestals and inscribed with the names of former students – men and women still rub the turtles' heads for luck before exams. At the center of the complex is the Temple of Confucius, resplendent with gilt and red, lacquered columns. Within are statues of the philosopher and his four closest disciples, dressed in red and gold robes.
National Museum of Fine Arts
66 Nguyen Thai Hoc Street
Tel: +84 (04) 3733 2136
Open Tue-Sun 8:30am-5pm
Located near the Temple of Literature, this elegant colonial building houses an impressive and varied collection of Vietnamese paintings, carvings and sculpture. One highlight is the display of lacquered wooden sculptures, including the remarkable Bodhisattva with "A Thousand Hands and a Thousand Eyes."
One Pillar Pagoda
8 Chua Mot Street
This small but iconic temple was originally built by Emperor Ly Thai Tong in 1049, and reconstructed many times over the centuries. According to legend, it represents a dream in which the Goddess of Mercy, sitting on a lotus blossom, promised the Emperor a baby boy. When his son was born soon after, the Emperor built this temple in gratitude. The pagoda rises on a single pillar above a lotus pond.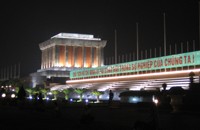 Ho Chi Minh Mausoleum
Ba Dinh Square
Open 8-11am Tue-Thu and Sat-Sun. Closed approx. two months a year (usually Oct & Nov) for embalming maintenance
Though Ho Chi Minh himself wished to be cremated, and rejected the idea of monuments to his memory, Vietnam's politburo chose to display his body in the style of other Communist leaders, like Lenin. With the help of Soviet specialists, Ho Chi Minh's body was embalmed, and lies in state in a dimly lit room within an imposing marble structure. Visiting is a somber and somewhat eerie experience. Strict protocol is enforced, and respectful behavior is insisted upon. You will be asked to check your camera before entering.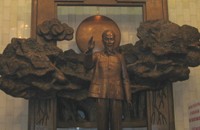 Ho Chi Minh Museum
19 Ngoc Ha Street
Open 8-11:30am, 2-4:30pm Tue-Thu, Sat & Sun
Within this massive, blocky building are memorabilia and displays dedicated to the life and work of the Communist leader. It's a rather surreal place – the exhibits are largely symbolic, a bit kitschy, and often puzzling – but you will get a general idea of Ho Chi Minh's history through the photos and letters.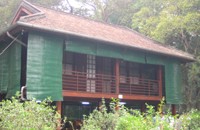 Ho Chi Minh's Stilt House
1 Bach Thao Street, Presidential Palace
Open 8-11am, 2-4pm Tue-Thu, Sat & Sun
In stark contrast to the opulence of the Presidential Palace and the grandeur of the Mausoleum, this structure offers an illuminating glimpse into Uncle Ho's true nature. Rather than living in the palace upon becoming president, Ho Chi Minh had this modest home built on the palace grounds. It was modeled on an ethnic minority stilt house and is remarkable for its austerity.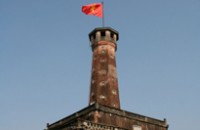 Thang Long Imperial Citadel
This landmark celebrated its 1000th year anniversary in 2010, and was made a UNESCO World Heritage site the same year. Excavations are ongoing, and have been uncovering materials from the palace of Emperor Ly Thai To, founder of the city that is now Hanoi. The existing citadel occupies the central sector of the ancient citadel – certain sections are now open for viewing, and some of the excavated relics are on display.
topThe French Quarter
South of Hoan Kiem Lake is French Colonial Hanoi, a neighborhood of broad boulevards and stately mansions. This is also Hanoi's main commercial district, housing large shopping malls, banks, hotels and department stores.
Ambassador's Pagoda
73 Quan Su Street
Open 7:30-11:30am, 1:30-5-30pm
One of the city's most active temples, it was established in the 15th century to receive visiting Buddhist dignitaries and is the official center of Buddhism in Hanoi. The present building dates from 1942 – dozens of monks and nuns reside and study here. The interior is impressive, featuring ornate altars and several large buddhas.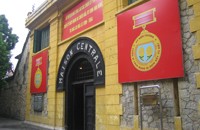 Hoa Lo Prison Museum
1 Hoa Lo Street
Tel: +84 (04) 3824 6358
Open daily 8am-5pm
Known to Americans as the "Hanoi Hilton," this former prison is notorious for incarcerating John McCain and other U. S. pilots during the Vietnam War. It had a disturbing history long before this incident, however – built by the French, it held Vietnamese political prisoners during the colonial period, often under horrifying conditions. Most of the exhibits relate to those years, but a small portion of the museum is devoted to the U.S. prisoners, who they claim were relatively well treated.
Copyright 2013 MyLittleSwans, LLC. All rights reserved. My Little Swans, the logo and Share a world of experience are registered Trademarks of MyLittleSwans, LLC. Use of this site constitutes acceptance of our Terms of Use and Privacy Policy.