Halong Bay
Over 2,000 karst islets dot the turquoise waters of Halong Bay. Once they were a favorite hiding place for pirates – today, they are a UNESCO World Heritage site, and one of Vietnam's most famous destinations. According to legend, the islets were created by the lashing tail of a great dragon, who came thundering down from the mountains to the sea to aid the Vietnamese in battle. (Halong Bay means "Bay of the Descending Dragon.") According to geologists, they were created by wind and water, which carved the soft limestone into jagged pinnacles over the millennia. Capped with vegetation, these strangely shaped peaks create a dreamlike landscape unlike anywhere else on earth, made even more romantic by the sailing junks that cruise among them.
The best way to experience the bay is aboard your own private junk, a luxurious replica of the Chinese fishing vessels that still ply these waters. We recommend at least one overnight stay on the boat. You can enjoy the stunning scenery from the deck as you glide beneath the peaks, kayak across the calm waters to hidden coves, explore awe-inspiring caves, swim, snorkel, even help your onboard chef prepare the evening meal, if desired. Our partner's family adventure tour of Halong Bay is very popular.
Halong Bay features a number of fascinating caves and grottos, formed as raindrops ate away at the limestone and left the harder dolomite behind. Filled with stalactites and stalactites, colorfully lit to enhance their shapes, they are well worth visiting.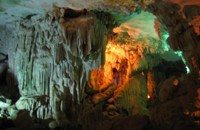 Some of the best known are Hang Dau Go, or Hidden Timber Cave, the largest of the grottos, so named because a 13th century general used it to hide his sharpened wooden stakes, which he later planted in shallow water to destroy enemy ships: Hang Sung Sot, or Amazing Cave (shown here), with three chambers of bizarre formations; and Dong Tam Cung, or Three Palaces, also with three chambers and arguably the most spectacular of the grottos. A more recent and less visited discovery is Hang Thien Cung (Celestial Palace), with stalactites that glitter like jewels. Many of the grottos are also religious shrines.
Copyright 2013 MyLittleSwans, LLC. All rights reserved. My Little Swans, the logo and Share a world of experience are registered Trademarks of MyLittleSwans, LLC. Use of this site constitutes acceptance of our Terms of Use and Privacy Policy.