Hue
This picturesque city on the central coast is considered Vietnam's third capital, after Hanoi and Saigon, and is in many ways its intellectual and cultural heart. It was the imperial capital for nearly 150 years (1802 to 1945) under the Nguyen dynasty, which united Vietnam for the first time under a single rule. Hue is still an important center of study, renowned for its university, which produced such leaders as Ho Chi Minh. The historic citadel and imperial tombs are worth exploring, but Hue's main appeal is its tranquil beauty – it has largely escaped the development that has transformed other cities, remaining a fairly small, sleepy town with a gorgeous location on the Perfume River.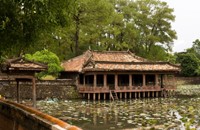 Imperial Tombs
Although 13 emperors sat on the throne between 1805-1945, only seven were honored with their own mausoleum. (Under French rule, an illusion of imperial rule was upheld, but many rulers fled or were replaced by the French.) Scattered across the countryside south of Hue, the tombs are best explored by bicycle. Each is exceptional in its own way, but the two finest examples of Imperial architecture are the tombs of Tu Duc (shown) and Minh Mang. While alive, Tu Dac preferred his elegant tomb to his own palace. Less traditional is the elaborate Khai Dinh tomb, with a profusion of styles.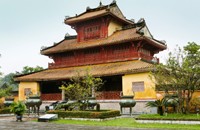 Imperial Citadel
Once the seat of imperial rule, this magnificent complex had fallen into neglect even before it was heavily damaged in the Tet Offensive in 1968. It is now a UNESCO World Heritage site, and the object of a major reconstruction effort. Four enclosures make up the complex: the Capital City (administrative buildings), the Imperial City, (royal palaces and shrines), the Forbidden Purple City (royal residences), and an additional defensive work at the corner of the capital city.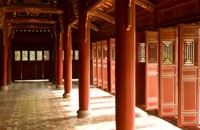 Much of the complex is unfortunately in ruins, but some impressive sights remain. Highlights include the majestic Ngo Mon, or Royal Gate, a fine example of Nguyen dynasty architecture; the Nine Dynastic Urns, six-foot bronze vessels each dedicated to a different Nguyen emperor and engraved with animals and other symbols; and the Thai Hoa Palace, one of the best-preserved buildings left in the complex, with massive, elaborately decorated red-and gold-lacquered pillars.
Thien Mu Pagoda
Located on a river bluff with panoramic views over the river and the nearby Imperial Citadel, this peaceful temple is Vietnam's most important Buddhist site and the oldest monastery in Hue, dating from the 17th century. The pagoda is dominated by the seven-tiered Phuoc Nguyen Tower, long the symbol of Hue. Each level contains an altar dedicated to a different Buddha. Other notable sites include a famous "Laughing Buddha" statue, a massive bell cast in 1710 and weighing several tons, and a stone stele chronicling the history of Buddhism in Hue.
Perfume River
A visit to Hue should include a sightseeing cruise along this spectacularly beautiful river, surrounded by jagged karst peaks. The journey will take you past the Citadel, Thien Mu pagoda and a number of temples which line the river and are reflected in the slow-moving water.
Hon Chen Temple
Accessible only by boat, this charming temple dates back more than 1000 years and is filled with altars and lovely ornamentation. A major festival takes place at this temple each year in early April.
topAccommodations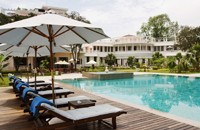 5 Le Loi Street, Hue City
Tel: +84 (0)54 3837 475
Located on the banks of the Perfume River, this former governer's residence is now a boutique hotel overlooking the Imperial Citadel. The hotel combines tradition with sophisticated, modern style – its distinctive Art Deco design harks back to the days of colonial Indochina. 122 rooms and suites, most with river views; suites are individually designed. Gastronomic restaurant, gym, huge salt-water pool, tennis courts, Mediterranean-inspired spa.
Copyright 2013 MyLittleSwans, LLC. All rights reserved. My Little Swans, the logo and Share a world of experience are registered Trademarks of MyLittleSwans, LLC. Use of this site constitutes acceptance of our Terms of Use and Privacy Policy.