Hoi An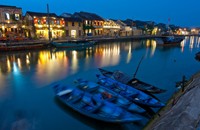 With a strategic location on the Thu Bon River, Hoi An was an important trading port for centuries, attracting traders from China, Japan and Europe. As a result, the historic old town is an eclectic cultural and architectural mix. The tube houses in particular are unique, blending French, Chinese, Japanese and Vietnamese elements. Also of note are the lavishly decorated pagodas and Chinese community halls and the iconic Japanese covered bridge.
When the river silted up in the early 19th century, trade declined in Hoi An, and it is now a lovely, peaceful town whose main industry is tourism. The city was relatively untouched by the Vietnam War, leaving the city's charm and historic architecture intact. The Old Quarter is protected from development and has been declared a UNESCO World Heritage site. If possible, try to visit during the monthly Legendary Night Festival – on the evening of the full moon, the Old Quarter reverts briefly to the way it looked in the early 19th century, with everything lit by lamplight and residents dressed in traditional costumes.
Along with its cultural legacy, Hoi An is known for "flash fashion" custom tailoring and excellent cuisine. Just three miles from town are the white sands of Cua Dai Beach, on the South China Sea – this beautiful beach is ideal for swimming and an easy, popular bike excursion.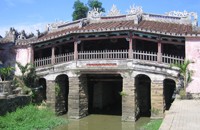 Japanese Covered Bridge
Intersection of Tran Phu and Nguyen Thi Minh Kha Streets
Open daily sunrise-sunset
A prominent Hoi An landmark, this curved bridge features two guardian dogs on the east side, and two guardian monkeys to the west side. The bridge was constructed in 1593, most likely by the Japanese community, in order to link the Chinese quarter with the Japanese quarter. Most of the original Japanese characteristics are still intact.
Phuc Kien Assembly Hall
46 Tran Phu Street
Open daily 7:30am-5pm
Chinese clans in Hoi An established community halls based on their areas of origin. Each clan had its own temples, hospitals, schools and cemeteries. The flamboyant Phuc Kien temple was originally built by merchants from the Fujian clan in the 17th century, and has been extended and renovated over the past 300 years.
The pagoda is dedicated to Thien Hau, goddess of the sea and patroness of sailors and fisherfolk. The main altar contains a statue of Thien Hau, flanked by her attendants – one who can see great distances and one who can hear great distances – who let the goddess know when there is a shipwreck. To the east of the main courtyard is a detailed model of a sailing junk. Behind the main altar are statues to whom devotees can pray for prosperity or fertility.
Cantonese (Quang Dong) Assembly Hall
176 Tran Phu Street
Open daily 7:30am-5pm
Seafaring merchants from the Chinese province of Guangdong (Quang Dong in Vietnamese, and known by Westerners as Canton until recently) built this elaborate assembly hall in 1885. The main altar is dedicated to Quan Cong, a deified Chinese general, recognizable by his red face and beard.
House of Tan Ky
101 Nguyen Thai Hoc Street
Open 8am-noon, 2-4:30pm daily
Dating from the 18th century, this elongated shophouse is the most famous of Hoi An's traditional homes, and an excellent example of the city's hybrid style of architecture, blending Vietnamese, Chinese and Japanese elements. Fine carvings decorate the woodwork; some are inlaid with mother-of-pearl. The floor is made with bricks from the Red River Delta.
Tran Family Chapel
21D Le Loi Street
Open daily 7:30am-5pm
Ancestor worship is very big in Hoi An, where many houses have been occupied by the same family for generations. This shrine, honoring the Tran family ancestors who emigrated here in the 18th century, dates back more than 200 years. It is also an architectural hybrid.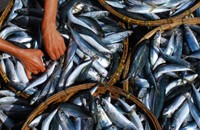 Central Market
Between Tran Phu and Bach Dang Streets
Open daily sunrise-sunset
Occupying two streets along the riverfront, this market sells a huge variety of products such as kitchen utensils, fabric and clothing, fresh meats, seafood and produce. The most interesting time to go is early in the morning, when the fishermen are unloading their catch on the dock.
Museum of Trading Ceramics
80 Tran Phu
Open daily 8am-5pm
This museum offers a display of pottery from the golden age of Vietnamese ceramics (the 15th and 16th centuries). Exported to Japan and parts of Southeast Asia, these ceramics included wares from Bat Trang in the north, Hai Hung (blue and white pottery), and Binh Dinh (celadon wares). Pieces from China and Southeast Asia are also on exhibit.
Sa Huynh Culture Museum
149 Tran Phu Street
Open daily 8am-6pm
In 1909, farmers unearthed some 200 ancient burial jars at a site south of Hoi An. Archaeologists identified them as remnants of the prehistoric Sa Huynh culture, which flourished in central Vietnam between 1000BC and 200AD. This small museum exhibits some of the funerary urns, along with jewelry and distinctive bronze tools.
topAccommodations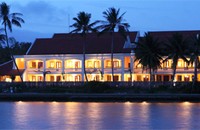 1 Pham Hong Thai Street, Hoi An Town
Tel: +84 (0)510 3914 555
Located on the scenic Thu Bon River, just a short stroll from the Ancient Town, this award-winning resort is recommended if your focus is the city of Hoi An rather than the beach. In keeping with the multicultural style of the city, the resort blends touches of Chinese, Vietnamese, Dutch and Japanese cultures. Spacious, peaceful rooms surround a serene swimming pool; world-class spa treatments include outdoor pedicures alongside the river.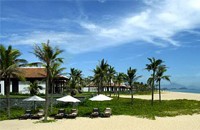 Hamlet 1, Dien Duong Village
Tel: +84 (0)510 394 0000
Lavish, newer resort of 60 one-bedroom retreats and 40 private 2-5 bedroom residences, situated on the coast of the South China Sea. All villas offer expansive and stylish living spaces, indoor/outdoor sitting areas and memorable, unobstructed views of the ocean. The restaurant serves very good Vietnamese and Continental cuisine, and seafood is available in an informal beachfront setting (although do not forego Hoi An's fine restaurants). Facilities include three swimming pools, exceptional spa, and a tennis center. The property is located 30 minutes by car from Danang and 15-20 minutes from Hoi An itself.
Copyright 2013 MyLittleSwans, LLC. All rights reserved. My Little Swans, the logo and Share a world of experience are registered Trademarks of MyLittleSwans, LLC. Use of this site constitutes acceptance of our Terms of Use and Privacy Policy.