Mai Chau Valley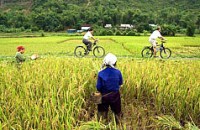 Located 135 km south-west of Hanoi, this lovely valley offers splendid vistas of lush green hills and stilt houses. Mai Chau has a population of about 47,500 inhabitants that belong to different ethnic minority groups such as the White Thai, H'mong, Zao, Muong, Tay, Hoa and Viet. The Mai Chau hill tribes are warm and welcoming, and famous for their handicrafts – in particular, for their skills in embroidering clothes. The Sunday market brings a lot of people into town where they make traditional Thai dishes and revel in traditional dances.
The weather here is generally good throughout the year (March-July and October are ideal). This itinerary is suitable for all levels of ability.
top3-Day Biking Tour
Early departure from Hanoi to the beautiful Hoa Binh Province southwest of Hanoi. Along the way, stop in Gang Mo, a small Muong ethinic village not too far from Hanoi, but still retaining its native lifestyle and culture. Here enjoy our first hilltribe encounter, exploring the village by foot, enjoyng the rural atmosphere of the surrounding rice fields and visiting with hilltribes in the area, taking in their daily routine so different from our own. Afterwards, head on to Mai Chau valley to begin biking through the Thai ethnic villages and surrounding rice and corn farms on dirt paths. In the evening, join in a traditional Thai dance performance and partake of Ruou Can (sweet rice wine) tasting. (B, L, D)
Accommodations: Mai Chau Lodge
The Mai Chau Lodge is a real treat, built only a few years ago with stunning views of the surrounding landscape and pleasant pool area for post-ride "R&R."
Day 2
Mai Chau to Hoa Binh Reservoir
After breakfast, biking from the hotel on the quiet road to Hoa Binh Reservoir, making contact with local people on the way (Muong ethnic people). After arrival at the reservoir, kayaking around the lake, learning more about the history and local lifestyles of this peaceful area. After a picnic lunch, continue biking along Da River, through a thick primitive forest lush with plants and wildlife. After exploring the forest, driving back to Mai Chau for refreshments by the pool before dinner. (B, L, D)
Most inhabitants of the area are White Thais, known for their warm hospitality. For your second night on our Mai Chau tour, we can arrange a comfortable and unforgettable home stay in a village longhouse, complete with evening dancing.
Day 3
Pa Co, Mai Chau to Hanoi
In the morning, drive for about one hour to Pa Co, a village near the Laos border. From here, scenic riding around Pa Co, passing through the Blue and Flower H'mong villages, surrounding mountain jungle and apricot and peach orchards. If it is Sunday, visit the colorful hilltribe market. The Flower H'mong wear especially beautiful traditional clothing here, and we'll ride to Hang Kia village to visit a local home and find out how they make the fanciful brocade for their impressive costumes. After a picnic lunch, continue cycling in the area or return back to Mai Chau to enjoy the poolside before dinner.
Copyright 2013 MyLittleSwans, LLC. All rights reserved. My Little Swans, the logo and Share a world of experience are registered Trademarks of MyLittleSwans, LLC. Use of this site constitutes acceptance of our Terms of Use and Privacy Policy.