Hong Kong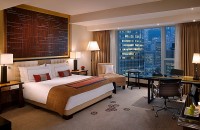 8 Finance Road, Central,
Hong Kong
Tel: +852 3196 8888
Fax: +852 3196 8899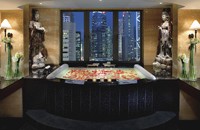 5 Connaught Road, Central Hong Kong
Tel: +852 2522 0111
A Hong Kong legend since 1963, this luxury hotel on Victoria Harbor was recently redesigned, and maintains its reputation for exceptional service.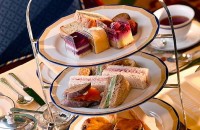 Salisbury Road, Kowloon,
Hong Kong
Tel: + 852 2920 2888
Fax: +852)2722 4170
Reservations:phk@peninsula.com
Afternoon tea is so popular, you will not get in without a reservation.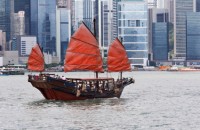 Lantau Island
Take a private Junk around Hong Kong harbor with a stop at Lantau Island. The largest island in Hong Kong, Lantau offers many attractions including the Po Lin monastery and Big Buddha (see below) and Hong Kong Disneyland.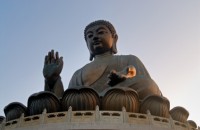 Po Lin Monastery and the Big Buddha
Monastery 8am-6pm daily

Big Buddha 10am-5:30 daily

A stunning bronze Buddha, one of the largest in Asia. It is 85 feet tall and weighs 250 tons. Climb 268 steps or take cable car to the top.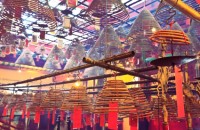 Old Wan Chai District
Between Johnston Road and Queen's Road East
Wonderful Thai food and curios. We rented an entire double-decker trolley and had food and drinks as we went along King's Road - great party idea.
Hollywood Road is a Mecca for Chinese antiques and curios. The Taoist Man Mo Temple is at the Western end of Hollywood Road.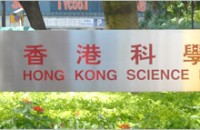 2 Science Museum Road,
Tsimshatsui East, Kowloon
Tel: +852 2732 3232
Open 1-9pm Mon-Wed, Fri; 10am-9pm Sat, Sun & public holidays. Closed Thu.
Great interactive museum for the kids. Over 500 hands-on displays.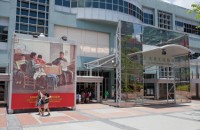 100 Chatham Road South (next to Science museum)
Tsim Sha Tsui East, Kowloon
Tel: +852 2724 9042
Mon, Wed-Sat, 10am-6pm. Sun & public holidays, 10am-7pm. Closed Tue.
topActivities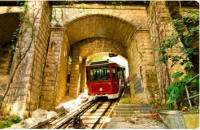 Peak Tower
128 Peak Road
(852) 2849 0668
Hong Kong Island
Wednesday evenings
Closed July and August
topRestaurants
12/F, The Old Bank of China Building Bank Street,
Central, Hong Kong
Tel: +852 2521 8888

Retro-chic, Shanghai-style members-only club. Your concierge should be able to make you a 'member' for the day. Children welcome only on Saturdays. Dress code is smart casual. Men are required to wear a jacket, but not a tie.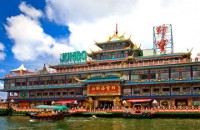 Aberdeen Harbor
The Jumbo is the first and most famous of the floating restaurants. Great fun for kids.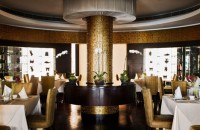 6/F, Langham Place Hotel
555 Shanghai Street, Mong Kok
A luxury Chinese restaurant featuring Cantonese cuisine. 2  Michelin stars.
Open: Mon-Sun, 11am-2:30pm, 6-10:30pm
Tel: +852 3552 3300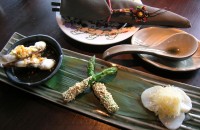 28/F, One Peking Road Tsim Sha Tsui, Hong Kong
Tel: +852 3428 8342
Email: hutong@aqua.com.hk
Features traditional Northern Chinese cuisine with a touch of spicy flavor. 1 Michelin star.
topShopping
Kowloon Markets
Jade Market in Kowloon has Jade pearls and stones sold by the pound.
Located on Kansu St.
Yee Yin Gemstone
No. 403, 407, 383 Jade Market Kansu Street Yaumatei, Kowloon
Cell: 65339863 Fax: +852 2332 9953 or +852 2187 6891
Flower Market in Kowloon Flower Market Road, Momg Kok Kowloon
Best in the morning.
Bird Garden Yuen Po St., Mong Kok
Daily 7am-8pm
You'll find all manner of songbirds and exotic birds at this market.
Goldfish Market Tung Choi St., Mong Kok
Daily 10am-6pm
Locals believe a fish tank in the right spot wards off bad luck.
Shiatzy Chen (men's and women's clothes)
Peninsula Store
The Peninsula Arcade Basement
Salisbury Road Kowloon
Tel: +852 2721 5898
Central Mall
IFC, Central, Hong Kong
The Mall combines boutiques from a Who's Who of international designers with brand names from every corner of the world. And all sales are tax free.
The Mall
Pacific Place
Lane Crawford (Ladies Clothes)
Level 1-2 The Mall, Pacific Place, 88 Queensway, Admiralty
+852 2118 3668

King & Country Ltd. (Toy Soldiers)
Shop 362, Level 3 The Mall, Pacific Place, 88 Queensway, Admiralty
Tel: +852 2525 8603 Fax: +852 2877 9012
Mon-Sat 10:30am-8pm, Sun & Holidays 11am-7pm
Amazing selection of lead toy soldiers and they will ship.
Lanvin (shoes)
Shop 346, Level 3 The Mall, Pacific Place, 88 Queensway, Admiralty
Tel: +852 2523 9512
Copyright 2013 MyLittleSwans, LLC. All rights reserved. My Little Swans, the logo and Share a world of experience are registered Trademarks of MyLittleSwans, LLC. Use of this site constitutes acceptance of our Terms of Use and Privacy Policy.