Trip Extensions
topCasablanca
Often referred to as Morocco's economic heart, Casablanca is the country's largest and most modern city. And given this warm-weather Atlantic seaport was formerly occupied by France, it's not surprising that it looks and feels much like a lovely Southern European town – complete with cafes, beaches and nightclubs. The French influence is still (pleasantly) felt through language, food, period architecture and even the organization of the city into arrondissements.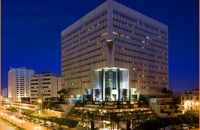 100, Avenue des FAR., Casablanca 20000
Tel: +212 (22) 439 494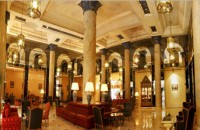 27, Avenue de l'Armée Royale, Casablanca 21000
Tel: +212 (22) 231 301
9, rue Restinga, CIL, Casablanca
Tel: + 212 (22) 360 258 Fax: +212 (22) 360 340
topFeatured Sights
Hassan II Mosque
Guided tours depart several times daily

One of the few mosques open to non-Muslims in Morocco, Hassan II is the world's second largest religious building – much of it is built over the Atlantic Ocean. Moorish influences are seen throughout French architect Michel Pinseau's stunning design, which features a glass floor with views to the sea below.
La Corniche
The perfect spot for lunch and an ocean-side stroll, the beaches and cafes of La Corniche are just a short distance from the Hassan II Mosque.
Palais Royal and Habbous District
Touring the king's lavish Palais Royal is likely to inspire serious shopping. Thankfully, several souks are located in the Habbous District, conveniently located behind the palace. Here, you will find exotic jewelry, clothing and home goods, as well as fruits, pastries and other fresh edibles.
Situated north of Casablanca on the Atlantic Coast and Bou Regreg river, Rabat is the official capital of Morocco and arguably the country's most beautiful city. Home to Mohammed V University and all Moroccan foreign embassies, Rabat's thriving arts and cultural scene make this a destination worth exploring.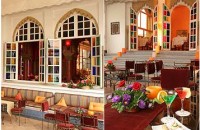 24 Rue Chellah, Rabat 10000
Tel: +212 (0)37 239 000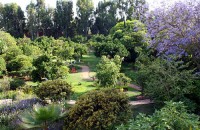 topFeatured Sights
Bab Oudaïa
Gate to the Kasbah
Named after an Arab tribe and built by Yacoub el-Mansour in the 12th century, Bab Oudaïa is a classic and monumental example of Almohad military architecture. As you move through the gate, you will find yourself in the Oudaïa Kasbah itself – one of the most beautiful neighborhoods in Rabat.
Musée des Oudaïa and Andalusian Garden
Refurbished in 1995, the 17th-century palace of Moulay Islmaïl now serves as a museum. Surrounded by beautiful gardens – a destination unto themselves – you will discover atroblades, copperwork, pottery, instruments, jewelry and woodcarvings in the impressive collection, some of which date back to the 14th century.
Mausoleum of Mohammed V
Designed by Vietnamese architect Vo Toan, this regal complex, which also houses the tombs of other member of the royal family, includes a museum and mosque as well. You will enjoy sublime master craftsmanship and fascinating history throughout.
Beautifully withered and authentic, Fez (founded in the 9th century) is the first of Morocco's imperial cities and home to the oldest continuously operating university in the world. Noted throughout the country for fine craftsmanship, local artisans toil in workshops that line the vast medina's twisting lanes. Brimming with exotic music, savory foods and splendid architecture, this enchanting place offers an instant trip back in time and total cultural immersion.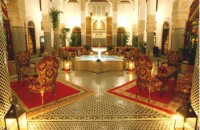 13 Rue Salaj, Batha, Fez-Morocco
Tel: +212 (0)35 740 000 Fax: +212 (0)35 638 282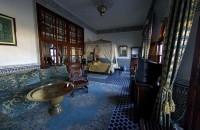 33 Derb el mitter, talaa el Kabira, Fez-Morocco
Tel: +212 (0)35 741 873 Fax: +212 (0)35 740 686
topFeatured Sights
Medersa Bou Inania
Built in the 14th century by the sultan Abou Inan, this medersa is a triumph of architecture and design. And as one of the few religious compounds open to non-Muslims in Fez, it is not to be missed. Expect incredible artistry and ornate detail throughout.
Fondouk el-Nejjarine
Now a UNESCO World Heritage Site, Fondouk el-Nejjarine is one of the most admired structures in all of Fez. Formerly a caravanserai, the building currently houses the Musée du Bois, or Museum of Wood. Here, you will find an array of pieces by the master craftsmen of centuries past.
Fès el-Bali (historic medina)
The entire city of Fez feels like a layered, living museum, but nowhere more than Fès el-Bali, the old medina. It is one of the world's largest car-free urban areas and color-coded walking routs can help lead you through if you prefer to go without your guide. An amazing assortment of high-quality, handcrafted goods are available from the city's renowned artisans. And if you're not in the mood to shop, the eating and people watching opportunities are excellent, too.
topTangier
Situated on the picturesque North African Coast at the Strait of Gibraltar, Tangier's prized location has made it both a key trading center and tempting target for world powers since antiquity. From the Phoenicians, Romans, Arabs and Berbers to the Portuguese, Spaniards, French and English, the list of those who have made their mark on this place is a long and storied one. Add to that myriad artists and writers who at one time or another called Tangier home – Henri Matisse, Tennessee Williams and Paul Bowles among them – and it is no wonder its romantic, exotic image persists. Beaches, cabarets and cafés mixed with traditional Moroccan monuments and culture make this city quite a tantalizing destination.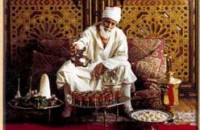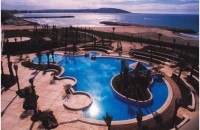 Route de Malabata, Baie de Tangier, 90000 Tangier
Tel: +212 (0)39 329 300 Fax: +212 (0)39 941 909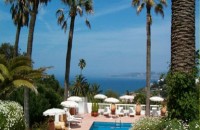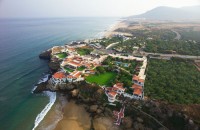 Les Grottes d'hercule, B.P.: 2198, Tangier
Tel: +212 (0)39 333 3332 Fax: +212 (0)39 333 492
lemirage@lemirage-tanger.com

A secluded cliff-top getaway 20 minutes from town
topFeatured Sights
Café Hafa
Established in 1921, this charming seaside social hub with stunning views is famous for its… celebrated patrons (like the Beatles and Rolling Stones) and mint tea. Stop by to meet fellow international travelers and local fisherman alike.
Musée d'Art Contemporain
This British Consulate turned museum offers a compelling survey of contemporary Moroccan painting – a refreshing counterpoint to all of the kasbahs, mosques and medinas you will have likely seen by now.
A gift to the United States from Morocco in 1821, this former US Consulate now houses The Tangier American Legation Museum. Situated in the center of the old medina, this architectural gem (purportedly the only US historical landmark not on American soil) showcases a significant collection of art, historical items and rare books. Also on site is a room dedicated to Paul Bowles, the writer and composer who lived in Tangier for decades.
topEssaouria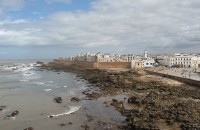 Just west of Marrakech on the Atlantic Coast is the old fortified fishing port of Essaouira. Previously known as Mogador, the Phoenicians are said to have first settled the area in the 7th century BC. Since antiquity, the city's marquetry craftsmen have been in high demand for exceptional wood objects of every sort. For a cherished keepsake, visit their workshops in the former munitions caches under Essaouira's ramparts. Afterwards, head to the beach for camel tours, kite flying and windsurfing.
Copyright 2013 MyLittleSwans, LLC. All rights reserved. My Little Swans, the logo and Share a world of experience are registered Trademarks of MyLittleSwans, LLC. Use of this site constitutes acceptance of our Terms of Use and Privacy Policy.