Destination:
Yellowstone & Grand Teton
Yellowstone National Park
Established in 1872 by President Grant, Yellowstone is America's first national park. It covers more than 2,219,789 acres, making it larger than Rhode Island and Delaware combined. As you cross this vast expanse, you'll see one reminder after another that this region is a supervolcano, the largest on the continent. With two-thirds of the world's geysers and a hugely diverse collection of hot springs, mudpots and steam vents, Yellowstone contains fully half the world's geothermal features. If that's not enough, you'll also find a spectacular canyon, several impressive waterfalls, cliffs made of obsidian, and a seemingly infinite number of creeks and lakes.
Along with this fascinating array of landscapes, Yellowstone also teems with wildlife. The park's bison herd is the oldest and largest public bison herd in the United States, and you will encounter them everywhere – roaming the valleys, taking dirt baths in the meadows, and even walking in a slow, stately fashion down the center of the road. Deer, elk, coyotes and antelope are plentiful, and lucky visitors might spot moose, wolves, bear, trumpeter swans or sandhill cranes. To increase your chances of seeing wildlife, consider a naturalist-led nature hike, or hire your own private guide for a wilderness safari.
As you would expect from such a large, pristine and varied place, recreational opportunities abound, from hiking on over 1,000 miles of trails to fishing the many lakes, rivers and streams. In winter, visitors can explore the park on snowmobiles, snowshoes or cross-country skis.
The main road (Grand Loop Road) makes a big figure-eight through the park – most of the attractions can be found along the Upper or Lower loops. Distances are larger than you might think, so it's best to spread out your visit over a few days and explore one section of the park at a time.
topOld Faithful Area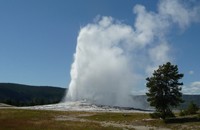 Old Faithful
The most famous attraction in the park, Old Faithful reaches heights of up to 180 feet. It's not quite as regular as the name implies, but erupts approximately every 94 minutes, making it Yellowstone's most frequently erupting geyser. Surrounding the geyser at a safe distance is a boardwalk, easily accessible for pedestrians/wheelchairs. It is not advised to leave the boardwalk.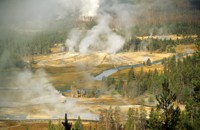 Upper Geyser Basin
A series of boardwalks and trails leads from Old Faithful through the Upper Basin – if you walk quickly around the basin and back, you may able to see Old Faithful erupt a second time. The 1-mile long basin contains a huge concentration of hot springs and geysers, one fifth of the known geysers in the world. Start your hike from the back of side of Old Faithful, on the trail that crosses Firehole River to Geyser Hill. You are likely to see a number of small geysers erupt at close range. If you're very lucky, you might witness an eruption of the Giantess Geyser erupt (it happens only a few times a year, but reaches heights of 250 feet). Elk and bison can often be seen here as well. Plan on spending a minimum of 2 hours in this area.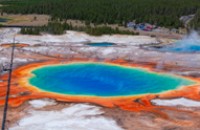 Midway Geyser Basin
A 20-minute stroll around the boardwalk takes you past the enormous Excelsior Geyser Crater, which erupted for 2 days in 1985, and still some 4,000 gallons of steaming-hot water per minute into the Firehole River. Continue on to the Grand Prismatic Spring. At 370 ft wide and ringed with hues of orange, yellow and green, it's the largest and most beautiful hot spring in the park.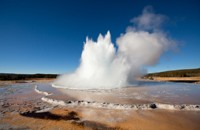 Great Fountain Geyser
This geyser, along with steaming Firehole Lake, Hot Cascades and other features, can be found off the one-way Firehole Lake Drive. Great Fountain erupts dramatically every 11 hours or so – check the prediction board for the next estimated time of eruption. If you have the time to wait, this is one of the best.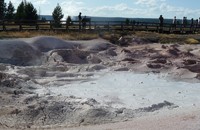 Fountain Paint Pot Nature Trail
This ½-mile boardwalk offers a veritable catalogue of thermal features, from fumaroles (steam vents), turquoise-blue pools and small geysers to the paint pots themselves, a cauldron of bubbling, reddish-pinkish mud.
topNorris Area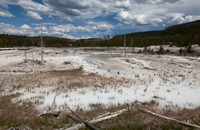 Norris Geyser Basin
This area contains the hottest and most changeable ground in Yellowstone. The two basins within Norris Geyser Basin are Porcelain Basin and Back Basin, both worth seeing. Back Basin features geysers and pools with names like Puff 'n Stuff and Green Dragon Spring – it's also home to the Steamboat Geyser, the world's tallest active geyser, reaching heights of 400 feet. This geyser is unpredictable, and may go years without erupting fully – the last big eruption was in May 2005. Meanwhile, it gurgles frequently, spouting of water 10-40 feet in the air. Porcelain Basin is an expanse of milky white stone, perforated with steam vents and geysers called Black Growler, Whirligig and Pinwheel.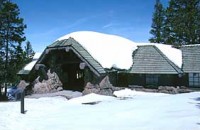 Built in 1929, this building is a National Historic Landmark – its stone and log architecture became a model for "parkitecture" throughout the country. The museum offers exhibits on geothermal geology, Norris Geyser Basin features, and plant and animal life in thermal areas.
This museum chronicles the history of park rangers from their military beginnings to their current specialized duties. The staff are primarily retired National Park Service employees who volunteer their time. The building is an original soldier station from 1908, completely rebuilt using original materials where possible.
topMammoth Area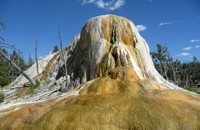 Mammoth Hot Springs
This remarkable area is of the world's best examples of travertine-depositing hot springs, as well as one of Yellowstone's most thermally active areas. The underlying rock here is limestone, unlike the rhyolite which is dominant in the rest of the park. A network of fissures allows hot water to flow up from underground, dissolving minerals in the rock. At the surface, calcium carbonite in the form of travertine creates fantastical terraces that resemble layer cakes, peaked caps or elephants. These formations are constantly changing, and are often brightly colored due to microorganisms in the water.
The Upper Terraces can be viewed on a scenic drive or by walking the boardwalks – the Lower Terraces boardwalks can be reached either at their base or by walking down from Upper Terrace Drive.
Open 7 days a week, year-round
Dating from the days when this was a cavalry post, this building houses a museum of history, with special exhibits focused on painter and expeditioner Thomas Moran. The theater shows several films on the history and creation of Yellowstone as well as an orientation of the park today.
After the establishment of Yellowstone National Park in 1872, threats from poachers, developers and souvenir hunters inspired park officials to ask the military's help in protecting the park. The U. S. Cavalry arrived in 1886 and began building a permanent fort in 1890. Army soldiers continued to protect Yellowstone until 1918, when the National Park Service was established. Ranger-led walks around the fort are offered daily during summer. If you prefer a self-guided tour, maps of the historic buildings are available at the visitor center, or you can take the online tour.
topTower-Roosevelt Area
Tower Fall
It's a short walk to the overlook of this 132-foot-high falls, off Grand Loop Road south of Roosevelt Lodge. There is a general store and gift shop next to the parking lot (which can get very full).
topCanyon Area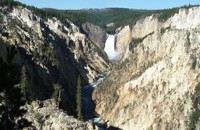 Grand Canyon of the Yellowstone
The dominant feature of the Canyon District is this spectacular canyon, roughly 20 miles long, 800 to 1,200 feet deep and 1,500 to 4,000 feet wide. The steep, deeply etched walls, jagged pinnacles, and red and ochre hues would be dramatic even without the waterfalls tumbling down the gorge. The best way to see the canyon is by hiking. Options include the moderate South Rim Trail (1.75 miles one way), and the North Rim Trail (3 miles one way).
Lower Falls
From the Canyon Visitor Education Center, follow North Rim Drive to lookout points for great views of Yellowstone River's 308-foot Lower Falls. These falls are twice as high as Niagara Falls. For the best views, walk from Inspiration Point to Grandview Point. There is also the moderate but steep Brink of the Lower Falls Trail which descends 600 feet to a viewing area just above the point where the river heads over the rocks and down.
From the first parking area off South Rim Drive, you can take the spectacular but strenuous Uncle Tom's Trail, leading down 700 metal steps to the base of the Lower Falls. Continue along South Rim Drive or take the South Rim Trail to Artist Point, the best overall view of the canyon.
Upper Falls
At 109 feet in height, these are easier to reach than the Lower Falls. From the Upper Falls View parking area, it's a short walk to the overlook.
This new center focuses on Yellowstone volcanic geology, exploring the areas geysers, hot springs, and geologic history through interactive exhibits, animations, audio-visual productions, and real-time scientific data.
Hayden Valley
The Yellowstone River flows through the sage-covered hills of this beautiful valley, which starts a couple of miles south of Canyon Junction. This is prime wildlife-viewing country – get there early or late in the day, drive slowly and stop often. White Pelicans and Trumpeter Swans share the river with Canada Geese, gulls, and ducks. Bison are visible most of the year. Sometimes the creek area offers opportunities to see grizzlies off in the distance (be sure to bring binoculars).
topYellowstone Lake Area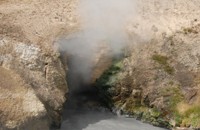 Mud Volcano and Black Dragon's Caldron
Kids will love these impressive geothermal sights. Black Dragon's Cauldron is so named because it makes a noise like a dragon, while the Mud Volcano is a seething, gooey pool. A ¾ mile interpretive trail loops through the area.
LeHardy Rapids
Located 3 mi. north of Fishing Bridge on the Yellowstone River, this waterfall fills each June with cutthroat trout leaping to their spawning grounds. A boardwalk allows safe, close-up views. (No fishing.)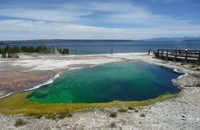 West Thumb Geyser Basin
West Thumb is a water-filled caldera created about 168,000 years ago, a smaller version of the great Yellowstone caldera. A boardwalk leads around the West Thumb Geyser Basin, a modest group of thermal features made appealing due to the proximity to the lake.
topWildlife Viewing
While you might spot wildlife anywhere in the park at almost any time, two of the best places for viewing are the Lamar Valley and the Hayden Valley. Both are wide, sage-covered meadows with the Yellowstone River running through, attracting bears, moose, elk, bison, pronghorn antelope, coyotes and wolves. For the best chance to see wildlife, go at dawn or dusk, and carry binoculars. You'll almost certainly pass through the Hayden Valley as you tour the park, since it's located between the Grand Canyon of the Yellowstone and Yellowstone Lake. The Lamar Valley, in the remote northeast corner of the park, is relatively untraveled and requires a special trip, but it's worth it. Along with its beauty and diversity, it's the best place in the park to see wolves.
Copyright 2013 MyLittleSwans, LLC. All rights reserved. My Little Swans, the logo and Share a world of experience are registered Trademarks of MyLittleSwans, LLC. Use of this site constitutes acceptance of our Terms of Use and Privacy Policy.