Destination:
Yellowstone & Grand Teton
Grand Teton National Park
The dominant feature of the park is the Grand Teton mountain range, a towering row of sharp, snow-capped peaks rising abruptly from a sagebrush-covered plain. Though they are one of the most photographed sights in the United States, you're still likely to gape when seeing them for the first time in all their glory. As you fish on the rivers, paddle across the lakes and watch for wildlife on the meadows, the mountains are always there as a backdrop, and they never fail to inspire awe.
Though small compared with the immensity of Yellowstone, Grand Teton offers a huge variety of activities, from float trips and white-water rafting on the Snake River, to horseback riding, hiking, kayaking, fishing, biking, scenic drives, and nature walks. Wildlife is abundant – you will almost certainly see bison, and are also likely to see moose, pronghorn and elk, bald and golden eagles, waterfowl, and smaller animals such as beavers, otters and marmots. Grizzlies and black bears, though less common, are frequently spotted as well.
Menor's Ferry Historic District
Park naturalists offer ferry rides daily, mid Jul-mid Sep
This ferry played a vital role in providing safe transport for passengers over the swift-flowing Snake River during the late 1800s and early 1900s. General store owner Bill Menor operated the ferry from 1894 until 1918, when Maud Noble took it over. In 1927, the construction of a bridge made the ferry obsolete. Today, visitors can see and ride a replica of the ferry. Menor's original general store sells bottled soda and candy, and frequently offers fresh ginger cookies. A nearby cabin displays of wagons and sleds used in the early 1900's.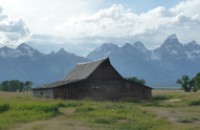 Mormon Row
Between 1896 and 1907, homesteaders settled this area just south of Antelope Flats Road – many were Mormons, hence the name "Mormon Row". Several barns, homes and outbuildings still remain along the short stretch of road, offering picturesque photo ops.
Laurance S. Rockefeller Preserve
Preserve open year-round 8am-5pm
Interpretive Center open May 22-Jun 5, 9am-5pm; Jun 6-Sep 5, 8am-6pm; Sep 6-25, 9am-6pm
Tel: (307) 739-3654
Opened in 2008, this preserve gives visitors access to over 1,100 acres of pristine land. A wide variety of birds and other wildlife can be spotted on the eight miles of self-guided trails (including a 2.5-mile loop to Phelps Lake). The interpretive center was the first LEED-certified building to be constructed in the National Park system, and offers state-of-the-art, multi-sensory displays about the local ecology. Call for information about ranger-led walks and special programs.
topScenic Drives
Jenny Lake Scenic Drive
Start at the North Jenny Lake Junction. Stop at Cathedral Group Turnout for an incredible, close-up view of Grand Teton and the surrounding peaks. Continue on the main road – at the String Lake fork, the road becomes one way. Continue to the Jenny Lake Visitor Center.
Signal Mountain Scenic Drive
Start at North Jenny Lake Junction on the Teton Park Road. Drive north past Bivouac Peak, Rolling Thunder Mountain, Eagle's Rest Peak and Jackson Lake. Take the right hand turn on Signal Mountain Road and drive the 4-mile stretch of switchbacks to the summit. Views from the top are amazing. Back on Teton Park Road, continue north and take a right turn towards Oxbow Bend for a classic view of the Tetons dominated by Mount Moran. This is a great place to spot birds and other wildlife.
topWildlife Viewing
You might spot wildlife anywhere in the park at almost any time, so keep your eyes open. Some of the places that are best known for wildlife include Antelope Flats (bison, moose, pronghorn), Oxbow Bend (trumpeter swans, pelicans and other waterfowl), and Willow Flats (moose and elk).
Copyright 2013 MyLittleSwans, LLC. All rights reserved. My Little Swans, the logo and Share a world of experience are registered Trademarks of MyLittleSwans, LLC. Use of this site constitutes acceptance of our Terms of Use and Privacy Policy.