Destination:
Yellowstone & Grand Teton
Accommodations
topJackson Hole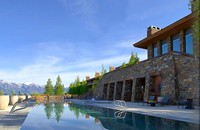 1535 North East Butte Road, Jackson,
WY 83002
Tel: (307) 734-7333

US toll free: (877) 734-7333
Located 10 minutes outside Jackson, this luxurious all-season resort offers magnificent views of the Tetons and the Snake River Valley. 29 well-equipped suites, 11 larger suites. Homes are also available for rent. The resort features a cozy grill serving sustainable meats and seasonal produce, a full-service spa and fitness center, and a wide range of available activities.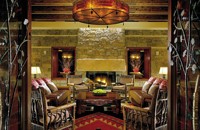 7680 Granite Loop Road, Teton Village, WY 83025
Tel: (307) 732-5000
Blending the Four Seasons' signature luxury with rustic, homey touches, this lodge-style mountain retreat is situated right next to Jackson Hole ski resort. Accommodations include 106 guest rooms, 18 suites and 32 private residences. Guests can enjoy elegant dining, a full-service spa, ski-in/ski-out access, a heated outdoor pool, and a variety of outdoor activities, including private wildlife safaris offered year-round and led by the resort's naturalist.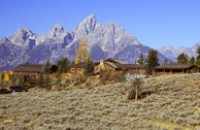 Lost Creek Ranch Road, Jackson WY
(20 minutes north of Jackson Hole airport)
Tel: (307) 733-3435
For a more complete "Wild West" experience, book several days or a full week at this guest ranch just east of Grand Teton National Park. Accommodations are simple but stylish, and the ranch offers a full range of activities, both on the property and within the park. Guests interested in riding will be given a horse (suited to their abilities) to ride all week, with professional instruction available at all levels. There's also an extensive kid's program for children 6 and up that includes kids-only rides, instructions and outings.
topGrand Teton
Grand Teton Lodge Company has most of the park concessions, including Jenny Lake Lodge and Jackson Lake Lodge. In addition to resorts and restaurants, they also offer a broad range of activities.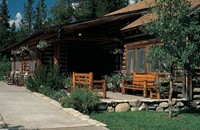 Open late May-early Sep
Reservations: (800) 628-9988
This rustically elegant eco-resort is the most luxurious hotel in the park (and perhaps finest in any national park). Accommodations are in uniquely decorated, well-appointed private cabins, at the foot of the Grand Tetons and right on the shore of scenic Jenny Lake. Rates include a daily gourmet breakfast and 5-course dinner, horseback rides and bicycle rentals. The dining room is famous for its fine cuisine and award-winning wine list, and worth a visit just by itself.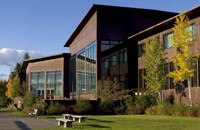 Open late May-early Sep
Reservations: (800) 628-9988
The largest of the park's resorts, this venerable eco-lodge offers panoramic views of the Tetons, Jackson Lake and Willow Flats from the lobby's 60-foot windows. The Mural Room restaurant and Blue Heron lounge have equally stupendous views, as do many of the accommodations. The lodge features 385 rooms, including lodge rooms, suites and cottages, as well as three restaurants, retail shops, an art gallery, a playground, a heated swimming pool with a poolside café and BBQ, and a variety of recreation opportunities.
topYellowstone
Xanterra Parks & Resorts runs most of the concessions at Yellowstone, including accommodations and activities. All park accommodations are non-smoking and reflect the natural surroundings of Yellowstone; televisions, radios, air conditioning, and Internet service are generally not available.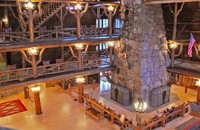 Open early May-early Oct
Reservations: 1-866-GEYSERLAND (439-7375)
A National Historic Landmark, this one-of-a-kind hotel dates from 1904, and is worth a visit even if you aren't staying there. Designed by Robert C. Reamer, its stylized log and wood-frame construction had a profound influence on American park architecture. The lobby is vast and spectacular, with a massive, eight-sided stone fireplace and a soaring 65-foot ceiling flanked by balconies, lodgepole railings and dormer windows. Rooms are unique and charming; many are recently remodeled and most are ensuite, though a few feature shared baths.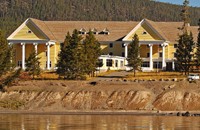 Open mid-May to late Sep
Reservations: 1-866-GEYSERLAND (439-7375)
Also a National Historic Landmark, this revered hotel is the park's oldest, built in 1891. More refined than rustic, it offers gracious touches like a string quartet in the lobby and a Sun Room with wicker chairs and large windows overlooking the lake. Hotel guestrooms are airy and cheerful, with a 1920s ambiance. Basic standard rooms and cabins are also available.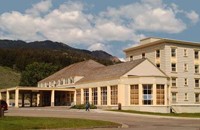 Open mid-May to mid Oct and mid-Dec to early Mar
Reservations: 1-866-GEYSERLAND (439-7375)
Dating from 1937, this historic hotel is open for both the summer and winter seasons. Though less expensive and luxurious than the Old Faithful Inn and Lake Yellowstone Hotel, it's comfortable and pleasant, with art-deco details in the dining room and lobby. A few well-equipped suites are available. Some of the standard rooms are ensuite, others have shared baths. Herds of elk are often seen grazing nearby, especially during the fall.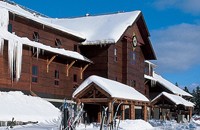 Open mid Apr-mid Oct and mid Dec-early Mar
Reservations: 1-866-GEYSERLAND (439-7375)
This new hotel is also open both winter and summer. Despite timber construction and wildlife themes that aim at a rustic "parkitecture" style, it is still rather stark and not nearly as impressive as the Old Faithful Inn. Furnishings are cozy though, and the hotel offers two restaurants and in-room amenities such as hairdryers and refrigerators. All lodge rooms are ensuite.
Copyright 2013 MyLittleSwans, LLC. All rights reserved. My Little Swans, the logo and Share a world of experience are registered Trademarks of MyLittleSwans, LLC. Use of this site constitutes acceptance of our Terms of Use and Privacy Policy.