Destination:
Yellowstone & Grand Teton
Activities
Both parks offer a wide range of outdoor activities year-round. If you're interested in a guided multi-day, multi-sport adventure in Grand Teton and Yellowstone, contact our partner Backroads.
topJackson Hole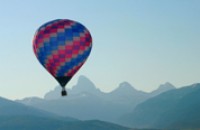 Hot Air Ballooning
When we were in Grand Teton, one of our most memorable experiences was the hot-air balloon ride we took. Viewing the famous peaks and abundant wildlife from the air, on a serene and silent balloon flight, is truly breathtaking and well worth getting up before dawn. There are several operators in Jackson Hole – you can make arrangements through the Amangani Resort or ask our MLS Travel Advisor for recommendations.
Hiking
Grand Teton National Park features 250 miles of maintained trails, not to mention numerous hiking opportunities around Jackson Hole. Snow King Resort is covered with hiking trails leading to panoramic vistas. Always maintain good bear awareness when hiking and keep a safe distance from wildlife.
The Cascade Canyon trail is one of the park's best hikes, with breathtaking views from Inspiration Point. To avoid crowds, plan to go in the early morning or early afternoon. You can take the Jenny Lake shuttle boat from the Eastern Shore Boat Dock to the Cascade Canyon trailhead – from there, the hike is a 2-mile round trip. If you'd like a longer hike, you can start at the Jenny Lake Visitors Center and take the Hidden Falls trail around the southern shore of the lake.
Another easy hike is a 2.5-mile loop to Phelps Lake, beginning at the Laurance S. Rockefeller Preserve Interpretive Center. Keep your eyes open and your binoculars handy – you're likely to spot a wide variety of birds.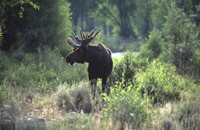 Wildlife Safaris
Private wildlife adventures allow you to safely and comfortably view animals in their natural habitat, and take you to remote areas away from the highways. The Four Seasons Resort Jackson Hole offers customized four-hour expeditions, limited to just five guests and led by one the Resort's in-house wildlife biologists and their naturalist. Tours are available to Grand Teton National Park, the Bridger Teton National Forest, the National Elk Refuge, and Yellowstone.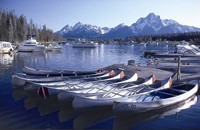 Boating
Grand Teton Lodge Company runs breakfast, dinner and scenic cruises on Jackson Lake from Colter Bay Marina. This marina also has kayaks, motor boats and canoes available for rent.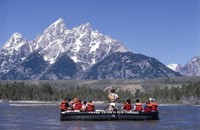 Rafting
A float trip or whitewater adventure on the Snake River is not to be missed. Grand Teton Lodge Company offers guided "wild and scenic" rafting trips and can arrange whitewater rafting trips. Float season is April through December.
Fishing
Grand Teton Lodge Company offers guided fishing trips on Jackson Lake or the Snake River. A Wyoming fishing license is required to fish in the park and can be obtained at Colter Bay Marina, Moose Village Store or Signal Mountain Lodge.
Bicycling
There are easy, paved bike paths along Teton Park Road between Moose and Jenny Lake Visitor Center, and there is a bike lane along Jenny Lake Loop. Be very careful when cycling along the other park roads, where you will have to share with vehicles. Bicycles are not allowed on hiking trails or in the backcountry.
Snow King Resort in Jackson offers excellent mountain biking trails in summertime.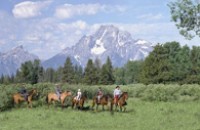 Horseback Riding
One of the best ways to experience the Tetons is on horseback. Grand Teton Lodge Company offers excursions from Jackson Lake Lodge and Colter Bay Village. Horseback riding at Jenny Lake Lodge is only available to guests who stay at the Lodge.
Winter Sports
Jackson Hole Mountain Resort is one of the world's great skiing and snowboarding destinations, with 2,500 acres of skiable terrain, much of it rated expert. Backcountry opportunities abound, but less experienced skiers will find plenty of suitable slopes as well. There's also Snow King Resort, to the west of Jackson, with 400 acres of runs and a snow park. Grand Teton National Park offers fantastic cross-country skiing. Naturalists provide guided snowshoe walks from the Craig Thomas Discovery and Visitor Center when snow conditions permit.
topYellowstone National Park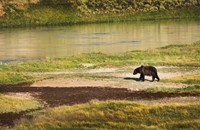 Wildlife Safaris
To increase your chances of seeing wildlife and learn more about the local landscape and ecology, consider booking a private, guided safari with a naturalist guide. Guide services are available year-round from a variety of operators – we suggest the private tours offered by the Four Seasons Resort Jackson Hole, which have recently expanded to include Yellowstone.
Hiking
Yellowstone offers more than 1,000 miles of hiking trails, from easy strolls to strenuous backcountry treks. Always maintain good bear awareness when hiking and keep a safe distance from wildlife.
Below are a few hikes we recommend:
Beaver Ponds Loop Trail
Trailhead: Clematis Gulch between Liberty Cap and the stone house 
at Mammoth Hot Springs
Distance: 5 mile loop 

Level of Difficulty: Moderate
One of Yellowstone's shorter loop trails, this is a scenic hike with little elevation change and a good chance to see some of the Park's larger animal inhabitants, including elk, deer, pronghorn, moose and occasional black bear. The trail wanders through both meadows and forest. Elk and antelope frequent the meadows, and smaller animals can be spotted in the forest. The trail passes by several ponds dammed by beavers, which are sometimes visible. Wildflowers in brilliant colors are plentiful during the early part of the summer, and the trail offers excellent views of the Mammoth area. As beaver are mainly nocturnal animals, your best chances to see one are at dawn or dusk.
Grand Canyon of the Yellowstone
The best way to see the canyon is by hiking. Moderate options include the South Rim Trail (1.75 miles one way) and the North Rim Trail (3 miles one way). There are also a few short but strenuous trails with spectacular payoffs. The paved Brink of the Lower Falls Trail descends several hundred feet through steep forest, ending at a viewing area just over the point where the river heads over the rocks and down. Uncle Tom's Trail, on the South Rim, leads down 700 metal steps to the base of the Lower Falls.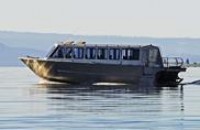 Motorized boats, kayaks, sailboats and rowboats are available for rent at Bridge Bay Marina at Yellowstone Lake. Xanterra Parks & Resorts also offers one-hour scenic cruises on the lake.
Fishing
The fishing season begins the Saturday of Memorial Day weekend (usually the last weekend in May) and extends through and includes the first Sunday in November. Click here for information on dates and regulations.
Bicycling
Xanterra rents bicycles at the Old Faithful location. Bicycles are prohibited on backcountry trails and boardwalks. Cycling is permitted on the main park roads, but extreme caution should be used as there are no bike paths, shoulders are either narrow or nonexistent, and traffic is often heavy during the summer months. A better option is to bike on one of the routes that are restricted to bicycle and foot traffic (click here for more information) or to go on a guided tour with a professional operator like Backroads.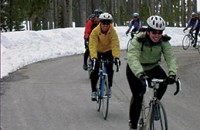 In November and mid-March to mid-April, when park roads are closed to traffic and are being prepared for winter or summer, day-use bicycling, jogging, roller blades and other non-motorized transportation is allowed on portions of the Grand Loop road. However, weather can be unpredictable and services are very few. Click for more information on fall and spring cycling.
Xanterra offers horse rides starting from Mammoth, Tower-Roosevelt, and Canyon. Advance reservations are recommended. They also offer stagecoach adventures and horseback or wagon rides which take visitors to a cookout site for a steak dinner.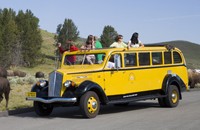 Unlike your typical bus tours, these take you around the park on charming and luxurious touring cars that can even have the top open in good weather. Dating from the 1930s, the vintage vehicles were restored and put back into service in 2007. Choose from full-day or partial-day tours, photo safaris, or evening tours, covering various areas of the park and tailored to particular interests – custom guided tours are also available. Minimum guests: 3; maximum guests: 13.
The goal of the Junior Ranger program is to introduce children to the natural wonders of the park and inspire them to help preserve these wonders for the future. Families may request a free 12-page activity paper at any Yellowstone visitor center. After completing the age appropriate requirements and reviewing their work with a ranger, participants are awarded an official Yellowstone Junior Ranger patch. There is also a Young Scientist program available at Canyon Visitor Education Center or Old Faithful Visitor Center.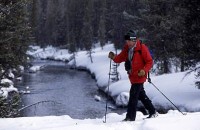 Winter Activities
Yellowstone is ideal for winter sports like cross-country skiing, snowshoeing and snowmobiling. The ice skating rink at the Old Faithful Snow Lodge is open during winter months. The park offers several ranger-led winter programs, and Xanterra offers a variety of winter services, including evening programs, snow-coach tours, guided ski and snowshoe tours, guided snowmobile tours, and wildlife bus tours. Learn more here.
Copyright 2013 MyLittleSwans, LLC. All rights reserved. My Little Swans, the logo and Share a world of experience are registered Trademarks of MyLittleSwans, LLC. Use of this site constitutes acceptance of our Terms of Use and Privacy Policy.