Destination:
Yellowstone & Grand Teton
Jackson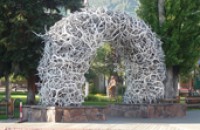 "Jackson" should not be confused with "Jackson Hole." Jackson Hole refers to the valley (a "hole" surrounded by mountains), while Jackson is the main town within the valley. It's a charming, walkable town that's both rustic and upscale. Most of the shops and restaurants are clustered around the Town Square, with its iconic archways made of antlers. At 6:30 most evenings during the summer, a Wild-West "shoot-out" is staged here. Shops in the downtown area tend to sell high-end Western gear, artwork and furniture, the restaurants range from casual to gourmet, and the bars are lively.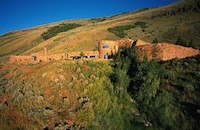 2820 Rungius Road, Jackson
Tel: (307) 733-5771
Open Mon-Sat, 9am-5pm, Sun 11am-5pm. Closed Thanksgiving Day, Veteran's Day, Dec 25.
Housed in a building designed to blend seamlessly with its natural surroundings, this museum showcases an excellent collection of American art from the 19th and 20th centuries. Several exhibits and programs for kids and families are available. A new 3/4-mile Sculpture Trail, designed by award-winning landscape architect Walter Hood, presents art against the ever-changing backdrop of Jackson Hole's incomparable scenery.
Copyright 2013 MyLittleSwans, LLC. All rights reserved. My Little Swans, the logo and Share a world of experience are registered Trademarks of MyLittleSwans, LLC. Use of this site constitutes acceptance of our Terms of Use and Privacy Policy.