Kremlin
The seat of Russian government and the heart of Moscow, this former fortress encloses a variety of impressive buildings.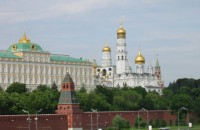 Great Kremlin Palace
Closed to public

Built as the Moscow residence of the royal family, this enormous palace is now the official home of the Russian president. The gardens are gorgeous.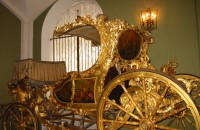 Tel: +7 (495) 921-4720 or 695-3776
Open Fri-Wed 10am-5pm
Armory Chamber: Admittance at 10am, 12pm, 2:30pm and 4:30pm Fri-Wed
State Diamond Fund: Fri-Wed 10am-1pm, 2pm-5pm Closed Thurs

Along with a large collection of armor, this museum contains a jaw-dropping display of imperial carriages, gowns, jewel-encrusted icons, and Faberge eggs.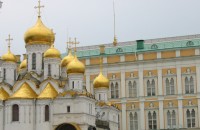 Cathedral of the Assumption
Open Fri-Wed 10am-5pm
Closed Thurs
Though topped with Orthodox onion domes, this magnificent church was designed in the spirit of the Italian Renaissance. The interior features fresco-covered walls, a striking iconostasis, painted pillars, and elaborate thrones.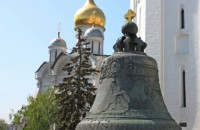 Ivan Square with Bell Tower
Open Fri-Wed 10am-5pm
Closed Thurs
The elegant Ivan the Great bell tower is so named because of its height. Outside the tower sits the famous Tsar Bell, the largest in the world. Nearby is the Tsar Cannon, site of many a tourist photo-op.
Copyright 2013 MyLittleSwans, LLC. All rights reserved. My Little Swans, the logo and Share a world of experience are registered Trademarks of MyLittleSwans, LLC. Use of this site constitutes acceptance of our Terms of Use and Privacy Policy.