Red Square, Kitay Gorod
A former marketplace, Red Square has long been the site of processions and parades. The surrounding neighborhood of Kitay Gorod is Moscow's financial district.
3/6 Ulitsa Rozhdestvenka
Tel: +7(495) 620-8500
Recently renovated in bright tones. Each room has a unique floor plan. Features one of the nicest pools in Moscow.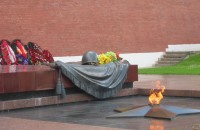 Krasnaya ploshad
Tel: +7 (495) 923-5527
Tue-Thu, Sat-Sun 10am-1pm
It's rumored that Lenin may soon be laid to rest elsewhere. But for now, walking through the dimly lit interior to view the Soviet leader's embalmed body is a memorable, if surreal, experience.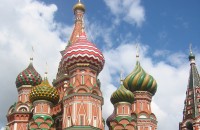 St. Basil's Cathedral
Krasnaya ploshad
2 Tel: +7 (495) 298-3304
May-Nov, Wed-Mon 10am-5pm Dec-Apr, Wed-Mon 10am-4pm
Ivan the Terrible commissioned St. Basil's in the 1550's, then, according to legend, had the architect blinded so he could never build anything else so beautiful. The cathedral is Moscow's most enduring symbol, with a richly decorated interior to match its elaborate exterior.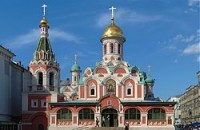 Kazan Cathedral
Nikolskaya ulitsa
3 Tel: +7 (495) 298-0131
This small cathedral, entirely reconstructed in the 1990s, is famed for housing the Icon of the Kazan Virgin, a symbolic protector of Russia.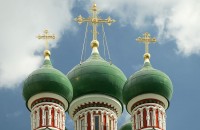 Church of the Trinity
Nikitnikov pereulok 3
Though closed to the public during renovation, the exterior of this church still impresses, with five green domes, tiers of gables and an ornate bell tower. Within are splendid frescos and gilded iconostasis.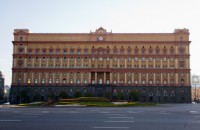 KGB Museum
Lubyanka Square
With its collection of spying devices, this small, intriguing museum pays homage to the art of espionage, while skirting some of the bloodier aspects of the KGB. Guided tours available to select groups by appointment only. A thrilling private tour featuring spy-related documents and artifacts.
topRestaurants
Myasnitskaya ulita 19
Tel: +7 (495) 925-4656
Mon-Sat 8am-1pm, 2pm-8pm Housed in an elaborate Chinese-style building, allegedly built to impress a visiting Chinese ambassador.
Savvinskaya Embarkment 21
Tel: +7 (495) 518-6060
Open daily 12pm-12am Refreshingly unpretentious, this New York-inspired, loft-style restaurant offers river views and serves classical French cuisine with a twist.
Teatralnaya ploshchad 5
Red Square & Kitay Gorod
Tel: +7 (495) 298-5609
Daily 12pm-12am
Reservations recommended
Traditional Russian cuisine in a 17th Century monastery. Russian folk songs, folk dancing and gypsy entertainment make for a memorable evening. English-language menu.
Vogue Café
7/9 Kuznetsky Most
Tel: +7 (495) 623-1701
Mon-Sat 8am-1pm, 2pm-8pm
Chic but casual, with eclectic, trendy cuisine. Perfect after shopping or before a performance at the Bolshoi. Fun for the kids.
topShopping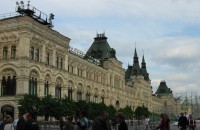 GUM
3 Red Square
Tel: +7(095) 921-5763
Mon-Sat 8am-8pm; Sun 11am-7pm
Copyright 2013 MyLittleSwans, LLC. All rights reserved. My Little Swans, the logo and Share a world of experience are registered Trademarks of MyLittleSwans, LLC. Use of this site constitutes acceptance of our Terms of Use and Privacy Policy.