Arabatskaya
This bohemian neighborhood was the 19th century haunt of Moscow's artists and intellectuals. The pedestrianized streets of Old Arbat are lined with historic homes, shops and cafés.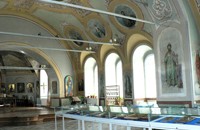 Ulista Volkhonka 12
Tel: +7(095) 203-9578
Tue-Sun 10am-6pm
This museum houses a superb collection of European art as well as ancient Greek and Egyptian artifacts. Many were the property of private collectors before being nationalized by the Soviet government.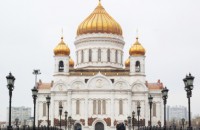 Cathedral of Christ the Redeemer
Ulista Volkhonka 15
The tallest building in Moscow when it was completed in 1883, this cathedral was dynamited on Stalin's orders in 1931 and rebuilt in the 1990s at enormous cost. The dome offers spectacular views of city.
Ulitsa Arbat 55
Tel: +7(095) 241-4212
Open Wed-Sun 11am-6pm
Russia's most famous poet lived in this flat for three months in 1831. Pushkin's apartment displays few personal artifacts, but the ground-floor rooms offer a fascinating view of early 19th-century life.
topRestaurants
12 Kutuzovsky Prospekt
Tel:+7 (495) 725-5575
The flashy, whimsical trend of molecular gastronomy is alive and well in Moscow. Restaurateur Anatoly Komm is regarded as a genius in food circles, and a meal at On the Komm is a one-of-a-kind experience. Not for kids.
Uncle Guilly's
6 Stoleshnikov Pereulok
Tel: +7(495) 933-5521
Moscow's first real steak house, located in the cozy multi-room cellar of an historic building rumored to have been Napoleon's secret refuge.
5/2 Komsomolsky Prospekt
Tel:+7 (495) 246 7624
The city's most important Japanese restaurant serves high-quality, contemporary Japanese fare with a few nods to Russian local tastes.
Bolshoy Savvinskyi pereulok 12
Tel: +7 (495) 248 4045
Traditional Tuscan food in a beautifully replicated Italian villa. Reserve well in advance for a prime people-watching spot on the veranda.
Savvinskaya Naberezhnaya, 12, building 8
Tel: +7 (495) 246-3420
Trendy, inventive French restaurant with a patio offering river views.
Copyright 2013 MyLittleSwans, LLC. All rights reserved. My Little Swans, the logo and Share a world of experience are registered Trademarks of MyLittleSwans, LLC. Use of this site constitutes acceptance of our Terms of Use and Privacy Policy.