Further Afield
topNovodevichy Monastery
Novodeivchy proezd 1
Moscow, Russia
Tel: 246 8526
Open Mon-Wed 10am-5pm
A number of fortified monasteries lie just south of Moscow—this 16th-century institution, with its elegant bell tower and spectacular cathedral, is the most beautiful. The cemetery contains the graves of many prominent Russians, including Chekov, Prokofiev, and Kruschev.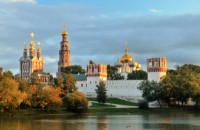 topGorky Park
Krymskiy val 9
Moscow, Russia
Tel: 237 0707
Open Daily 10am-10pm
This park was named for the founder of Soviet Social Realism. Stretching along the Moscow River, the park offers gardens, ponds and carnival rides, but is most famous as the location of a thriller by Martin Cruz Smith.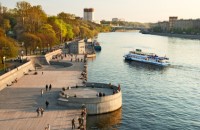 Copyright 2013 MyLittleSwans, LLC. All rights reserved. My Little Swans, the logo and Share a world of experience are registered Trademarks of MyLittleSwans, LLC. Use of this site constitutes acceptance of our Terms of Use and Privacy Policy.