Vasilevsky Island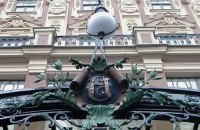 Mikhailovskaya Ulitsa
Tel: +7 (812) 329-6000
Fax: +7 (812) 329-6001
"The" place to stay in St. Petersburg, this landmark hotel just underwent a major renovation, but kept its historic Style-Moderne interiors intact. Elegant decor and refined service are complemented by a spa, an indoor pool, and numerous restaurants.
Universitetskaya Naberezhnaya 1/3
Tel: +7 (812) 328-0112 Open Sat-Thu, 11am-6pm
This former warehouse contains one of the world's largest natural history collections (including a mummified mammoth). Fun for kids.
Birzhevaya Ploshchad 4
Tel: +7 (812) 328-2502
Open Wed-Sun, 11am-6pm
One of the oldest museums in the country, with more than 800,000 exhibits tracing Russia's maritime history. Among its prizes is the boat on which Peter the Great learned to sail.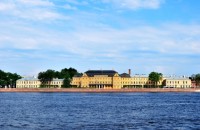 Universitetskaya Naberezhnaya 15
323 1112
Open Tue-Sun 10:30am-5:30pm
This palace was commissioned by Peter the Great for his friend and advisor Aleksander Menshikov. Its extravagant rooms once hosted lavish parties—now it's a branch of the Hermitage, highlighting early 18th-century Russian culture.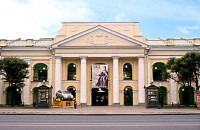 Gostinyy Dvor
On Nevsky Prospekt
This arcade has been St. Petersburg's main bazaar since the 18th century, and the area around it still buzzes. Nevsky Prospekt, the city's major thoroughfare, is also its center of shopping and entertainment, lined with upscale malls, museums and cafes.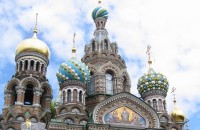 Church on Spilled Blood
Konyushennaya Ploshchad
Tel: +7 (812) 315-1636
Open May-Sept Thu-Tue 11am-7pm; Oct-Apr Thu-Tue 11am-5pm
Built on the spot where Tsar Alexander II was murdered, this jewel of a church was designed in a fabulously ornate Russian style that contrasts sharply with the city's Baroque palaces. The interior is just as elaborate, with a profusion of bright mosaics.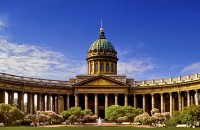 Kazankaya pl2
Tel: +7 (812) 311-0495
Open daily 9am-7:30pm
The curved colonnade of this massive church was inspired by St. Peter's in Rome. A museum of atheism in Soviet times, it was turned back into a church in 1999. Field Marshal Kutuzov, who masterminded Russia's victory over Napoleon, is buried here.
Naberezhnaya Reki Moyki 12
Tel: +7 (812) 311-3531
Open Wed-Mon 11am-5pm
Russia's most revered poet lived here for two years, from 1836 until his death following a duel. The refurbished rooms are filled with Pushkin's personal effects. English-language commentaries are available for rent.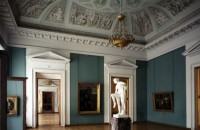 Inzhenernaya Ulitsa 4
Tel: +7 (812) 219-1608
English +7 (812) 314-3448
Open: Mon 10am-5pm, Wed-Sun 10am-6pm
Housed in a Neo-Classical mansion, this museum holds the world's most complete assembly of Russian art. Items on display include medieval icons, folk art, 19th-century social-realism paintings, and a major collection of avant-garde works.
topRestaurants
Degtyar-naya Ulitsa 1A
Tel: +7-(812) 717-1818
Funky and sleek, with large reproductions of classical sculptures. Non-traditional but delicious Italian menu.
95 Nevsky Prospekt
Tel: +7 (812) 717-2467
This fashionable Parisian-style bistro is a lunchtime favorite, but also serves excellent breakfasts.
Restoran
2 Tamozhenny Pereulok
Tel: +7 (812) 327-8979
Refined without being pretentious, this streamlined restaurant offers a wide assortment of infused vodkas and delicious small plates.
12 Sadovaya Ulitsa
Tel: +7 (812) 925-4000
Though increasingly popular as a nightspot, this ultra-glamorous cafe is still a great place for breakfast.
topShopping
3 Stremyannaya Ulitsa
Tel: +7 (812) 572-2043
The city's leading showcase for Russian antiques from the 18th to the 20th centuries, including paintings, furniture, forged ironworks, and authentic national costumes.
Kuznechny Market
Sitney and Tarzhkovsky
Centrally located market off Nevsky Prospekt selling produce, flowers, fresh cream cheese and variety of other goods, from walnut candy to pickled cucumbers.
Sitney and Tarzhkovsky
Less touristy but no less colorful, the markets in these areas offer homemade cheese and honey, locally grown produce and exotic spices.
topFor Kids
Rossi Ulitsa 2
Tel: +7 (812) 110-4760
By appointment only.
Copyright 2013 MyLittleSwans, LLC. All rights reserved. My Little Swans, the logo and Share a world of experience are registered Trademarks of MyLittleSwans, LLC. Use of this site constitutes acceptance of our Terms of Use and Privacy Policy.