Sennaya Bloashchad
The heart of this district is Theater Square, home to the city's artists and musicians prior to the Revolution. The peaceful streets off the square are lovely places to stroll.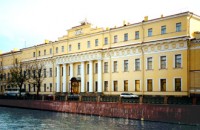 Naberezhnaya Reki Moyki 94
Tel: +7 (812) 314 9883 or 314-8893
Open daily 12-3pm This elegant palace, with its elaborate Moorish and Roccoco interiors, is best known as the place where the insidious Rasputin was poisoned, shot, and then drowned. A wax tableau in the cellar recreates the murder.
topEntertainment
Teatralnaya Ploshchad
Tel: +7 (812) 114 4344
This world-renowned theater, with its sumptuous auditorium, is open only for performances. Fortunately, the opera and ballet productions are as lavish as the decor.
Copyright 2013 MyLittleSwans, LLC. All rights reserved. My Little Swans, the logo and Share a world of experience are registered Trademarks of MyLittleSwans, LLC. Use of this site constitutes acceptance of our Terms of Use and Privacy Policy.