Volkovo
This district, about a 20 min drive from center of city, is the site of Volkovskoye Cemetery (where notable Russians such as Pavlov and Turgenev are buried) as well as home to the Imperial Porcelain Factory.
topShopping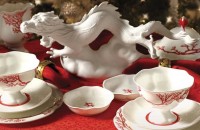 151 Prospekt Obukhovskoy Oborony
(20 min drive from center of city)
Tel: +7 (812) 326-1744
Gallery open daily 10am-6:30pm
This factory once made porcelain exclusively for Russia's tsarist elite. Its best-known pattern, cobalt net, features intersecting lines of cobalt blue with accents of 22-karat gold. This and other designs are now sold at company stores around the city.
Copyright 2013 MyLittleSwans, LLC. All rights reserved. My Little Swans, the logo and Share a world of experience are registered Trademarks of MyLittleSwans, LLC. Use of this site constitutes acceptance of our Terms of Use and Privacy Policy.