Day Trips
topPeterhof & Oranienbaum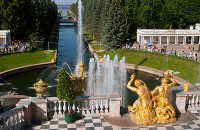 19 miles west of St. Petersburg
Tel: 420 0073
Great Palace: Tue-Sun 11am-5pm,
Other pavilions: May-Sep Tue-Sun 11am-5pm; Oct-Apr Sat & Sun 11am-5pm
Closed last Tuesday of each month

Fountains: Last week of May to first week of October 11am-5pm (weekends till 6pm)
While Peter the Great's St. Petersburg summer palace is relatively modest, his summer estate in the countryside is another story. Sometimes called the "Second Versailles" for its opulent rooms and magnificent formal gardens, Peterhof is also known as the Capital of Fountains—there are 144 in total. The famous Grand Cascade features 64 fountains alone, along with 37 bronze sculptures. In the lower park, trick fountains spray the unsuspecting with water. This grand estate has just undergone a $230 million restoration. There are several convenient ways to get to Peterhof, but the best and most scenic way to arrive is by hydrofoil.

Hydrofoil: Operates May—October Departs from embankment near the Hermitage Run every hour from 9:30am with last boat returning at 6pm Check weekly schedule posted at pier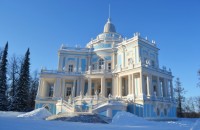 Oranienbaum
Palaces and Sliding Hill Pavilion:
May-Sept, Wed-Mon 11am-5pm: Closed Oct-Apr
Grounds: 9am-7pm
Tel: 422 3753
Just west of Peterhof, Oranienbaum was the summer estate of Peter the Great's friend Menshikov. Years later, it was the setting of Catherine the Great's coup d'etat against her husband Peter III. The most unusual building here is the Sliding Hill Pavilion, the remains of an artificial sledging hill built by the tsarina.
Chinese Palace
This fanciful Rococo gem was Catherine the Great's pleasure palace. Designed by Italian architect Rinaldi, the interior is richly ornamented in a Chinese motif (then very much in vogue). The highlight is the Glass Beaded Salon, with embroidered panels bedecked with millions of shimmering beads.
topTsarskoe Selo & Pavlovsk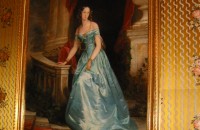 16 miles south of St. Petersburg
Tel: 465 5308
Open Wed-Mon 10am-5pm;
Closed last Monday of the month.
Tsarskoe Selo, or the "Tsar's Village," was the conception of Peter the Great's daughter Elizabeth, who wanted to create an ideal ensemble of palaces and parks. There are acres of beautiful grounds and several charming pavilions to explore here, but the real draw is Catherine Palace.
Elizabeth built this lavish Baroque palace as a place to hold her extravagant balls, and named it Catherine Palace in honor of her mother. Recently restored for $11 million, it contains a wealth of visual glories, including the legendary Amber Room (recreated after being destroyed in WW II), and the exquisite, mirror-lined ballroom known as the Great Hall.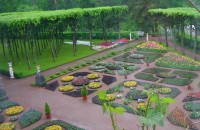 17 miles south of St. Petersburg
Tel: 470 6536
Grounds: Daily May-Nov 10am-6pm
Palace: Sat-Thu 10am-5pm; Closed first Mon of the month.
This graceful palace estate a short ride from Catherine Palace was a gift from Catherine the Great to her son Paul. It was almost totally destroyed in WWII; over the years, the rooms have been slowly and marvelously restored to their former elegance. Furnished with treasures collected by Paul and his wife Maria, the palace reflects her feminine taste. Even more captivating are the grounds, filled with picturesque bridges and romantic ruins.
Copyright 2013 MyLittleSwans, LLC. All rights reserved. My Little Swans, the logo and Share a world of experience are registered Trademarks of MyLittleSwans, LLC. Use of this site constitutes acceptance of our Terms of Use and Privacy Policy.