Zadar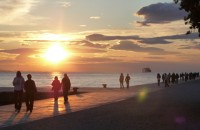 While not nearly as well known and visited as other Dalmatian coast cities like Split and Dubrovnik, Zadar has a charm all its own. Surrounded on three sides by water, it's compact and very walkable, with plenty of sidewalk cafes lining its marble streets and gorgeous views of the Adriatic from its promenades. If you can arrange to be here at night, you'll enjoy a vibrant nightlife featuring historic venues turned into bars, and you'll get to see the Sun Salutation in all its glory.
Though there are several upscale restaurants along the marina and waterfront, we suggest exploring the maze of inner streets instead, and choosing one of the many casual restaurants with outdoor seating. With tables lined up in rows, and musicians roaming from one restaurant to another, dining here feels like one big, friendly party. In fact, that's not a bad way to describe the town itself.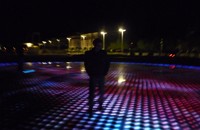 Sea Organ & Sun Salutation
Two of the coolest things to see in Zadar are both by architect Nikola Basic, and both harness the power of nature. The Sea Organ is a series of pipes in the pavement along the sea promenade that create a sighing music as the waves go in and out. The Sun Salutation is a 72-foot-wide disc laid in the sidewalk, made of layers of glass that collect the sun's energy by day. The installation then uses the solar power (along with wave power from the organ) to create a groovy light show at night.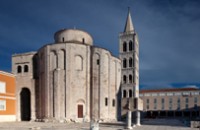 Church of St. Donat and Roman Ruins
Simuna Kozicica Benje
Built in the 9th century on top of an ancient Roman forum, this Byzantine church is the largest pre-Romanesque building in Croatia, and highly unique due to its circular design. A few of the pillars, altars and other features from the original forum are incorporated into the structure. Outside is a "shame post" from the Middle Ages, where lawbreakers were chained for public display.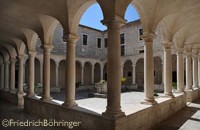 Franciscan Monastery and Church
Zadarskog mira 1358
This Roman Catholic monastery is Dalmatia's oldest Gothic church, dating from the 13th century. The interior is relatively plain, but offers some lovely Renaissance touches. The sacristy has an important role in history – the 1358 Treaty of Zadar, in which the Venetians (temporarily) gave up their Dalmatian holdings to the Croatian-Hungarian king, was signed here.
Museum of Church Art
Trg Opatice Cike
Housed in a Benedictine monastery opposite the Church of St. Donat, this museum offers an exceptional collection of religious art, including paintings, sculpture, reliquaries, and embroidery from the 14th-16th centuries.
Poljana pape Aleksandra III
Tel: +385 23 251 851
Summer: Mon-Fri, 9-12am and 6-9pm. Sat and holidays, 9am-1pm.
 Sunday closed.

Winter: Mon-Friday: 9am-2pm, Wednesday: 9-12am and 5-7pm.
 Sat, Sun and holidays closed. (Hours vary by department)
This museum presents the civil, cultural and natural heritage of Northern Dalmatia from the 13th century to the present day, through collections ranging from costumes and instruments to animal specimens to scale models of Zadar. With several locations housing the various departments of Natural History, Ethnography, the Zadar City Museum, and the Gallery Fine Arts, it's filled with historic treasures. The Gallery of Fine Arts is currently closed for renovation.
Copyright 2013 MyLittleSwans, LLC. All rights reserved. My Little Swans, the logo and Share a world of experience are registered Trademarks of MyLittleSwans, LLC. Use of this site constitutes acceptance of our Terms of Use and Privacy Policy.