Split
Though it's the second-largest city in Croatia, Split feels intimate, maybe because most visitors spend their time eating, drinking and shopping inside an ancient palace. Diocletian's Palace is not just a ruin, nor is it a museum. It's the former residence of the Roman Emperor Diocletian, who built it in the 2nd century AD and chose to spend the last 20 years of his life here. Now a UNESCO World Heritage site, it's still a vibrant part of the city, with thousands of ordinary citizens living and working within its walls. Shops, cafes and bars are tucked within the maze, and laundry hangs above courtyards featuring Roman columns, arches and other imperial details, along with medieval touches from later in the palace's history. If it sounds like a theme park, rest assured it doesn't feel like one – rather, it's a unique and genuine blend of modern and traditional Dalmatian life.
Beyond the palace, Split's appeal continues, with its broad harbor promenade, its old town filled with narrow alleys and broad marble streets, and its lively beaches. Most of the city's museums and better restaurants are found outside the palace walls, but central Split is so universally picturesque and feels so timeless that it's sometimes hard to know whether you're inside the palace or not. Split is a town that rewards aimless wandering and curious exploration, with any number of interesting places to pause for a drink, rest your feet and enjoy the scenery.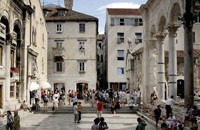 Peristil
At the heart of the palace, this was its ceremonial courtyard, where the emperor received important visitors. Flanked by granite columns and arches, it is now one of the busiest places in the city, home to several cafes and boutique hotels. At one end of the courtyard is the impressive Protiron, the formal entrance to the imperial quarters, topped by a triangular gable.
Cathedral of St. Domnius (St. Duje)
Originally built as Diocletian's mausoleum, this church contains the mausoleum's octagonal structure, almost totally preserved. It was converted to a cathedral in 653 by the first bishop of Split. Other notable features include the 13th-century, carved wooden entrance doors, the lovely Romanesque choir seats, and the graceful Romanesque bell tower (reconstructed in 1908) which is one of the palace's most recognizable landmarks.
Vestibule and Basement Halls
A stairway leads from the Protiron down into the circular vestibule, the best-preserved portion of the imperial apartments. Below are the vast cellars, whose vaulted interiors are evocative even though the main passage is now a market filled with dozens of souvenir stands. For a more authentic experience, purchase a ticket to explore the maze of basement halls.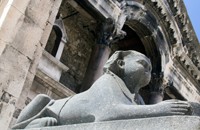 The Temple of Jupiter
Diocletian believed himself the son of Jupiter, and built this temple in the 5th century to honor the god. The exterior is guarded by a black sphinx, acquired by the Emperor during battle with Egypt. In the 7th century the temple was converted to a baptistry, and it now contains a Mestrovic statue of John the Baptist.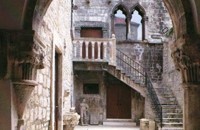 Papalićeva 1
Tel: +385 21 360 171
Summer: Open Tue-Fri 9am-9pm, Sat-Mon, 9am-4pm
Winter: Open Tue-Fri 10am-5pm, Sat-Mon, 10am-1pm
Closed: Holidays
Housed within the Papalic Palace (a restored noble residence and the finest example of late-Gothic architecture in Split), this museum contains drawings, medieval weapons, furniture and coats of arms dating back to the 14th century. It's worth visiting mostly for the building itself.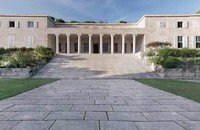 Setaliste Ivana Mestrovica 46
Tel: +385 21 340 800
May-Sep: Open Tue-Sun 9am-7pm
Oct-Apr: Open Tue-Sat 9am-4pm, Sun 10am-3pm
Closed: Mondays, public holidays
Originally built as a personal residence, this museum features a comprehensive collection of works by Croatia's most prominent modern sculptor, Ivan Mestrovic, who lived and worked here from 1931 to 1939. The plans were based on Mestrovic's own designs.
Zrinsko - Frankopanska 25
Tel: +385 21 329 340
Jun-Sep:
 Open Mon-Sat 9am-2pm and 4pm-8pm
Oct-May: Open Mon-Fri 9am-2pm and 4pm-8pm, Sat 9am-2pm
Closed: Sundays
This is Croatia's oldest museum, founded in 1820. With an emphasis on the Roman and Early Christian periods, it displays artifacts largely from the ruins at nearby Solin, but also features ancient Greek and medieval Croatian collections from all over Dalmatia.
topDay Trips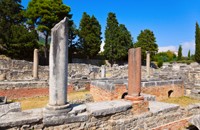 5 miles northeast of Split
Once the Roman administrative center for the province of Dalmatia, this ancient city dates from 78 BC and is the most important archaeological site in Croatia. Emperor Diocletian is said to have been born in or near Solin (also known by its Roman name, Salona). When he was getting ready to build his palace, he chose Split as the location due to its proximity to the town. Sights of Solin include a 2nd-century amphitheater, the Manastirine (a burial place for early Christian martyrs), a covered aqueduct, the ruins of a 5th-century cathedral and the remains of several ancient basilicas. The Tusculum archaeological museum and sculpture garden is also worth a visit.
Put starina bb, Manastirine, 21210 Solin
Tel: +385 21 211 538
May-Oct: Open Mon-Fri 7am-7pm, Sat 9am-7pm, Sun 9am-1pm.
Nov-Apr: Open Mon-Fri 9am-3:30pm, Sat 9am-2pm. Closed Sun.
A regional department of the Archaeological Museum of Split, this 18th-century building is also the headquarters of archaeologists studying the history of Solin.
17 miles west of Split
Unlike other Dalmatian towns, this tiny, attractive fortified town has a large number of gorgeous Renaissance and Romanesque buildings, dating from its heydey during the 13th-15th centuries. Most notable among these is the Cathedral of St Lovro, one of Croatia's finest architectural treasures and a UNESCO World Heritage site. This three-naved Romanesque-Gothic church features a range of styles, and includes an exquisitely carved portal by the local master sculptor Radovan and a 154-foot bell tower. Another worthwhile stop is the medieval Kamerlengo Fortress, which offers wonderful views from the top of its walls and hosts a range of cultural events during the summer.
Copyright 2013 MyLittleSwans, LLC. All rights reserved. My Little Swans, the logo and Share a world of experience are registered Trademarks of MyLittleSwans, LLC. Use of this site constitutes acceptance of our Terms of Use and Privacy Policy.