Istrian Peninsula
Hanging down like a tooth from the western edge of the country, this triangle-shaped peninsula often seems closer in spirit to Italy than Croatia. In fact, Istria was under Italian control between WWI and the end of WWII, when it became part of Yugoslavia. Many Istrians speak Italian as a second or even a first language, and all the cities have Italian as well as Croatian names. The tranquil, lush interior, with its rolling hills covered with vineyards and topped with fortified medieval towns, can make you think you're in Tuscany (but with fewer crowds), while the scenic coastal cities boast Roman ruins and Venetian architecture.
Lest you forget you are in Croatia, Istria is famous for its regional gastronomic specialties – red Teran and white Malvazija wine, Istrian ham, biska (a schnapps made from mistletoe), and most importantly, white truffles, which make their way into everything from cheese to jam. Be sure to indulge in a truffle tasting at one of the many shops – you can even arrange to go truffle hunting with a local expert.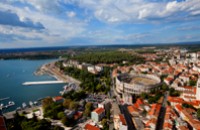 The largest town on the Istrian peninsula, Pula is a busy commercial hub best known for its ancient amphitheater, one of the six largest surviving Roman amphitheaters in the world. The streets of the old town, arranged in spokes radiating from the 17th-century Venetian citadel at its center, offer a handful of other impressive Roman ruins, (including arches, temples and mosaics), several historic churches, and an interesting archaeological museum; to the south are a string of attractive, rocky beaches.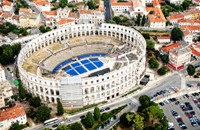 Roman Amphitheater
Constructed between 27 BC and 68 AD, this arena is the best-preserved ancient monument in Croatia, and the only remaining Roman amphitheater to have all four corner towers and all three ancient architectural orders (Doric, Ionic and Corinthian) still intact. During Roman times it was the scene of bloody gladiator fights – today it is Pula's main cultural venue, known for its music and film festivals.
Hercules Gate
One of the only surviving entrances to the Old Town of Pula, this graceful arch is a magnificent example of 1st-century Roman architecture. As you pass under the enormous entrance, pause for a minute to look up and see the symbol of an eagle killing a serpent etched into the stone.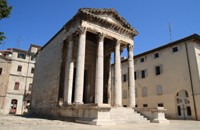 Forum
During Roman times, the Forum was the center of daily life, and contained a number of temples and public buildings. Today, the only remaining temple is the Temple of Augustus, constructed between 2BC and 14 AD. It was damaged by a bomb in 1944 but has been fully reconstructed.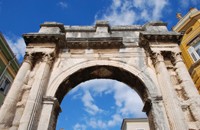 Triumphal Arch of Sergius
This impressive arch was built 27 BC to commemorate three members of the Sergius family who were powerful in the colony at the time.
Pula Cathedral
Built on the site of an ancient Roman temple, this modest-looking is church is layered with history. The main altar is a 3rd century Roman sarcophagus, and the floor is tiled with fragments of 5th- and 6th-century mosaics. Much of the present structure dates from the 15th century, but the late-Renaissance façade was added in the 16th century, while the bell tower, made using stones from the amphitheater, is from the 17th century.
Church of St. Francis and Franciscan Monastery
Built in the 13th century, the monastery is still in use. It is designed in typical fashion, with an open cloister in the center and a small complex of buildings along the sides. The church of St. Francis was built around the same time and is a fine example of Gothic architecture. Its most impressive feature is the rose window that adorns the majestic entrance to the church.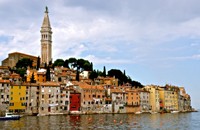 Medieval Croatians had a charming habit of building their cities on small peninsulas. Of course, this was done largely for reasons of defense, but for modern visitors, it has the advantage of keeping the old town centers compact and offering one gorgeous sea view after another from the city's outer edge. Rovinj is no exception. Built on a hilly, egg-shaped peninsula, its labyrinth of cobbled, pedestrian streets are a joy to wander (provided you're in comfortable shoes).
At the crest of the hill, the impressive Church of St. Euphemia overlooks the cerulean-blue Adriatic, while along the shore, gentle waves lap up against pastel-colored, Venetian-style buildings. From the many terraced bars and restaurants along the waterfront, you'll enjoy panoramic views and spectacular sunsets, but the best food is found in the picturesque streets and squares of the Old Town, where outdoor cafes serve Italian-influenced dishes with an emphasis on seafood.
Rovinj gets overrun with tourists during the summer, but it still maintains the flavor of an old Mediterranean fishing village, embracing both its Croatian and Italian heritage and proud of its maritime culture. If the crowds get too much, you can escape to one of the wooded islets (such as Crveni Otok, Sveti Andrija, or Maskin) located not far offshore.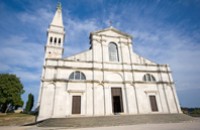 Church of St. Euphemia
Rising above the old town, this massive Baroque church with its iconic campanile is Rovinj's crowning glory. St. Euphemia, Rovinj's patron saint, was tortured and thrown to the lions by the Emperor Diocletian in 304 AD. According to legend, her sarcophagus appeared centuries later off the coast of Rovinj, and no one was able to budge it until a small boy came with two calves and towed it to the crest of the hill. The current church displays her tomb along with murals depicting these events.
Trg marsala Tita 11, 52210 Rovinj

Tel: +385 52 816 720
Open summer (Jun 15-Sep 17) 9am-2pm and 7-10pm, closed Mon.
Open winter (Sep 18-Jun 14) 10am-1pm, closed Sun and Mon.
Housed in a Baroque palace that once belonged to the Califfi counts, this museum was founded by local artists and displays both Croatian masterworks and archaeological treasures.
Balbi Arch
The main entrance into the old town is capped by this elaborate Baroque-style arch, built in 1679 on the site where the city gate once stood. Named for a former mayor of Rovinj, it features the carved head of a Venetian on one side and a Turk on the other.
Obala Pina Budicina 2, 52210 Rovinj
Tel: +385 52 812 593
Open daily Jun-Sep, 10am-2pm and 7-11pm.
Open Mar-May and Oct-Dec, Tue-Sun, 10am-1pm and 4-6pm; closed Mon, Dec 25 and Dec 31.
Open Jan-Feb by prior appointment.
This museum is dedicated to the batana, a traditional, flat-bottomed fishing boat still much in use by area fishermen, and a living symbol of Rovinj's cultural identity. Called an eco-museum because it celebrates not just the object but the living community surrounding it, this award-winning museum offers multimedia displays, interactive exhibits, guides in period costumes, and workshops where visitors can try their hand at net-making.
topBale (Valle d'Istria)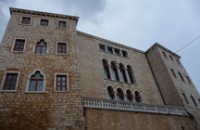 Small, quiet and quaint, this ancient town just off the main road between Pula and Rovinj is worth a stop. The village was built around an impressive medieval castle, which the infamous Giacomo Casanova reportedly visited several times in the 18th century. Kamene Price, a popular, arty jazz club known for its interesting events, is now housed in part of the castle.
topMotovun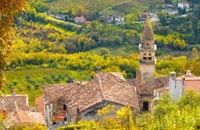 Impressively and picturesquely situated atop a hill, overlooking the scenic Mirna River and surrounded by vineyards, Motovun is a prime example of the medieval towns that dot the Istrian peninsula. The town was fortified by the Venetians in the 14th century. Inside the walls, the steep, narrow main street spirals past Romanesque and Gothic buildings, many of which now contain shops selling truffle oils and wine.
While more everyday and less atmospheric than other Istrian towns, Pazin has a pleasant small-town feel and two big attractions to recommend it – its famous, eponymous chasm and its well-preserved medieval Kastel.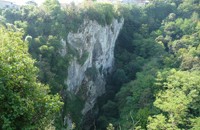 Pazin Chasm
Jules Verne never visited this 300-foot-deep abyss, but tales of its depths inspired him to set his book Mathias Sandorf in the chasm and castle. Midway along the chasm, the Pazincica River sinks into a deep cave leading to three subterranean lakes. Visitors can walk the path within the chasm on their own. There are also great views of the chasm from the castle.
Open summers, Tue-Sun 10am-6pm (winter hours vary). The Ethnographic museum is currently closed Mon, Wed & Sat for reconstruction.
Dating from the 10th century and reconstructed in the 15th and 16th century, this castle at the edge of the chasm is the biggest, best-preserved medieval structure in Istria. Within you'll find the Ethnographic Museum, an intriguing if sometimes bewildering collection of costumes, cooking implements, looms and tools, and the Town Museum, featuring weapons, torture instruments and exhibits on medieval rule.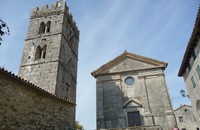 Billed as the "world's smallest town," the old stone town of Hum is indeed tiny, well preserved and very cute. You can take the self-guided tour, or just wander around, then take a break at the Humska Konoba. Serving Istrian specialties, this rustic inn has fantastic views from its outdoor terrace. The road to Hum from the main road is called Glagolitic Alley, and is lined with a series of sculptures honoring the ancient Glagolitic alphabet.
topGroznjan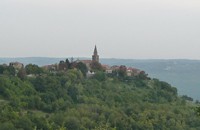 A strategically important fortress in Venetian times, this attractive medieval hill town later fell into obscurity. In the 1960s, a group of artists came upon the nearly abandoned town and decided to set up studios. A summer school for young musicians was established here a few years later, in 1969. Now beautifully restored, it's a major center of music, art and dance. Artist's studios and galleries line the narrow lanes, and music drifts from open windows. Groznjan hosts numerous festivals, concerts and musical events, particularly in summertime.
Copyright 2013 MyLittleSwans, LLC. All rights reserved. My Little Swans, the logo and Share a world of experience are registered Trademarks of MyLittleSwans, LLC. Use of this site constitutes acceptance of our Terms of Use and Privacy Policy.