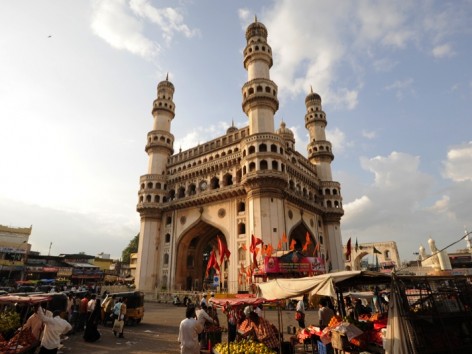 GeoStats:
Official Name: Republic of India
Population: Approx. 1.2 billion
Capital: New Delhi
Predominant Religions: Hindu (80%), Islam
Predominant Languages: Hindi, English
Time Zone: GMT less 5 ½ hrs
Voltage Requirements: 220 to 240 volts, 50Hz
Telephone Codes: 91, country code; 11, city code for New Delhi; 562, city code for Agra; 141, city code for Jaipur; 40, city code for Hyderabad
Basics
topWhen to Go
India is an all-year-round destination. However, some seasons are more ideal for visiting certain regions:
The southern regions are good destinations in the winter months, as the temperatures are very mild (maximum 15-23ºC). There is very little winter rainfall. In the south, summers are relatively milder as compared to the northern regions and are better suited for beach/cultural visits.
In the northern regions the temperature during winters and summers can be quite extreme. But summers are a good time to visit the Himalayan and sub-Himalayan regions, with river rafting being an ideal sport to indulge in. Summer, though hot, is a good time for viewing big game and cats because of the lack of water and shortening of the floral undergrowth.
Winters are an excellent time for exploring the sights in the plains of North & Central India. This is also an ideal time for birdwatching in the north, as nearly 300 species of birds migrate southward, many arriving from far-away Siberia. The Indian Subcontinent records 13% of the world's bird species, of which nearly 140 are endemic. Also, winters are breeding time for most big cats.
topWeather & Temperature
Summer: March – June
Monsoon Season: July – September
Winter: October – February
There are great contrasts in climate within the subcontinent. The extremes range from the almost rainless Great Indian or Thar desert, to the wet evergreen forests of the Khasi Hills in Meghalaya, where an annual rainfall of 1300 cm (511 inches) has been recorded at Cherrapunji (one of the wettest places on Earth), to the arctic conditions of the Himalayan peaks, where only alpine flowers and cushion plants flourish at over 4900m (16,000 feet). There are similar contrasts in temperature ranges. In the Thar desert, summer temperatures soar as high as 50°C (122°F) while winter temperatures drop to 0°C (32°F). On the Kerala coast, the annual and daily ranges of temperature and humidity are small; the average temperature is about 27°C (80°F) and the average relative humidity is 60-80%.
Despite these variations, one feature dominates the subcontinent's climate and that the monsoons. Most of the rain in the region falls between June and September, during the south-west-monsoon season. Typically, the monsoon begins in Kerala and the far northeast in late May or early June and moves north and west to extend over the rest of the area by the end of June, although it starts rather earlier in Sri Lanka and the Andamans Islands. In the Himalayas, the monsoon rains reach the east first and leave this area last. The monsoon begins to retreat from the northwest at the beginning of September, and usually withdraws completely by mid October. Rain continues, however, in the southern peninsula, and in the southeast around half the annual rain falls between October and mid December. This is brought by winds coming from the northeast during the northeast monsoon. In contrast, much of the northern part of the subcontinent experiences generally clear, dry weather in October, November and early December. Low-pressure systems from the west during this season do, however, bring some light to moderate precipitation to Pakistan and northern India.
topTime Difference
India is 5½ hrs behind Greenwich Mean Time (GMT -5.5), 10.5 hours ahead of Eastern Standard Time.
topPassport & Visa Requirements
All international visitors to India are required to possess a valid passport and obtain an entry visa prior to their arrival in India. India does not issue visa on arrival for any visitor. Visitors who intend to travel to India's neighboring countries and back are advised to apply for multiple entry visas.
Each visitor should carry photocopies of the bio-data page of their passport and the page containing the Indian visa, to facilitate obtaining an exit visa from the Indian government in the event of theft or loss of the passport.
Visitors should have sufficient funds to support themselves while in India and should be in possession of a return ticket or have proof of other means to return to their home country.
topCustoms Formalities
Visitors are generally required to make a written baggage declaration regarding baggage and foreign currency in their possession. You also required to obtain the Currency Declaration Form from Customs. Please fill in the Disembarkation Card handed to you by the airline during the course of the flight.
There are two channels for Customs clearance:
Green Channel: For passengers not in possession of any dutiable articles or unaccompanied baggage.
Red Channel: For passengers with dutiable articles, unaccompanied baggage or high value articles to be entered on the Tourist Baggage Re-Export Form.
topHealth Matters
Medical services in India are readily available. Visitors are advised to secure coverage on their medical insurance before arriving in the country. Major hotels have contracts with physicians and dentists. Visitors are however advised to bring along supplies of specialized medication they may require. Otherwise, medicine may be purchased at pharmacies. Some emergency pharmacies in cities and towns are open all night.
Vaccinations
There are no compulsory inoculations for travel to India. A Yellow Fever Vaccination Certificate conforming to International Health Regulations is required only if you are originating or transiting through a yellow fever-endemic country. Malaria is prevalent in many parts of India, but it is less of a risk during the winter months. Please consult your doctor and follow his or her advice about preventative inoculations for this journey.
Sun Protection
Please do not underestimate the effects of the sun. It would be a pity to lose days of your holiday to sunstroke or sunburn. Plenty of sunblock, a good sun hat and limited sun exposure are recommended.
Drinking Water
The tap water in India is not safe to drink. Bottled water is available at almost all places including resorts in wilderness areas.
topMoney Matters
Currency
The unit of currency in India is the Rupee where Re.1 is made up of 100 paisa. Bank notes are in denomination of 5, 10, 20, 50, 100, 500 and 1000. Please exchange your money for Indian money only from banks or recognized foreign currency exchange organizations. It is advisable that you change money at the airport on arrival in India, as you may get a better rate of exchange.
Banking Hours
Banking hours at most commercial banks are:
Mon-Fri 9:30am-2pm
Sat 9:30am-noon
Major hotels have foreign exchange facilities and most shops, lodges and travel agencies take travelers checks. However, ATMs will probably offer the best exchange rate and are often more convenient than banks. Large Indian cities have 24-hour ATMs that accept Cirrus, MasterCard and Visa, but you should not expect to find ATMs in rural areas or smaller towns. It's a good idea to carry some travelers checks in any case.
Credit Cards
Visa, American Express, Diners Club and MasterCard are honored by most restaurants, stores, hotels and other points of sale and service. Proof of identity may be requested in some instances and it is therefore useful to carry a passport or some form of photo identification at all times. Cash (US dollars) or travelers checks are handy to have. Please note that taxation value is different in the various states of India.
Tipping
It is customary to tip 10 to 15% of the bill at hotels and restaurants and a suitable amount to taxi drivers. It is also the custom to tip local guides and drivers, hairdressers and theater ushers.
topSecurity
While India is generally safe for foreign visitors, petty crime, especially theft of personal property, is common, particularly on trains or buses. Be cautious about displaying cash or expensive items, keep a close eye on bags and passports, and be aware of your surroundings when you use ATMs.
Women traveling alone may experience unwanted attention from males which, while usually annoying rather than threatening, can be uncomfortable. In general, it's suggested to travel with a companion or a tour group. Dressing modestly is advised, and the best way to deal with comments or stares is to ignore them and move on, or firmly tell the offender to stop looking at you.
There are no travel warnings or alerts currently in place for India. However, terrorist and insurgent activities have occurred in recent years. US citizens should always practice good security. Be aware of your surroundings and keep a low profile.
The Department of State strongly recommends that you avoid travel to the state of Jammu & Kashmir (with the exception of visits to the eastern Ladakh region and its capital, Leh) and areas within ten kilometers of the border between India and Pakistan.
topCommunications
A direct international dialing service is available from the major hotels in India. Both local and long distance calls are metered on a time basis and every second counts in terms of cost. Major hotels have a fax and Internet service. Remember that hotels levy a substantial surcharge on all calls. Most lodges have telephone communication facilities, unless they are in very remote areas. Mobile network is available at almost all places of your stay. Please co-ordinate with your service provider for more details; the main network providers in India are Airtel, Vodafone, Reliance and Dolphin.
Telephone Codes
India country code: 191
New Delhi city code: 11
Agra city code: 562
Jaipur city code: 141
Hyderabad city code: 40
To call India from the US or Canada, dial 011 + 91 + area code + phone number.
Emergency Numbers
Ambulance: 102
Fire: 101
Police: 100
topElectrical
Voltage in India is 220 to 240 volts, 50Hz. Most electric sockets accept round pin plugs, but some may be able to use flat pin ones too. However, it is advisable that you carry an adaptor for 5 Ampere round pin socket. Hotels usually provide dual voltage razor sockets, 110 to 210 volts or 220 to 250 volts. Some of the game lodges may not have electricity. These lodges generally run on generator power for lighting and refrigeration and this power only runs at certain times on the day. Please be aware that you may not find plug sockets in your rooms/tents at these lodges.
topLanguage
There are 23 official languages and 752 dialects spoken in India. The most commonly spoken language is of course Hindi and English. Visitors to this country have been able to cope even without even knowing the local language, and most guests will be accompanied by English speaking guide or escort. Below are a few words and phrases which have been translated into Hindi – they should be helpful (and fun to use) in most regions:
Good morning    Shubh-prabhat
Greetings     Namashkar; namaste
Good night   Shubh-ratri
Thank you    Dhanyavard; shukriya
Yes    Ji haan
My name is…    Mera naam _____ hai
What is your name?    Aapka naam kya hai?
Where is the nearest telephone?   Sabse kareeb telephone kahan hain?
Show me the way to...   Kripaya, hamey raasta dikhayo;  ____ marg darshao
topHolidays
National Holidays
Republic Day – Jan 26
Independence Day – Aug 15
Ghandi Jayanti (Mahatma Ghandi's birthday) – Oct 2
Public Holidays
Id-ul-Zuha (Feb)
Shivrati (Feb-Mar)
Holi (Mar)
Good Friday (Mar/Apr)
Baisakhi (Apr 15)
Ramnavami (Apr)
Mahavira Jayanti (Apr/May)
Milad-ul-Nabi (Apr/May)
Buddha Jayanti (May)
Janmashtani (Jul/Aug)
Dussehra (Sep/Oct)
Diwali (Oct/Nov)
Guru Parab (Nov)
Christmas (Dec 25)
Copyright 2013 MyLittleSwans, LLC. All rights reserved. My Little Swans, the logo and Share a world of experience are registered Trademarks of MyLittleSwans, LLC. Use of this site constitutes acceptance of our Terms of Use and Privacy Policy.