Destination:
Washington D.C.
The White House and Foggy Bottom
topHistoric Buildings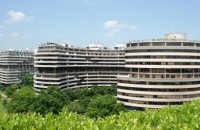 Watergate Complex
Virginia Ave between Rock Creek Parkway and New Hampshire Ave, NW
Washington D.C.
Metrostop: Foggy Bottom-GWU
Home to the infamous Watergate Scandal, the impressive complex consists of four rounded buildings that house shops, offices, apartments and hotels.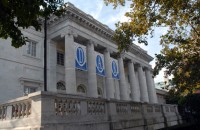 1776 D St., NW
Washington D.C.
(301) 879-3241
Daily Mon-Fri 8:30am-4pm, Sat 9am-5pm
Closed: 2 weeks in July, Federal Holidays
Metrostop: Farragut West
The Daughters of the American Revolution is dedicated to historic preservation and promoting education and patriotism. The DAR Museum contains 33 period rooms, each sponsored by a different state organization and decorated in a unique way. The museum boasts a collection of 50,000 items including a room filled with 18th and 19th century toys.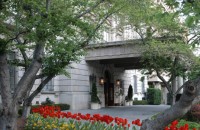 800 16th Street NW 
Washington D.C.
(800) 853-6807 
Metrostop: Farragut North, Farragut West
Located across from the White House, the Hay-Adams is one of D.C.'s most revered landmarks. This classic, historic hotel is named after the distinguished residents who previously lived on its site: John Hay, Private Assistant to President Abraham Lincoln and later Secretary of State; and Henry Adams, an acclaimed author and descendant of U.S. Presidents John Adams and John Quincy Adams. Afternoon tea and drinks are available in the Lafayette Restaurant.
topOfficial Buildings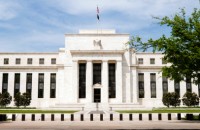 20th St and Constitution Ave NW
Washington D.C.
(301) 452-3778
Daily: by appointment
Closed: Federal holidays
Metrostop: Foggy Bottom
Most commonly refered to as "the Fed", this building is home to the Federal Reserve System. Currency is not printed here, but small art exhibitions are held throughout the year.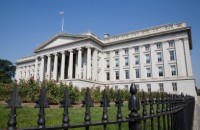 1500 Pennsylvania Ave NW 
Washington D.C.
(202) 622-2000 
Metro stop: Redline to the Metro Center Station
The U.S. Treasury Building is one of the oldest federally occupied buildings in Washington D.C. The massive Greek Revival edifice houses the Department of Treasury, a U.S. Cabinet department established in 1789 to manage government finances and U.S. financial systems.

Free, guided tours of the Main Treasury Building are available for U.S. citizens and legal residents on Saturdays (excluding some holidays) at 9 am, 9:35am, 10:30am and 11:15am. Advance reservations are required and must be made through your Congressional offices. The name, date of birth and social security number for each visitor must be provided when making a reservation and a photo I.D. is required to gain admittance to the building for the scheduled tour.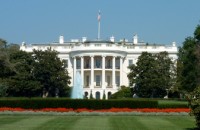 1825 I St NW 
Washington D.C.
(202) 429-6822 
Metro stop: Federal Triangle
The White House facade serves as a symbol of America to millions of people throughout the world. In 1790, President Washington oversaw the construction and chose the site of the house; however, he was the only president who never lived in it. Since that time, each president has made his own changes and additions. There are 132 rooms, 35 bathrooms, and 6 levels in the residence.
Free, self-guided public tours are available Tue-Thu 7:30-11am, Fri 7:30am-12 noon, and Sat 7:30am-1pm (excluding federal holidays or unless otherwise noted). Requests must be submitted through one's Member of Congress up to six months in advance and no less than 21 days in advance. Please submit your request as early as possible as space is limited. If you are a citizen of a foreign country, please contact your embassy in Washington D.C. for assistance in submitting a tour request. A government-issued photo ID is required. All foreign nationals must present their passport; other forms of foreign identification will not be accepted.
topGalleries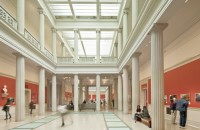 500 17th St NW
Washington D.C. 
(202) 639-1700
Daily: Wed-Mon 10am-5pm
Closed: Jan 1, Thanksgiving, Dec 25
Metrostop: Farragut West, Farragut North
Established in 1874 and located in the heart of D.C., the Corcoran Gallery of Art is home to significant collections including 19th and 20th century American and European art, contemporary art, photography, and decorative art.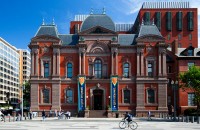 1661 Pennsylvania Ave NW, 17th St.
Washington D.C.
(202) 357-1445
Daily: 10am-5:30pm
Closed: Dec 25
Metrostop: Farragut West
Constructed in 1858 to house the art of William Wilson Corcoran, the building was later bought by the Smithsonian and renamed. It contains arts, crafts and designs from primarily 20th century American artists.
topSquares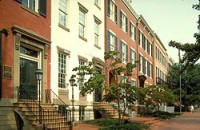 Lafyette Square
H Street between 15th and 17th St, NW
Washington D.C.
Metrostop: Farragut West, McPherson Square
Lafayette Square is a seven-acre public park located directly north of the White House. The park has been used as a race track, a graveyard, a zoo, a slave market, an encampment for soldiers during the War of 1812, and as the site of many political protests and celebrations. Today five extraordinary statues sit in the square – an equestrian statue of President Andrew Jackson and four Revolutionary War heroes: France's General Marquis Gilbert de Lafayette and Major General Comte Jean de Rochambeau; Poland's General Thaddeus Kosciuszko; and Prussia's Major General Baron Frederich Wilhelm von Steuben.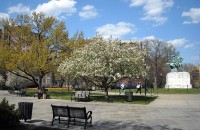 Washington Circle
Metrostop: Foggy Bottom-GWU
Washington Circle is a traffic circle at the intersection of 23rd Street, K Street, New Hampshire Avenue, and Pennsylvania Avenue, N.W., on the border of the Foggy Bottom and West End neighborhoods. A tremendous statue of George Washington riding his horse during the Battle of Princeton was installed in the center of the circle in 1860.
Copyright 2013 MyLittleSwans, LLC. All rights reserved. My Little Swans, the logo and Share a world of experience are registered Trademarks of MyLittleSwans, LLC. Use of this site constitutes acceptance of our Terms of Use and Privacy Policy.