Dublin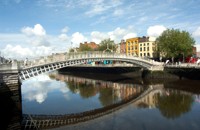 The largest city in the Republic as well as its capital, Greater Dublin is home to nearly a quarter of the country's residents. It's a friendly, dynamic place, whose residents are masters in the art of craic (witty conversation and good times). Though the city's eventful history stretches back to 9th-century Viking times, the current layout dates mostly from the Georgian era, and Dublin boasts many elegant Georgian-style homes. But the city's overall architecture is an eclectic mix, with Gothic cathedrals alongside cozy pubs and modern structures. Last decade's economic boom led to an increase in new buildings and civic improvements, as well as a more international city culture and a flowering of cuisine and fashion.
Much of what is iconic about Ireland was born in Dublin, from literary icons like James Joyce and George Bernard Shaw to that most Irish of beverages, Guinness. Dublin also houses many of the country's most valued treasures, such as the Book of Kells. The majority of attractions are in central Dublin, alongside the River Liffey. The bulk of these are on the south bank, including Grafton Street (Dublin's main shopping artery), venerable Trinity College, and charming Temple Bar (renowned for its lively pub scene as well as its art galleries). But the north side of the river offers its share of theaters, museums and nightlife. And if you want a break from the city, the seashore is just a short drive or DART tram ride away.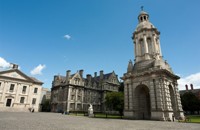 College Green, Dublin 2
Tel: +353 1 896 1000
Located in the heart of Dublin, this highly respected college was founded by Queen Elizabeth I in 1592, so that the Irish could receive an Anglican education. Though the Catholic Church banned its members from attending until 1970, today the majority of students are Catholic. Illustrious alumni include Jonathan Swift, Samuel Beckett and Oscar Wilde.
Old Library
Open Mon - Sat 9:30am-5pm, Sun (May-Sep) 9:30am-5:30pm, Sun (Oct-Apr) 12-5:30pm
This 18th-century library contains Dublin's most celebrated attraction, the Book of Kells. This 9th-century illuminated gospel manuscript is renowned for the size, richness and variety of its decorations. Before entering the Treasury where the book is kept, visitors will see an interesting and well-done exhibition entitled "Turning Darkness Into Light," which puts the book and other Irish manuscripts in their historical context.
The Douglas Hyde Gallery
Tel :+ 353 1 896 1116
Open Mon-Friday, 11am-6pm, Thu 11am-7pm, Sat 11am-4:45pm
Once part of Trinity College, this gallery became independent in 1984. The focus of the gallery has shifted in recent years to contemporary works by unknown or overlooked artists from Ireland and abroad.
Main Tel: +353 1 677 7444
Open Tue-Sat 10am-5pm, Sun 2-5pm. Closed Mondays, Christmas Day and Good Friday.
The National Museum is actually made up of four separate museums, three in Dublin and one in Castlebar (County Mayo).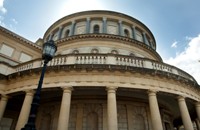 Archaeology
Kildare Street, Dublin 2
Covering the entirety of Ireland's archeological history, this museum features Western Europe's finest collection of prehistoric gold artifacts and a stunning array of ecclesiastic treasures from early medieval Ireland, along with examples of Iron Age metalwork and Viking culture.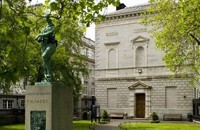 Natural History
Merrion Street, Dublin 2
Drawing from a collection of some 2 million specimens, this museum displays zoological and geological exhibits from Ireland and beyond.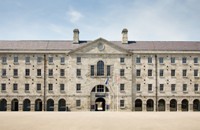 Decorative Arts
Benburb Street, Dublin 7
This impressive array of decorative arts, ranging from period furniture to folk costumes to a suit of Samurai armor, is housed in the magnificent, 18th-century Collins Barracks.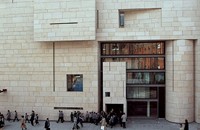 Merrion Square West, Dublin 2
Tel: +353 1 661 5133
Open Mon-Sat 9:30am-5:30pm, Thu 9:30am-8:30pm, Sun noon-5:30pm, Public Holidays 10am-5:30pm. Closed Dec 24-26.
Due to ongoing renovations, access to the Gallery is now via the Millennium Wing. Use the entrance at Clare Street.
This museum offers a standout collection of Irish and European fine art, dating from the 13th to the 20th century. The highlight of the Irish section is the Yeats Museum, devoted to the work of Jack B. Yeats, brother to the famous writer. (This museum is currently closed for refurbishment.) The European section boasts works by Velazquez, Caravaggio and Vermeer, among others.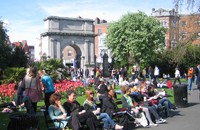 St Stephens Green
Central Dublin's main square and a major city landmark, St Stephen's Green is a pleasant, leafy refuge, dotted with historic monuments and statuary.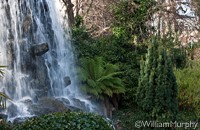 Iveagh Gardens
Clonmel Street, Dublin 2
Tel: +353 1 475 7816
Open 
Mon-Sat 8am, 
Sunday and Bank Holidays, 10am. Gardens close according to daylight hours: Dec-Jan 3:30pm, Feb-Nov 4pm, 
Mar- Oct 6pm.
A rarely visited, recently restored gem filled with grottos and fountains. The gardens were designed by Ninian Niven in 1865, and strike a balance between the "French Formal" and the "English Landscape" styles.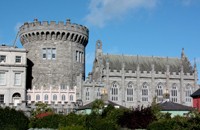 Palace Street, off Dame Street
Open to the public Mon-Sat 10am-4:45pm, Sun noon-4:45pm
Continuously occupied since its establishment in 1204, this was the seat of British power in Ireland for seven hundred years. The grounds of the castle are free to explore, along with the Chapel Royal, the Chester Beatty Library, the Garda (Police) Museum and the Revenue Museum (devoted to the history of taxation). Access to the State Apartments is by guided tour only.
Chester Beatty Library
Dublin Castle
Tel: +353 1 407 0750
Open May 1-Sep 30: Mon-Fri 10am-5pm, Oct 1-Apr 30: Tue-Fri 10am-5pm, Sat (all year) 11am-5pm, Sun (all year) 1-5pm. Closed Jan 1,Good Friday, Dec 24-26, and Monday public holidays.
Located within the gardens of Dublin Castle, this library contains an astounding collection of rare books, manuscripts, and prints from around the world. Treasures include the earliest surviving examples of the four gospels and Acts of the Apostles, the letters of St. Paul, and the Book of Revelations. The collection was put together by an American mining magnate who was later made an honorary citizen of Ireland.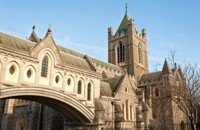 Founded by a Viking king in 1030, this cathedral was rebuilt in magnificent Gothic style by the Normans between 1186 and 1240. It was extensively restored in the 1870s. Within, the most famous feature is the tomb of Strongbow, the notorious warlord who captured Dublin in 1170. The cathedral's crypt is the largest in Britain and Ireland, and contains an exhibition of religious artifacts. The cathedral is also renowned for its choir, one of Ireland's finest, established in 1493.
St James's Gate, Dublin 8
Tel: + 353 1 408 4800
Open daily 9:30am-5pm (last admission is at 5pm). Late opening Jul & Aug until 7pm. Closed Good Friday, Dec 24-25, and St Stephens Day (Boxing Day).
Though the Guinness brewery itself is not open to the public, you can learn about the brewing process at the nearby Storehouse. A meandering self-guided tour leads you through the 7-level building, past exhibits that tell the story of the famous brand. At the top, you can pour your own complimentary pint at the Gravity Bar, offering panoramic views of Dublin. This is one of Dublin's most popular attractions, so expect some crowds.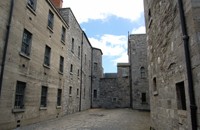 Kilmainham Gaol
2 Inchicore Road, Kilmainham, Dublin 8
Tel: +353 1 453 5984
Open Apr-Sep daily 9:30am-6pm (last admission 5pm); Oct-Mar Mon-Sat 9:30am-5:30pm (last admission 4pm), Sun 10am-6pm (last admission at 5pm). Closed Dec 24-25.
A stirring monument to the rebels and martyrs of Ireland's struggle for independence, this jail was opened in 1796, and for 128 years was the place where revolutionaries were incarcerated. The guided tour is fascinating, coupled with exhibition galleries displaying mementos and historic footage.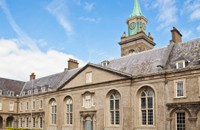 Royal Hospital, Kilmainham, Dublin 8
Tel: +353 1 612 9900
Open Tue-Sat 10am-5:30pm, Wed 10:30am-5:30pm, Sun and Bank Holidays noon-5:30pm. Closed Mon, Good Friday, and Dec 24-27. The main building at IMMA will be closed for refurbishment from Nov 1, 2011-Dec 31, 2012. New Galleries will remain open and from end of May 2012, exhibitions will be presented in Earlsfort Terrace, Dublin 2.
This museum's collection includes some 4,500 works, with an emphasis on pieces from the 1940s onward. The Permanent Collection reflects some of the most exciting recent trends in Irish and European art. There is also a gallery of 1,200 Old Master prints by Dürer, Rembrandt, Hogarth, Goya and many other innovative European printmakers.
topFor Kids
11a Eustace St, Temple Bar, Dublin 2
Tel: +353 1 670 7788
Box office open Mon-Fri 10am-4:30pm, and one hour before performances and workshops on weekends and evenings.
Housed in a specially designed building, this center introduces children (age 2-12) to the arts. Through workshops, plays, and exhibitions, The Ark encourages kids to explore painting, film, theater, literature and more. Most events are age-specific.
St Michaels Hill, Christchurch, Dublin 8
Tel: +353 1 679 4611
Open daily, Jun-July 9:30am-5pm, Mar-Sep 10am-5pm, Oct-Feb 10am-4:30pm
This lively, interactive heritage center lets visitors experience what Dublin was like in Viking and Medieval times. Kids can walk through replicas of medieval streets, play medieval games, try on Viking costumes, and learn Viking myths, among many other activities. Another section of the center explains how archaeology, science and history work together to piece together the world of ancient Dublin.
topOutside Dublin
8 miles south of Dublin
Sandycove Point, Dun Laoghaire
Tel: +353 01 280 9265
Open April-Aug Tue-Sat 10am-5pm (Closed 1pm-2pm), Sun 2pm-6pm. Closed Mon. Other Months: open by prior arrangement.
The Martello tower housing this museum was built as protection against a Napoleonic invasion. Joyce stayed here briefly in 1904, and featured the tower in the first chapter of his famous novel, Ulysses. The museum's collection includes letters, photographs, rare and first editions, some of Joyce's personal possessions, and a recreation of his living quarters. Readings and celebrations are held here every Bloomsday (June 16).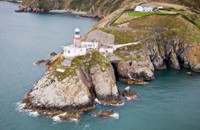 Howth
9 miles east of Dublin (.5 hours)
Located on Howth Head peninsula, this pleasant fishing village makes a worthwhile outing from Dublin. A cliff walk leads from the village past a ruined 12th-century abbey and Bailey Lighthouse, offering spectacular views of Dublin Bay, the Wicklow Mountains and Boyne Valley. Just off the coast is Ireland's Eye, an island seabird sanctuary – boat trips to the island are available in summer.
Malahide
9 miles NE of Dublin (.5 hours)
This handsome seaside village is a charming mix of traditional and modern Ireland, with its bustling harbor promenade, stylish shops, and cobbled side streets.
Malahide Beach
This 1.3-mile sandy beach is good for a stroll or a swim, and is lifeguarded in summer.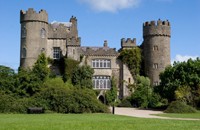 Malahide Castle
Surrounding the village with its extensive grounds, this estate was occupied by the Talbot family for nearly 800 years – the oldest parts of the fortress date back to 1185. The castle and gardens are currently closed for refurbishment but scheduled to reopen later in 2012.
topAccommodations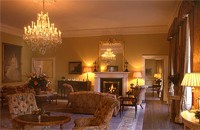 Upper Merrion Street, Dublin 2
Tel: +353 1 603 0600
Dublin's most stylish and luxurious five-star hotel was created from four restored Georgian townhouses. Many of the 143 bedrooms and suites overlook period landscaped gardens. Remembered historically as the birthplace of the first Duke of Wellington, the hotel contains an impressive collection of art and antiques. The Cellar Restaurant offers simple Irish cuisine expertly executed, while Restaurant Patrick Guilbaud, with its 2 Michelin stars, offers more formal gourmet dining. There's also an award-winning spa.
Copyright 2013 MyLittleSwans, LLC. All rights reserved. My Little Swans, the logo and Share a world of experience are registered Trademarks of MyLittleSwans, LLC. Use of this site constitutes acceptance of our Terms of Use and Privacy Policy.