County Meath
Northwest of Dublin, this county of verdant pastures and rolling limestone hills is best known for its ancient historic sites, including Newgrange and the Hill of Tara.
Donore
Tel: +353 41 988 0300
Newgrange open daily Feb-Apr and Oct, 9:30am-5:30pm; May, 9am-6:30pm; Jun-Mid Sep, 9am-7pm; Mid-End Sep, 9am-6:30pm; Nov-Jan 9am-5pm. Closed Dec 24-27. Knowth open Easter-Oct 28. Access by guided tour only. Tickets cannot be reserved in advance.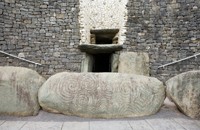 Located approx. 45 mins north of Dublin, this site encompasses three 5,000-year-old passage tombs, of which Newgrange is by far the most famous. Built with kerbstones of shimmering white quartz (many ornately decorated with Neolithic art), Newgrange was both a burial place and an ancient temple. The 19-meter-long long inner passage leads to a cruciform chamber with a corbelled roof, but the tomb's best-known feature is the roof-box above the entrance, which is perfectly positioned to catch the first rays of the winter solstice sun. This is one of the world's most important prehistoric sites, and has been designated a UNESCO World Heritage site. It can get very busy May-Sep, so be sure to arrive early.
The other two prominent mounds here are Knowth and Dowth. Knowth is perhaps even richer in Neolithic art than Newgrange, and features passages aligned with the spring and autumn equinoxes.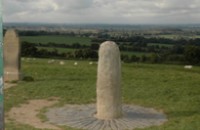 Hill of Tara
27 miles NW of Dublin (40 mins)
Rich in symbolism and mythological significance, this site is known as the seat of the High Kings of Ireland, who according to legend, had dominion over all of Ireland. In ancient folklore, Tara (Teamhair na Rí, or"Hill of the King") was the sacred dwelling place of the Celtic gods, and four centuries of pre-Christian kings are said to have reigned here. Though some scholars debate this claim, the Hill of Tara has undoubtedly been an important ritual site since the late Stone Age, and contains a number of ancient monuments, including burial mounds, ring forts, and the Lia Fáil (Stone of Destiny), used in the coronation of the kings. The hill also offers spectacular, sweeping views of the countryside.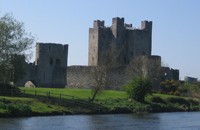 Trim Castle
31 miles NW of Dublin (50 mins)
Trim Town Center
Tel: +353 46 943 8619
Open daily Mar 17-Sep 30,10am-6pm, Oct, 9:30am-5:30pm. Open weekends Nov-Jan, 9am-5pm, Feb-Mar 11, 9:30-5:30
This impressive keep alongside the River Boyne was built around 1176 as protection against the adventurer Strongbow, and is Ireland's largest Anglo-Norman castle. Used as a location in the movie Braveheart, the castle features a unique cruciform floor plan and massive curtain walls. Access to the keep is by guided tour only, but there is no charge to walk around the extensive grounds, which feature the ruins of a cathedral and an Augustinian abbey.
Copyright 2013 MyLittleSwans, LLC. All rights reserved. My Little Swans, the logo and Share a world of experience are registered Trademarks of MyLittleSwans, LLC. Use of this site constitutes acceptance of our Terms of Use and Privacy Policy.