County Kerry
Kerry is famous for its magnificent scenery, from the craggy peaks and deep blue lakes of Killarney National Park, to the dramatic cliffs and beaches of the Iveragh and Dingle Peninsulas, whose hills are dotted with ancient monuments.
topKillarney
The tourist hub for visitors to the Ring of Kerry and Killarney National Park, busy Killarney is somewhat lacking in charm, but highly convenient, with a wide range of accommodations. Most of the attractions are located outside the city.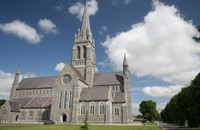 St. Mary's Cathedral
Cathedral Place, Killarney
Tel: +353 64 663 1014
This is Ireland's finest Neo-Gothic church, built beginning in 1842. The interior is striking for its grey stonework and many stained-glass windows.
topAccommodations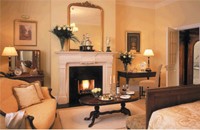 Town Centre, Killarney,
Tel: +353 64 663 5555
Situated on its own private grounds, this family owned, 5-star luxury hotel is committed to ensuring that every moment will be memorable, relaxing and enjoyable. Rooms overlook either the hotel gardens and the mountains beyond or the historic town of Killarney with the church and cathedral steeples in the background.
topRing of Kerry
One of the most famous destinations in Ireland, the Ring of Kerry refers to the road that circles the Iveragh Peninsula. This spectacularly scenic route passes through attractive seaside towns, and alongside stunning cliffs and pebbly beaches. It's very popular with bus tours – buses generally travel the ring counter-clockwise, and aren't allowed on the westernmost portion (a shame, as that offers some of the best scenery). We suggest traveling by car. There's also a very beautiful, long-distance footpath, the Kerry Way, which winds past all the main sites. It stretches 132 miles and takes 9-10 days to complete, or you can do some portions on day hikes.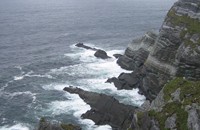 Ring of Stellig
Narrow and steep, the Ring of Stellig at the far western promontory of the peninsula offers magnificent views of St Finians Bay, the Skellig Islands, and Dingle Peninsula. If you want to stop for a break, the small, Irish-speaking village of Ballinskelligs has a lovely beach, restaurants, bars, an art gallery and a surf school.
Skellig Islands
Well worth a day trip, these rugged islands off the tip of the peninsula offer an inspiring mix of nature and history. The larger island, Skellig Michael, features a well-preserved monastery, built in the late 7th century – this dramatically located collection of beehive huts, chapels and other ancient structures is a UNESCO World Heritage site. In early summer, breeding puffins inhabit Skellig Michael. Little Skellig is a nature reserve, home to storm petrels and one of the world's largest colonies of gannets. Boat trips to the islands are available May-Sep from a range of operators around the Iveragh Peninsula (weather dependent).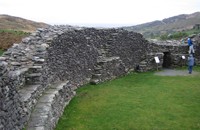 Staigue Fort
This partially ruined stone fort near Caherdaniel is one of the largest ring forts in Ireland, with 18-foot walls that are nearly 13 feet wide at the base. Approximately 2,500 years old, Staigue Fort likely dates from the Iron Age, and is an impressive feat of engineering, as it was built without mortar.
topKillarney National Park
From the 3,280-foot crest of MacGillycuddy's Reeks, the tallest mountain range in Ireland, to slopes covered in virgin forest, to glacial valleys surrounding three famous lakes, this park southwest of the town of Killarney offers 26,000 acres of rugged natural beauty. There's a wide variety of things to see and do, including scenic walks and hikes, cycling, pony trekking, jaunting car (horse-drawn carriage) tours, canoeing, historic tours of Muckross House and Ross Castle, and boat tours of the lakes.
Tel: +354 64 66 70144
Muckross House open daily 9am-5:30pm (9am-7pm from Jul 1-Aug 31). Last admission one hour before closing.
Traditional Farms open Apr, Sep and Oct, Sat-Sun 1-6pm; Bank holidays Apr and Oct 1-6pm; May, daily 1-6pm; Jun-Aug, daily 10am-6pm. Closed Nov-Mar.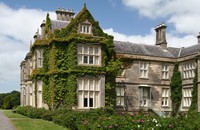 Considered the focal point of Killarney National Park, this stately Victorian mansion offers a fascinating glimpse into the lives of the gentry and their servants. The ornate interiors are restored to their original Victorian splendor, while the basements and craft centers give exhibitions of traditional crafts such weaving, bookbinding and pottery. The gardens are renowned for their azaleas and rhododendrons. Nearby, three traditional working farms recreate the experience of farmers in the 1930s and 40s, complete with animals, a blacksmith's forge and a carpentry shop.
Muckross Abbey
Muckross Estate, Killarney
Tel: +353 64 6670144
Open daily Mid-Jun-early Sep 10am-5pm
Though lacking a roof, this 15th century friary is one of the best-preserved Franciscan friaries in Ireland. The walls of the two-story cloister are still complete, shaded by an ancient yew tree that has grown up in the center.
Muckross Lake and Torc Waterfall
Beautiful Muckross Lake is circled by easy walking trails that lead through mossy, ancient forests. One of the most popular leads from Muckross Park to the Torc waterfall, a 65-foot cascade.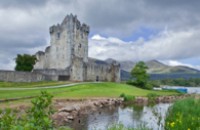 Ross Castle
2km from Killarney, off N71 (Kenmare Road)
Tel: +353 64 663 5851
Open Mar 8-Oct 24, 9:30am-5:45pm
Access to the castle by guided tour only.
Rising majestically above Killarney's lower lake (Lough Leane), this small but impressive medieval stronghold was most likely built by one of the O'Donoghue Ross chieftains in the 15th century. The castle had an eventful history of battles and rebellions, evident in its elaborate defenses – it was the last stronghold to fall to Cromwell in the 1650s. It is also rumored to be haunted by the ghost of O'Donoghue. Recently restored, the castle contains authentic period furnishings and is open for guided tours Mar-Oct, though the grounds can be visited year-round.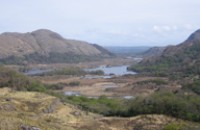 Ladies' View
Queen Victoria's ladies-in-waiting apparently felt this vista, overlooking Upper Lake, was the finest view in the land. It is indeed spectacular, and a worthwhile stop on your journey through the park.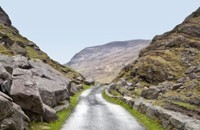 Gap of Dunloe
Slicing between MacGillycuddy's Reeks and Purple Mountains, this narrow mountain pass is a very popular attraction. Driving through the gap is discouraged, so most people view its scenic river, five small lakes and several picturesque bridges by horse-drawn carriage, bicycle, or on foot.
topKenmare
More attractive than Killarney and nearly as central, this cosmopolitan town, with its distinctive X shape, offers a good selection of high-quality accommodations and dining.
topAccommodations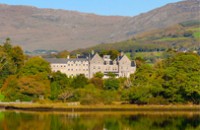 Tel: +353 64 664 1200
With an idyllic setting over Kenmare Bay, this 1897 Victorian landmark offers both old-fashioned elegance and modern convenience. Readers of Condé Nast Traveler and Travel & Leisure voted it the Best Hotel in Ireland 2012. Most of the 46 bedrooms have water views or a private veranda – guest can also enjoy the deluxe SAMAS spa and the Reel Room, a 12-seat cinema.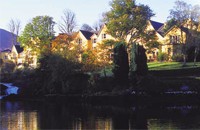 Tel: + 353 64 664 1600
Once the summer residence of the Marquis of Lansdown, the Sheen Falls Lodge combines the welcoming atmosphere of a country resort with all the comforts you'd expect from a five-star hotel. Set beside a cascading waterfall amid 300 acres of woodland, the lodge offers a wide range of outdoor activities, along with 85 luxurious rooms and several dining venues.
topDingle Peninsula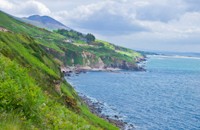 Though less famous than the Ring of Kerry, Dingle Peninsula is arguably just as spectacular, and possibly more compelling, with a rich variety of historic sites, quaint villages, impressive bays, lovely beaches, and excellent surfing, windsurfing and kiteboarding. This region is a designated Irish-speaking area, with many signs written in Irish only. Most points of interest are located on the far western end of the peninsula, and are easily accessible by car. Avid hikers can walk all or part of the Dingle Way, a 112-mile trail that beings in Tralee and winds past most of the peninsula's major sites.
topDingle Town (An Daingean)
Welcoming and picturesque, Dingle is the main tourist hub for the peninsula, but has maintained its authenticity, in part because it is still a major fishing harbor. The streets of the village are lined with good restaurants and congenial pubs known for their traditional music. Dingle's most famous resident is Fungie the dolphin, who has called the harbor home since 1983. He is often seen playing with fishing boats and early-morning swimmers. Boat trips to see or potentially swim with Fungie are available.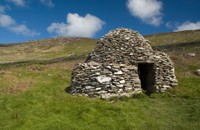 Fahan Group
Situated along Slea Head Road near Ventry, this cluster of dry-stone beehive huts (clocháns), standing stones and earthen forts is thought to date from the Iron Age. The beehive huts were built using a technique known as corbelling, where overlapping stones formed circular, gradually curving walls. The most dramatically located structure in the group is the Dun Beag promontory fort, perched on a sheer cliff overlooking Dingle Bay.
Blasket Islands
Great Blasket, the largest of these steep, rugged islands just off Slea Head, was inhabited for some 300 years. Due to their isolation, the islanders developed a rich oral tradition – once written down, their stories became classics of Irish literature. The last residents finally abandoned Great Blasket in 1953, but boat cruises to and around the islands are available. Also worth a visit is the Great Blasket Center (Ionad an Bhlascaoid Mhóir) in Dunquin, which is devoted to the heritage of the islands. The Center is open Easter-June 10am-6pm, Jul-Aug 10am-7pm, Sep-Oct 10am-6pm.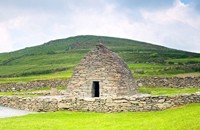 Gallarus Oratory
3 miles east of Ballyferriter
The finest of Dingle's historic monuments is this dry-stone oratory, the best preserved early Christian church in Ireland. Shaped like an upturned boat, it was built between the 7th and 8th centuries. Impressive though simple and unadorned, it has withstood the elements for 1300 years and is still almost entirely intact.
Celtic and Prehistoric Museum
Located on Slea Head Road, 6 miles west of Dingle, 3 miles west of Ventry
Tel: +353 66 915 9191
Open daily Mar-Oct 10am-6pm
Kids will especially enjoy this small but excellent museum, which offers a fascinating collection of artifacts and fossils. The highlight is Ireland's only intact woolly mammoth skull – you'll also find a complete baby dinosaur skeleton, a large nest of dinosaur eggs, a cave bear skeleton, and fine exhibits of ancient tools, jewelry, and statuettes.
topBeaches
Inch Strand
This three-mile-long sandy beach has been a location for several movies, including Ryan's Daughter and Playboy of the Western World. It's a favorite beach for surfing.
Castlegregory Strand
This long, exposed beach is renowned for some of the best windsurfing in the world, along with great surfing and other water sports. Angling is said to be good here too.
Copyright 2013 MyLittleSwans, LLC. All rights reserved. My Little Swans, the logo and Share a world of experience are registered Trademarks of MyLittleSwans, LLC. Use of this site constitutes acceptance of our Terms of Use and Privacy Policy.