County Limerick
This somewhat bland and industrial county is known mostly for its namesake city, but the village of Adare and the Foynes Flying Boat Museum are also worth a visit.
topLimerick City
Rather gritty compared to Cork City or Dublin, Ireland's third-largest city is not much of a tourist draw – most travelers merely pass through. However, there are worthwhile attractions here for those who care to stop. Limerick also hosts a number of vibrant art and music festivals throughout the year.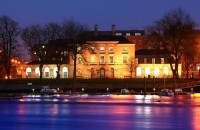 Rutland Street, Limerick
Tel: +353 61 312 833
Open Mon-Sat 10am-5pm, Sun 2-5pm. Closed Jan 1, Good Friday, Dec 25-26.
Located in the elegant 18th-century Custom House alongside the river, this museum contains a very fine and diverse collection of art and antiquities, from the Neolithic period onwards. Of particular note are the medieval materials – which include statues, ceramics, jewelry and painted panels – and the 18th and 19th-century decorative arts, along with works by Picasso, Renoir and Henry Moore.
Kings Island, Limerick
Tel: +353 61 360 788
Open year round, 10am-5pm. Last admission 4pm. Closed Dec 23-26.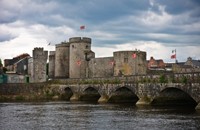 This impressive Anglo-Norman castle with a magnificent setting on the Shannon was built between 1200 and 1212 AD, and added onto extensively over the centuries. It underwent a series of devastating sieges in the 17th century, including the Great Siege of 1642 and the Williamite sieges of 1690-91. Visitors can tour the gate house, battlements, and cylindrical corner towers, and view the newly discovered remains of a medieval garrison and soldiers quarters. An interpretive center gives an imaginative account of the sieges and the castle's history. The castle is currently undergoing a €5.7 million redevelopment.
topBeyond Limerick City
Foynes, County Limerick
Tel: +353 69 65416
Open daily Mar 14th-Nov, 9am-5pm. Last admission 1 hr before closing.
The town of Foynes became a major center of aviation during the "flying boat" era of 1939-1945. Flying boats were fixed-wing aircrafts with a hull, allowing them to land on water, and were used extensively for international and trans-Atlantic flights in the 1920s-1940s. As the final eastern port of call for seaplanes, Foynes was one of the biggest civilian airports in Europe during WWII. The museum, housed in the original terminal building, exhibits memorabilia, transmitters, receivers, Morse code equipment and the only full-sized replica of a B314 flying boat.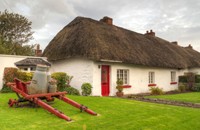 Adare, County Limerick
Tel: +353 61 396 666
Though its history dates back to the arrival of the Normans in 1190, the thatched cottages of this picturesque village were added during the early 19th century by the Earls of Dunraven, who have called Adare home for 300 years. The heritage center's historical exhibition outlines Adare's interesting past. Aside from the pretty streets lined with craft shops, Adare features a number of interesting ruins, including the 13th-century Desmond Castle and two ancient friaries.
Copyright 2013 MyLittleSwans, LLC. All rights reserved. My Little Swans, the logo and Share a world of experience are registered Trademarks of MyLittleSwans, LLC. Use of this site constitutes acceptance of our Terms of Use and Privacy Policy.