County Clare
Renowned for its traditional music, County Clare also features two major geological attractions – the stark, fascinating plateau known as The Burren, and the famously tall and sheer Cliffs of Moher. Shannon Airport is located in this county as well, just 12.5 miles from both Limerick City and Ennis.
Much of this bustling town's charm comes from its genuineness – the pleasant streets, which still follow their ancient layout, are filled with locals rather than tourists, and the mix of modern with nostalgic seems just right. Ennis offers a number of good restaurants and a lively traditional music scene, and makes an ideal base for exploring the Cliffs of Moher and the Burren. Ennis is known for its music festivals, including the Ennis Trad Festival, held in November, and Fleadh Nua Festival, one of Ireland's premier traditional music festivals, held in May.
topCliffs of Moher
Visitor Experience open Nov-Jan 9:15am-5pm, Feb 9:15am-5:30pm, Mar & Oct 9am-6pm, May & Sep 9am-7pm, Jun 9am-7:30pm, Aug 1-14, 9am-9pm, Aug 15-31 9am-8pm.
Tel: + 353 65 708 6141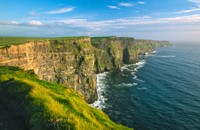 One of Ireland's most-visited attractions, these breathtaking cliffs rise 700 sheer feet above the crashing Atlantic waves, and stretch for nearly 5 miles. The most dramatic view is from the viewing platform at O'Brien's Tower. Designated a UNESCO Geo Park, the cliffs are also home to a major colony of seabirds and have been named a Special Protection Area.
The visitor center, occupying a huge, man-made cave, offers an extravagant series of interactive displays about the cliffs as well as a virtual-reality "cliff-face adventure," which lets you experience life at the cliff both above and below sea level.
topThe Burren
Burren comes from the Irish word boireann, meaning "great rock," and this vast, desolate plain covered in limestone at times resembles a moonscape. Despite its starkness, the landscape is home to a remarkable array of plant and animal species, some unique to the area. Enigmatic and compelling, the region encompasses some 96 square miles. It is sparsely populated today, but numerous ancient sites show where Stone Age and Iron Age inhabitants left their mark.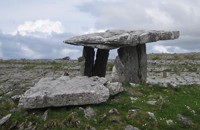 Poulnabrone Dolmen
There are over 70 megalithic tombs in the Burren area – this portal tomb is the most famous and arguably the most dramatic. Rising up from the center of the rocky plateau, it evokes a powerful sense of the ancient. Poulnabrone is thought to date from between 3800 and 3200 BC. It is is easily accessible from the R480.
Glenisheen Wedge Tomb
Just north of Poulnabrone, this tomb is the best preserved of its kind in the region. Such tombs are named for their wedge shape: they are narrower and lower towards the rear. A finely worked gold collar, dating back to 700BC, was found here by a local farmer in 1932. Now known as the Glenisheen Collar, it is on display at the National Museum in Dublin.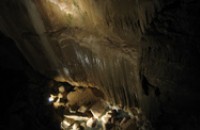 Ballyvaughan
Tel: +353 65 707 7036
Open daily 10am-6pm
One of of the oldest caves in Ireland, Aillwee cave began to form millions of years ago. The tunnel is nearly 3,000 feet long, of which almost 1,000 feet is open to the public. A 30-minute guided tour shows off the cave's unique features, including bridged chasms, stalactites and an underground waterfall. It's a bit touristy, but cool. The complex also offers a Birds of Prey center, with daily flying demonstrations, and a Hawk Walk, which gives visitors a chance to practice falconry.
topAccommodations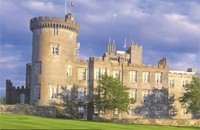 New Market on Fergus, County Clare
Tel: +353 61 368 144
This is one of Europe's finest castle hotels, offering guests the experience of living like landed gentry, surrounded by luxury, beauty, and service. The castle, a magnificent Renaissance structure built in the 16th century, was once the royal seat of the O'Brien clan. Refurbished and transformed into a luxury hotel in 1962, it retains priceless reminders of its historic past.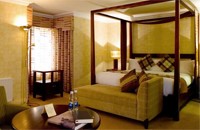 O'Connell Street, Ennis
Tel: +353 65 682 8127
Located in an 18th-century manor house, this ivy-covered 4-star hotel blends luxury with country charm. The newly refurbished rooms are comfortable and stylish, while the hotel's exceptional restaurant, Town Hall Café, is one of the best in the city.
Copyright 2013 MyLittleSwans, LLC. All rights reserved. My Little Swans, the logo and Share a world of experience are registered Trademarks of MyLittleSwans, LLC. Use of this site constitutes acceptance of our Terms of Use and Privacy Policy.