Destination:
San Francisco and the Bay Area
Berkeley
Since the 60s, Berkeley has been synonymous with hippie counterculture. These days, that is something of a stereotype, but the city is definitely progressive, a place of community events and co-ops, world-music venues and multiple farmers markets. The renowned University of California, Berkeley, with its graceful bell tower modeled after the campanile in Venice, dominates the center of town. Creativity and new ideas thrive here – in the 70s, Berkeley was the birthplace of California cuisine, while in the 80s, punk venues on Gilman Street helped launch bands like Green Day to fame. For visitors, the main draws are the northern portion of College Avenue, lined with shops and cafes; North Shattuck Avenue, also known as the "Gourmet Ghetto," home to the celebrated Chez Panisse; Fourth Street, a cluster of clothing and housewares boutiques and a few upscale chain stores; Solano Avenue, which Berkeley shares with its neighbor Albany; and the Berkeley campus, with its landmark buildings, small but interesting museums, and large roster of events.
topSights and Attractions
Entrances off Wildcat Canyon Road and Grizzly Peak Boulevard
Considered the jewel of the region's parks, this 2,079-acre green space has been a favorite with East Bay families for generations. Attractions include a steam train, carousel, Botanic Garden, a swimming beach at Lake Anza, the Little Farm (home to cows, pigs and sheep), an Environmental Education Center, a variety of campsites, and miles of hiking and biking trails, many offering spectacular views of the Bay.
topTheaters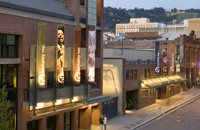 2025 Addison St.
Berkeley, CA 94704
Box Office: (510) 647-2949  School: (510) 647-2972
Founded in 1968, the Tony-Award-winning, non-profit Berkeley Repertory Theater has grown into a national leader in innovative theater. The company offers performances on two stages as well as a school of theater for children, teens and adults.
topRestaurants
1517 Shattuck Avenue
Berkeley, CA 94709
Dinner Mon-Sat by reservation only. Closed Sun. Reservations: (510) 548-5525
Café open for lunch and dinner Mon-Sat. Closed Sun. Reservations: (510) 548-5049
Opened in 1971, this restaurant is famous as the place where "California cuisine" was born. Chez Panisse and owner Alice Waters are Berkeley institutions, and the fixed, three-to-four course dinner menu features the finest sustainably-sourced, organic, and seasonal ingredients. The more moderately priced Café at Chez Panisse, located upstairs from the main restaurant, serves a la carte options for lunch and dinner.
2020 Shattuck Avenue
Berkeley CA, 94704
Tel: (510) 926-6300
Inventive Mexican cuisine with a Northern California spin, served in an airy, modern space.
2130 Center St. @ Shattuck
Berkeley, CA 94704
Tel: (510) 665-1969
Authentic but daring izakaya, with an extensive menu (much of it grilled meat on skewers) and a large selection of beer, shochu and sake.
2377 Shattuck Avenue betw. Channing Way & Durant Ave.
Berkeley, CA 94704
Tel: (510) 843-1535
Charming, casual French bistro serving authentic Provençal dishes.
1175 Solano Avenue
Albany, CA 94706
Tel: (510) 526-7827
The East Bay satellite of the San Francisco favorite. Crave-worthy deep dish pizza, as well as thin crust. Better than Zachary's? Hmm…better try both.
1539 Solano Avenue
Berkeley, CA 94707
Tel: (510) 526-2542
Opened in 1994, Rivoli has been on the San Francisco Chronicle Top 100 list every year since 1996. Creative California-Mediterranean food and thoughtfully paired wines, served in a warm, comfortable space overlooking a hidden garden.
1853 Solano Ave.
Berkeley, CA 94707
Tel: (510) 525-5950
Popular, casual and boisterous pizzaria serving both Chicago-style stuffed pizza and thin crust (but the stuffed is the best—try the Zachary's special). The original location is on College Ave. in Oakland.
topAccommodations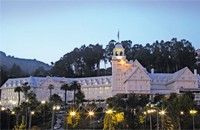 41 Tunnel Road
Berkeley, CA 94705
Tel: (510) 843-3000
Immense but graceful, this historic hotel has been a symbol of luxury in the Bay Area since 1915, and its Mediterranean-style façade, bright white against the green Berkeley Hills, is a local landmark. Brad Pitt and Angelina Jolie were recent guests. 279 unique rooms, award-winning 20,000-square-foot spa.
2086 Allston Way
Berkeley, CA 94704
Tel: (510) 845-7300
Originally opened in 1910, the historic Hotel Shattuck reopened in 2010 after a major renovation. It's now sleek and stylish, with a modern sense of playfulness (though some rooms are still on the small side). 199 rooms, some with Bay or Golden Gate Bridge views. Very centrally located near the Downtown Berkeley BART. If you aren't staying here, it's still worth popping into the elegant lobby for a cocktail. The hotel restaurant, FIVE, gets consistently good reviews.
Copyright 2013 MyLittleSwans, LLC. All rights reserved. My Little Swans, the logo and Share a world of experience are registered Trademarks of MyLittleSwans, LLC. Use of this site constitutes acceptance of our Terms of Use and Privacy Policy.