Destination:
San Francisco and the Bay Area
Marin County
Made famous by the 1977 novel The Serial, Marin is no longer a hotbed of communes and hot tubs – but the towns of Mill Valley and Sausalito (just across the Bay from San Francisco) have maintained their small-town feel and funky charm even as their residents grow more affluent. The north and west portions of the county are woodsy and rural, with large areas of redwood forest, rolling pasturelands, and rugged, pristine coastline—Marin has the highest percentage of protected land in the Bay Area, stretching from the headlands near the Golden Gate Bridge to the tip of Tomales Point. Marin is popular with outdoorsy, active types who enjoy close proximity to Mt. Tamalpais, Pt. Reyes and both the Pacific and the Bay – sailing, kayaking and hiking opportunities abound.
topSights and Attractions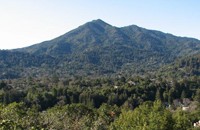 Preserved as a state park in 1928, "Mt. Tam" is Marin's iconic landmark, reaching 2,571 feet – on a clear day, views from the top can stretch for 25 miles. More than 50 trails cover its slopes, passing through oak woodlands and redwood groves and connecting to a wider network of trails leading through the Golden Gate National Recreation Area and Muir Woods.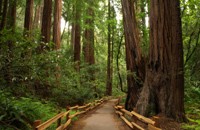 Park open 8am year round; Visitor Center open 9am year round. Closing times vary.
Muir Woods attracts a lot of weekend visitors, and parking can be a challenge, especially during summer – consider taking the weekend Muir Woods Shuttle from Marin City (May-Oct) or the Sausalito Ferry Terminal (May-Sep).
The towering, ancient redwood groves of Mt. Tamalpais have been a popular tourist destination for well over a century. In 1905, to protect the area from development, local businessman William Kent and his wife Elizabeth, bought 294 acres of forest and gifted it to the U.S. government. At their request, President Theodore Roosevelt proclaimed the forest Muir Woods National Monument, in honor of naturalist John Muir.
Today, visitors can stroll the wooden boardwalks that weave through the grove, or climb deeper into the forest on one of the many hiking trails.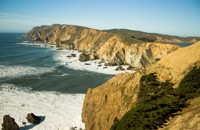 38 miles north of San Francisco (1.5 hr drive)
Jutting out from the western shore of Marin County, this pristine, 100-square-mile peninsula of beaches, estuaries and forested hills offers nearly 150 miles of hiking trails, permit-only camping, and a plethora of other recreation opportunities. Much of the landscape is unchanged from the days when it was home to the Miwok Indians. On his circumnavigation of the globe, Sir Francis Drake is said to have set up camp on the beach of what is now Drake's Bay in 1579. Saved from plans to build a housing development here in the 1950s, the area was named a National Seashore by President Kennedy in 1962.
Bear Valley Visitor Center
.5 miles west of Olema on Bear Valley Road
Tel: (415) 464-5100
Open weekdays 9am-5pm, weekends and holidays 8am-5pm. Closed Dec 25.
The park's primary visitor center offers maps, books, posters, and an informative exhibit on the flora, fauna, and cultural heritage of the region.

Earthquake Trail
This 0.8 mile trail near the Bear Valley Visitor Center offers facts and visuals about the Great Quake of 1906 that leveled much of San Francisco. The San Andreas fault, where the quake was centered, runs right through Tomales Bay – a series of fence posts off the Earthquake Trail shows just how far the earth shifted that day.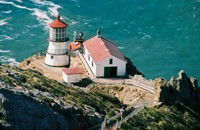 Pt. Reyes Light
Sir Francis Drake Blvd (45 min drive from Bear Valley)
Visitor Center, stairs and exhibits open Thu-Mon, 10am- 4:30pm
Weekends and holidays during whale-watching season, the road to the lighthouse is closed to private vehicles. A shuttle bus operates from the South Beach junction to the lighthouse Dec-Apr.
At the far edge of the peninsula is historic Pt. Reyes lighthouse, built in 1870 at what is still the foggiest and windiest point on the West Coast. 300 steps lead down to the building – the lens room, featuring the original, rotating 19th-century Fresnel lens, is open from 2:30-4pm Thurs-Mon.
topRestaurants
17 Throckmorton Avenue
Mill Valley, CA 94941
Tel: (415) 388-0741
First opened as a restaurant in 1948, this Mill Valley icon was taken over by Tyler Florence and co-owner Sammy Hagar and reopened as a "House of Chops" in 2011. Many of the features of the original mission-style building remain. Chef Preston Clark offers a straightforward but excellent menu of steaks, chops, salads and seafood.
601 Murray Circle, Fort Baker
Sausalito, CA 94965
Tel: (415) 339-4750
This restaurant was awarded a Michelin star 2009-2011, but lost their star this year after a change in chefs. We enjoyed several excellent meals here in previous years, and we're betting it's still very good. Enjoy lunch or drinks and appetizers on the historic patio, with views of the Golden Gate Bridge, or dine in their cozy dining room. (We will let you know when we dine here next.)
11285 Hwy. 1
Point Reyes Station, CA 94956
Tel: (415) 663-9988
This modest but sophisticated restaurant serves what they call "Point Reyes Italian," using locally sourced, organic ingredients.
777 Bridgeway
Sausalito, CA 94965
Tel: (415) 332-7771
Seasonal Italian cuisine, served with a view of Sausalito harbor. Hand-made cured meats and burrata, wood-fired pizzas and meat dishes.
107 Caledonia Street
Sausalito, CA 94965
Tel: (415) 332-3620
A Sausalito institution for 25 years, this restaurant's fusion of Pacific and Japanese cuisine consistently gets rave reviews.
topAccommodations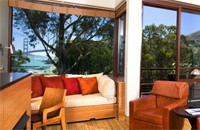 601 Murray Circle, Fort Baker
Sausalito, CA 94965
Tel: (888) 651-2003 or (415) 339-4700
This historic Army post at the foot of the Golden Gate Bridge was opened as a luxury resort in 2008. Guests can choose from historic lodgings in the carefully restored former officers' residences, or contemporary rooms perched on the hillside, built to the highest green standards and offering sweeping Bay views. The lodge is kid- and pet-friendly and offers spa treatments and a cooking school.
Copyright 2013 MyLittleSwans, LLC. All rights reserved. My Little Swans, the logo and Share a world of experience are registered Trademarks of MyLittleSwans, LLC. Use of this site constitutes acceptance of our Terms of Use and Privacy Policy.