Destination:
Paris and Day Trips
Montmartre
Perched atop a hill (the Butte) overlooking Paris, Montmartre's steep, narrow streets offer plenty of charm. A mecca for painters and poets for 200 years, the area is still popular with street artists, and some of its famously exotic nightspots still exist.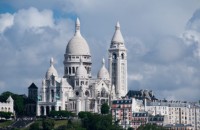 35 rue du Chevalier-de-La-Barre, Paris 18è
+33 (0)1 53 41 89 00
basilique@sacre-coeur-montmartre.com
Basilica: 6am–11pm daily
Dome and crypt: 9:15am-5:30pm daily

The distinctive white dome of this spectacular church is the second-highest viewpoint in Paris after the Eiffel Tower. A huge Byzantine mosaic of Christ dominates the interior; the arched vaults of the crypt house sacred relics.

To avoid the steep climb up to Sacré-Couer, take the funiclaire cable railway from the end of rue Foyatier.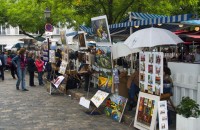 Place du Tertre
This picturesque square at Paris' highest point is lined with restaurants and filled with portrait artists.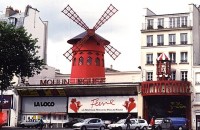 82 boulevard de Clichy, Paris 18è
+33 (0)1 53 09 82 82
Dinner: 7 pm, 1st show: 9 pm, 2nd show: 11 pm nightly

Made famous by Toulouse-Lautrec's drawings and posters, this dance hall will forever be associated with the cancan, which is still performed here nightly.
topShopping

2 rue Charles Nodier, Paris 18è
+33 (0)1 46 06 92 25    
Mon-Sat 10am–6:30pm
Closed Mon in Aug
Fabrics
topRestaurants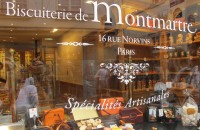 83 rue Lepic, Paris 18è
+33 (0)1 46 06 84 77
Daily 12am-11pm

Now a restaurant, this windmill-turned-dance hall was immortalized by Renoir in his painting Bal du Moulin de la Galette, on display in the Musée d'Orsay.
topItinerary
Moulin de la Galette or one of many restaurants on Place du Tertre
The Place du Tertre is touristy, but can be fun for the kids
If you want to purchase fabric, you may want to stop by Marché Saint Pierre
Copyright 2013 MyLittleSwans, LLC. All rights reserved. My Little Swans, the logo and Share a world of experience are registered Trademarks of MyLittleSwans, LLC. Use of this site constitutes acceptance of our Terms of Use and Privacy Policy.