Destination:
Paris and Day Trips
Eiffel Tower and Invalides
The Invalides quarter gets its name from the impressive Hôtel des Invalides, a hospital for wounded veterans built by Louis XIV and the final resting place of Napoleon Bonaparte. To the east are embassies, luxurious townhouses and the French Parliament – to the west, a stretch of formal gardens leads to Paris' famous icon, the Eiffel Tower.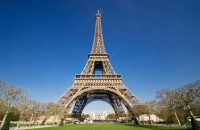 Champ de Mars, Paris 5è
+33 (0)1 44 11 23 23
Daily Jan to mid-Jun 9:30am-11:45pm; mid-Jun to Sept 9:00am-12:45am;
Sept-Jan 9:30am-11:45pm

Now the enduring symbol of Paris, the Eiffel Tower was meant to be temporary. Critics scoffed when it was built for the Universal Exhibition of 1889, but it became a star attraction, loved by Parisians and visitors alike. Despite its delicate appearance, the tower was engineered for strength and was the world's tallest building until 1931. On a clear day, views from the top can reach 45 miles.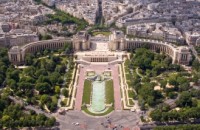 Palais de Chaillot
17 place du Trocadéro, Paris 16è
Wed-Sun 9:45-5:15pm
Closed Tue

Built in 1937 for the Paris Exhibition, the immense Palais de Chaillot stands across the river from the Eiffel Tower. Its curved wings house four museums: the Musée de l'Homme, the Musée de la Marine, the Musée des Monuments Français and the Musée du Cinéma. It's worth walking past, but if your time is limited, we recommend concentrating on the other attractions.
topMuseums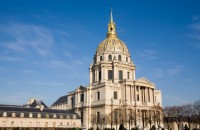 Hôtel des Invalides
129 Rue de Grenelle, Paris 7è
+33 (0)1 44 42 37 72
accueil-ma@invalides.org
Daily Apr-Sept 10am–6pm; Oct-Mar 10am–5pm
Closed first Mon of the month
Closed Jan 1, May 1, Nov 1, Dec 25

This museum within Hôtel des Invalides offers one of the world's most comprehensive displays of military history, from the Stone Age through WWII. Much of the eastern gallery is dedicated to Napoleon's campaigns and exile.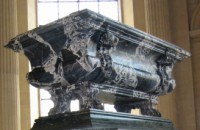 Eglise du Dôme
Oct-Mar Mon-Sat 10am-5pm, Sun 10am-5:30pm
Apr-June 14, Sept 16-30 Mon-Sat 10am-6:30pm, Sun 10am-5:30pm
June 15-Sept 15 10am-7pm daily

The Dôme Church housing the tomb of Napoleon Bonaparte is a 17th century masterpiece. Directly below the dome is the glass-topped crypt – nested inside the sarcophagus are six coffins, each made of a different material.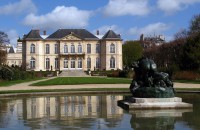 79 Rue de Varenne, Paris 7è
+33 (0)1 44 18 61 10
Tue-Sun Apr–Sept 9:30am–5:45pm; Oct–Mar 9:30am–4:45pm
Closed Mon

Auguste Rodin, the great 19th-century French sculptor, spent the last years of his life living and working in the elegant Hôtel Biron. The mansion is now a museum dedicated to his works, displaying celebrated pieces such as The Thinker and The Kiss.
topRestaurants and snacks
2nd floor south pillar, Eiffel Tower, Paris 5è
+33 (0)1 45 55 61 44
Daily 12:15-1:30pm, 7:15–9:30pm

Wonderful views. Now operated by Alain Ducasse. Make reservations 2 weeks in advance.
5 rue de Montalembert, Paris 7è
+33 (0)4 42 22 56 56
Daily 11:30-3:30pm, 6:30-12am
A new concept in dining – the kitchen opens on a circular bar that allows guests to watch dishes being prepared, and to compose their own meal. The menu offers great classics to taste in small, tapas-style portions.
20 rue Saint-Benoît, Paris 6è
+33 (0)1 45 49 16 00
No reservations. Seatings at 8pm – line forms by 7:30pm.
Les Deux Abeilles, Salon de Thé
189 rue de l'Université, Paris 7è
+33 (0)1 45 55 64 04
Mon–Sat 9am–7pm
Closed Sun
16 Avenue Rapp, Paris 7è
+33 1 47 05 74 20
Tue-Sat 12:15pm-11pm

Fresh, innovative cuisine, affordable prix fixe menu, friendly service.
135 rue St-Dominique, 7è
Tel: +33 1 45 55 15 05
Tues-Sat noon-2:30pm and 7-10:30pm

Elegant yet welcoming restaurant offering creative, dazzling French cuisine. Chef-owner Christian Constant has been hailed as "the new Robuchon."
Thé aux 3 Cerises
47 Avenue Suffren, 7è
Tel: +33 (0)1 42 73 92 97
Open Tue-Fri 11am-6:30pm; Weekends 11:30am-7:30pm
A calm place where you can rest, eat, drink a little tea in a beautiful teahouse setting.
topShopping
Bruno Frisoni
34 rue Grenelle, Paris 7è
+33 (0)1 42 84 12 30
Tue-Sat 2-7 :30pm
Designer shoes
Iris
28 rue Grenelle, Paris 7è
+33 (0)1 42 22 85 21
Designer shoes
38 rue Grenelle, Paris 7è
+33 (0)1 42 22 33 07
Mon-Sat 10 :30-7pm
Designer shoes
topItineraries
Museums in Invalides (Musée de l'Armée, Napoleon's Tomb) and Musée Rodin
OR
Musée d'Orsay (see St. Germain-des-Pres)
Le Jules Verne in Eiffel Tower
Copyright 2013 MyLittleSwans, LLC. All rights reserved. My Little Swans, the logo and Share a world of experience are registered Trademarks of MyLittleSwans, LLC. Use of this site constitutes acceptance of our Terms of Use and Privacy Policy.