Destination:
Paris and Day Trips
Greater Paris
While there's plenty to see and do in central Paris, the outskirts offer some wonderful escapes, from verdant parks to exceptional but little-known museums. Easily accessible by car or Metro, these sites make a perfect half-day jaunt.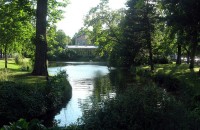 Bois de Boulogne
Paris, 16è
Open 24 hrs daily

This vast greenbelt west of Paris was once part of an ancient forest. Napoleon III had it landscaped into one of Paris' favorite retreats, with acres of lovely grounds for strolling, boating and picnicking.
Jardin d'Acclimatation
Daily 10am-7pm (summer), 10am-6pm (winter)

This children's amusement park in the Bois de Boulogne is always our first stop in Paris. My kids and I come here to do just what the name implies – acclimate, stretch our legs and shake off the jetlag. The park features an arcade, roller coasters, puppet shows, rides, and a small zoo.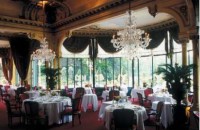 Le Grande Cascade
Allée de Longchamp
Bois de Boulogne, Paris 16è
+33 (0)1 45 27 33 51
Daily 12:30-2:30, 7:30-10pm
Reservations required. Formal to semi-formal dress recommended.

Originally the private pavilion of Napoleon III, the Grand Cascade is now an elegant Michelin star restaurant.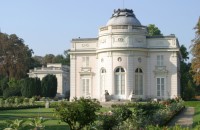 Parc de Bagatelle
Daily 9am-7pm (May–Aug until 8pm)

Wonderful rose garden in Bois de Boulogne. Roses in full bloom from June through October. Often hosts special exhibitions or events.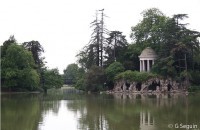 Bois de Vincennes
Paris 12è
Daily, dawn to dusk

Flanking Paris on two sides, the Bois de Vincennes and Bois de Boulogne are sometimes referred to as "Paris' lungs." The Bois de Vincennes, located southeast of the city center, features three charming lakes, the Parc Floral (a 70-acre botanical garden), a major zoo, and the imposing Château de Vincennes.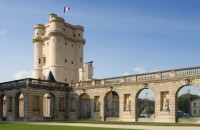 Château de Vincennes
Ave de Paris, Vincennes, Paris 12è
Daily 10am-noon, 1:15-6pm (5pm in winter)

Surrounded by a moat and wall, this castle was the French royal residence before Versailles, and is one of the most important castles in French history. The donjon, or keep, is the highest fortified medieval building in Europe.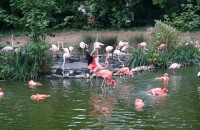 9am-6pm Mon-Sat, 9am-6:30pm Sundays and holidays (summer);
9am-5pm Mon-Sat, 9am-5:30pm Sundays and holidays (winter)

This zoo is one of the largest in Europe, with 1200 animals on display. It was one of the first to offer landscaped habitats for its animals rather than cages.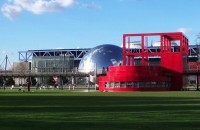 Parc de la Villette
30 Ave Corentin-Cariou, Paris 19è
10am-6pm Tue-Sun

This massive urban park offers a number of attractions for children, including the huge Cité des Sciences (with fascinating hands-on displays), the Cité des Enfants (a science and nature museum for younger children) and the mazelike children's playground.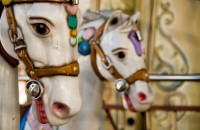 Jardin du Ranelagh
Avenue Rapahel and Prudhon

These marvelous English-style gardens have one of the last hand-cranked merry-go-rounds in Europe. The carousel is powered by a middle-aged woman with forearms rivaling those of Arnold Schwarzenegger! See if your young ones can grab a brass ring. And don't miss one of the best kept secrets in Paris, the Musée Marmottan directly across the street.
topMuseums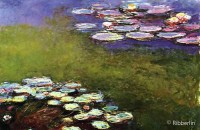 Musée Marmottan
2 Rue Louis Boilly, Paris 16è
10am-5pm Tue-Sun

The former home of an art historian, this museum contains the world's largest collection of works by Claude Monet, including Impression – Sunrise, the painting that gave the Impressionist movement its name.
topCemetery and Catacombs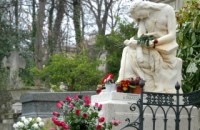 Boulevard Menilmontant at Avenue Gambetta, Paris 20è
+33 (0) 55 25 82 10

The largest cemetery in Paris is the resting place of many of its favorite sons and daughters – Moliere, Balzac, Proust, Chopin, Pissarro, Modigliani, Seurat, Edith Piaf, Isadora Duncan, Oscar Wilde, Gertrude Stein, Alice B. Toklas, and Jim Morrison.

This 108-acre sanctuary is as much of a park as it is a graveyard. Parisians by the hundreds come here to picnic. Perfectly safe during daylight hours, but don't go at night.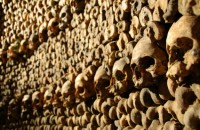 Catacombs
1 Place Denfert-Rochereau, Paris 14è
Tue-Fri 2-4pm; Sat-Sun 9-11am, 2-4pm
Closed Mon
The Catacombs began as a number of quarries that extended for miles beneath the city of Paris. In 1700s, millions of skeletons were transferred to these quarries from the overcrowded Cimetière des Innocents. Best known as the secret headquarters for the French Resistance. Today, mostly known for highly illegal, (meaning popular) parties. Still tourists visit in droves each year. Bring a flashlight.
4 Place du Trocadero, 16è
Tel: 33 (0)1 47 27 98 85
Hours: Mon-Sun 7am to 11pm
Carette offers hand-made chocolates, macarons, pastries and light lunches.
111 RUE DE LONGCHAMP, 16è
Tél: +33 (0)1 47 04 00 24
Open Tue-Sun from 8am to 8pm
Closed Monday
topShopping
61, rue d'Hauteville, Paris 10è
+33 (0)1 40 22 08 32
The original Jamin Puech boutique, it now sells vintage models of their one-of-a-kind handbags.
Copyright 2013 MyLittleSwans, LLC. All rights reserved. My Little Swans, the logo and Share a world of experience are registered Trademarks of MyLittleSwans, LLC. Use of this site constitutes acceptance of our Terms of Use and Privacy Policy.