Explore by Area - Kyoto
Rich with cultural treasures and traditions, the ancient imperial capital of Kyoto is Japan's spiritual heart. With its charming old neighborhoods, magnificent temples, and centuries-old customs, Kyoto has a serenity and refinement that's very different from frenetic Toyko – yet, the historic center is surrounded by a lively modern city.
topCentral Kyoto
Kyoto Imperial Park
3 Kyoto Gyoen, Kyoto
Open 24 hours
This spacious park in the heart of Kyoto houses the Imperial Palace, as well as the impressive Kenreimon Gate, which may be used only by the emperor.
Kyoto Imperial Palace
3 Kyotogyoen, Kamigyo-ku, Kyoto
+81 (0)75 211 1215
Tours in English: Mon-Fri 10am, 2pm Tours in Japanese: 3rd Sat of every month; Apr-May, Oct-Nov every Sat Closed national holidays, Dec 28-Jan 4 Reservations required from the Imperial Household Agency Kyoto Office either online or in person at least four days in advance or in person at the palace grounds near the NE corner, Mon-Fri 8:45am-12pm and 1-5pm. Foreign visitors can apply in person in advance or on the day of the tour (before 9:40am for the 10am tour, before 1:40pm for the 2pm tour). A one-day advance application is required for Sat tours. You must be 18 or older, or accompanied by an adult, and you must present your passport. Parties of no more than nine may apply.
Formerly the residence of Japan's imperial family, this palace was still used for enthronement ceremonies until recently. The complex features a number of halls, gates and gardens.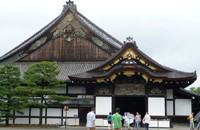 Nijo Castle
Entrance on Horikawa Dori at Nijo Dori
+81 (0)75 841 0096
Open daily 8:45am-5pm; closed Tues Dec-Jan & Jul-Aug, and Dec 26-Jan 4
A World Cultural Heritage site, this castle was constructed in 1603 as the residence of Shogun Tokugawa Ieyasu. It's known for its unusually ornate interiors and "nightingale floors," designed to squeak when walked on and warn of intruders.
Kawaramachi-dori
It's worthwhile spending a couple of hours shopping on Kyoto's main street and the surrounding area. We found great soccer/sports shops, department stores and a game arcade, all within a few blocks. Here is one we recommend:
Takashimaya
Shijo-Kawaramachi (Southwest corner Kawaramachi & Shijo)
Shimogyo-ku, Kyoto
+81 (0)75 221 8811
Department store
Nishiki-Koji Dori Market
On Nishiki-koji from Teramachi-dori west to Takakura-dori, 1 block north and parallel to Shijo-dori
Open daily 10am-6pm. Some shops close on either Wed or Sun.
This 400-year-old produce market in a covered arcade in the heart of old Kyoto is lined with 150 vendors selling fish, flowers, eggs, pickled vegetables, fruit, seaweed, sweets, tofu, tempura, takeout foods, and crafts as well as the best knife shop in Japan.
Aritsugu
219 Kajiya-tyo, Nishiki-Koji Dori, Gokomachi Nishi-iru, Nakagyo-ku, Kyoto
+81 (0)75 221 1091
Open 9am-5:30pm
Located in the Nishiki market, the Aritusgu shop dates back to 1560. Its hand-crafted knives are truly works of art. Tell them the specific purpose for your knife – whether it will cut fish, meat, vegetables or fruit – and if you want it left or right-handed, and they will make it to order. You can also get it engraved. (It's a great gift idea.) The shop also sells hand-beaten copper rice spoons or hand-woven copper tea strainers.
topEast Kyoto
topGion District
Elegant and gaudy by turns, Gion is Kyoto's traditional geisha quarter and main entertainment district. Highlights include tea houses, the Kiyomizu-dera Temple, and a number of famous shrines, as well as the flagstone-paved roads of Sannenzaka and Ninenzaka, within a preservation district.
Kiyomizu-dera Temple
1 Kiyomizu, Higashiyama-ku, Kyoto-shi, Kyoto
+81 (0)75 551 1234
Open daily 6am-6pm
This temple complex, established in 778, contains buildings from the 15th-17th centuries. Pilgrims have climbed the slope to drink from its sacred springs for over 1,000 years. The main hall offers magnificent views of the city below.
Jishu Shrine
+81 (0)75 541 2097
Closes at 5pm
The Shinto shrine behind Kiyomizu's main hall is considered the dwelling place of the god of love and matchmaking.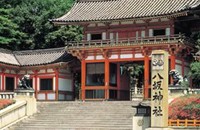 625 Gion-machi, Kitagawa, Higashiyama-ku, Kyoto
+81 (0)75 561 6155
Open 24 hours
This popular shrine hosts the annual Gion Matsuri, Kyoto's main festival, in July, as well as the traditional Japanese New Year celebrations.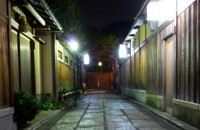 Ishibe-Koji Lane
Nowhere is the peaceful spirit of old Kyoto more evident than this charming lane, lined with exquisite wooden buildings, discreet teahouses, and tiny gardens.
Tea Houses
Admittance to tea houses is only possible through an introduction. They are the best places to see a Geisha or a Maiko (young Geisha in training).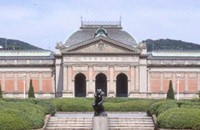 527 Chayamachi, Higashiyama-ku, Kyoto
+81 (0)75 541 1151
Open Tue-Sun 9:30am-5pm (to 8pm Fri). Closed Mon & winter holiday period. When Monday is a national holiday, the museum is open on Monday and closed on Tuesday. The Collections Hall is currently closed for renovation; scheduled to reopen in 2014.
Notable exhibits include Buddhist ink paintings, pictorial textiles and Heian-period sculptures.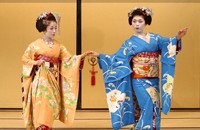 Yasaka Hall, Hanamikoji Dori, Shijo-sagaru, Gion, Higashiyama-ku, Kyoto
+81 (0)75 561 1119
Performances Mid Mar-Nov, 7 & 8pm daily; Dec till mid-Mar, Fri, Sat, Sun and holidays only. Closed Jul 16, Aug 16, Dec 29-Jan 3
Catering to tourists, Gion Corner offers special variety programs in the ancient cultural arts. You'll see short demonstrations of the tea ceremony, ikebana (flower arranging), koto (Japanese harp) music, gagaku (ancient court music and dance), kyogen (Noh comic play), kyomai (Kyoto-style dance) performed by Maiko, and bunraku (puppetry). A 30-minute tea ceremony follows each performance.
topPhilosopher's Path
No one should miss this 1.6 mile walk along the tree-lined Shishigatani Canal – especially in the spring during the cherry blossom season. The walk begins at Nanzen-ji and ends at Ginkaku-ji (the Silver Pavilion). We recommend that you stop for a cup of tea in one of the many quaint cafes along the way.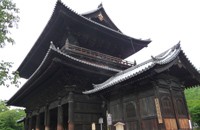 Nanzen-ji Temple
Open daily Mar-Nov 8:40am-5pm, Dec-Feb 8:40am-4:30pm
One of Japan's biggest and most important Zen temples, with a massive main gate erected in 1628. Before entering, be sure to visit the Konchi-in sub-temple to see a beautiful dry garden by renowned Edo-period architect Kobori Enshu. Within the main compound, the Hojo (Abbot's Quarters) holds a number of treasures including a series of painted fusama (sliding doors) depicting tigers in gold leaf, and the "Leaping Tiger" dry garden, also attributed to Enshu.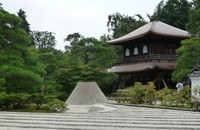 Office of Jisho-ji (Ginkaku-ji)
2 Ginakuji-cho, Sakyo-ku, Kyoto
+81 (0)75 771 5725 (Japanese only)
Open daily Mar 15-Nov 8:30am-5pm; Dec-Mar 14 9am-4:30pm
The so-called Silver Pavilion never received its namesake plating – nonetheless, it's duly famous as a center of Japanese culture, where arts such as flower arranging and the tea ceremony were perfected. It's also revered as a masterpiece of garden design.
topOther Notable Sights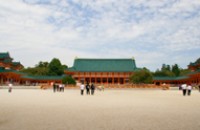 Heian-jingu Shrine
97 Nishitenno-cho Okazaki, Sakyo-ku, Kyoto
+81 (0)75 761 0221
Open daily Mar 1-14; Sep 1-10 6am-5:30pm Mar 15-Aug 31 6am-6pm; Nov-Feb 6am-5pm The surrounding gardens open at 8:30am and close 1/2 hour before the shrine.
This shrine was built in 1895 to commemorate the 1,100th anniversary of the founding of Kyoto. The main building is designed to recreate the Imperial Palace on a 3/4 scale, while the traditional gate at the front is one of Japan's largest.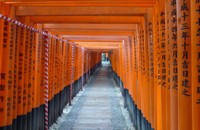 Fushimi Inari Taishi
1.5 miles south of Kyoto Station
68 Yabunouchi-chō, Fukakusa Fushimi-ku
Open dawn-dusk
This spectacular shrine is the main shrine of the Inari cult, devoted to the god of rice and sake. It's famous for its maze of over 10,000 vermillion torii gates that form a meandering series of paths up the hillside. Here and there are sub-shrines containing miniature torii and stone foxes wearing red scarves (the fox is considered a messenger of the rice gods and a symbol of business). Surreal and mesmerizing.
topWest Kyoto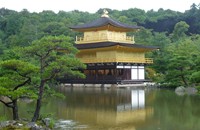 1 Kinkakuji-cho, Kita-ku, Kyoto
+81 (0)75 461 0013 (Japanese only)
Open aily 9am-5pm
Aptly known as the Golden Pavilion, this graceful three-story temple is entirely covered in gold leaf. Built in 1397, the temple was rebuilt to its original glory in 1955 after a devastating fire, and is now a UNESCO World Heritage Site.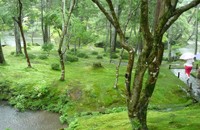 Saiho-ji (also known as Kokedera, or "Moss Temple")
56 Jingatani-cho, Matsuo, Nishikyo-ku, Kyoto City, 615-8286
+81 (0)75 391 3631
Advance application required. To make a reservation, send a request by postal mail to the above address with your name, the number of people in your group, the name and address of your group representative (if any) and the proposed date of your visit, along with a self-addressed, stamped postcard. The request must reach the temple at least seven days before your intended visit, but more time is recommended (especially if sending from abroad). Within Japan, a special return postcard called an ofuku hagaki is available from the post office for these purposes.
With its lush, mystical gardens draped in over 120 varieties of moss, this out-of-the-way temple is well worth a visit. Founded during the Nara Period (710-794) and restored in 1338, it is now a UNESCO World Heritage site. Before exploring the gardens, visitors must attend a brief Zen service that involves chanting a sutra, painting the sutra's characters in ink, and placing the paper before the altar.
topDay Trips
20-min bullet train ride from Kyoto to Himieji. The castle is a 15-minute walk due north of Himeji Station via Otemae Dori.
68 Honmachi, Himeji-shi, Hyogo
+81 (0)792 85 1146
Open Apr 27-Aug 31 9am-6pm daily, Sept-May 9am-5pm daily; Closed Dec 29-31.
The grandest of Japan's 12 remaining feudal castles, this great compound has never been damaged by warfare, earthquakes or fires. It's now a UNESCO World Heritage site. With its robust fortifications and graceful design, it's considered by many to be the ultimate samurai castle – renowned filmmaker Akira Kurasawa used it as a backdrop for his film Ran.
40-minute Limited Express train ride from Kyoto on the Kintetsu-Kyoto Line
This town 35km south of Kyoto was Japan's first permanent capital, and a major center of art and culture during the 7th and 8th centuries. The town is filled with historic treasures, most found within a fairly compact area. The center of town is dominated by Nara Park, home to Todai-ji Temple and some 1,200 semi-wild sika deer, once considered sacred. Stands throughout the park sell special crackers for feeding the deer, but be warned that they can be rather aggressive.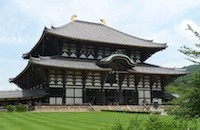 Todai-ji Temple
406-1 Zoshi-cho, Nara-shi, Nara
Open daily 8am-5pm
Nara's most famous temple was founded in 745 by Emperor Shomu to ward off epidemics. The main hall (Daibutsu-den, or Great Buddha Hall) is the world's largest wooden building – which makes the fact that the original building was 1/3 larger even more impressive. Within is Japan's largest bronze statue, rising 50 feet in height.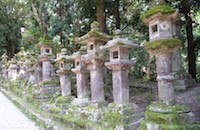 Kasuga Taisha
160 Kasugano-cho, Nara-shi, Nara
Open daily 6am-6pm Apr-Sep, 6:30am-5:30pm Oct-Mar
Founded in 768, this was the tutelary shine of the Fujiwara family, the most powerful clan during the Nara period. The shrine is famous for its many beautifully crafted bronze lanterns, donated by worshipers, and for the nearly two thousand stone lanterns which line its pathway. The lanterns are lit to spectacular effect during the Mantoro (ten-thousand lanterns) festivals on Feb 3 and Aug 14-15.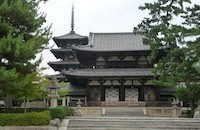 Horyu-ji
Approx 6 miles southwest of Nara
1-1 Hōryū-ji Sannai, Ikaruga-chō, Ikoma-gun, Nara Prefecture
Open daily 8am-5pm (8am-4:30pm early Nov-late Feb)
Dating from 607 AD, this temple complex is a UNESCO World Heritage site, home to the Five-Story Pagoda, Japan's oldest five-tier pagoda, and the Kon-do (Golden Hall), the world's oldest surviving wooden structure. Within the Kon-do are a number of priceless treasures, including several ancient Buddha statues and four heavenly guardians carved of camphor wood.
topMiho Museum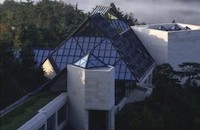 Approx 1 hr drive from Kyoto. Or, from Kyoto Station, take the JR Tokaido Line to Ishiyama Station (15 min) and the Teisan bus from the station to the museum (50 mins)
Open Tue-Sun 10am-5pm (admission until 4pm). Closed Mondays. Closed mid-Dec to early March and several weeks in June/July and Aug/Sep – check website for exact dates
Located in a mountainous rural setting, the Miho Museum was founded by Mihoko Koyama, a textile heiress and former leader of the Shinji Shumeikai (Shumei) spiritual organization. The I. M. Pei-designed building is considered a masterpiece, blending modern forms with traditional Japanese motifs and harmonizing perfectly with its surroundings. Koyama's remarkable art collection is housed in two wings: the north wing contains priceless Japanese works of art and design; the south wing contains artifacts from around the world, including ancient Egypt and China.
Copyright 2013 MyLittleSwans, LLC. All rights reserved. My Little Swans, the logo and Share a world of experience are registered Trademarks of MyLittleSwans, LLC. Use of this site constitutes acceptance of our Terms of Use and Privacy Policy.