Jordaan and the Western Canals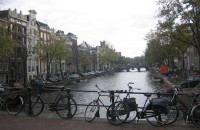 The medieval center of Amsterdam was originally surrounded by the Singel, a protective moat. In the 17th century, several outer rings of canals (the Grachtengordel, or "girdle of canals") were built, in order to reclaim land that was still underwater and extend the city's boundaries. The three main canals – Herengracht, Keizersgracht, and Prinsengracht – were set aside for the residences and businesses of the wealthy, while less affluent citizens occupied the cross streets.
The oldest and most charming parts of the Grachtengordel are found in the Western portion of the ring. Here, the streets are lined with one-of-a-kind boutiques and quirky shops and galleries. It's a great neighborhood for simply wandering around and making discoveries.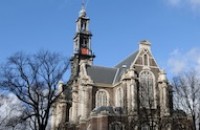 Westerkerk
Prinsengracht 281
Open Mon-Sun 11am-3pm
With its distinctive 279-foot tower, the tallest in Amsterdam, this elegant church is the dominant landmark of the Western Canal Ring. It was completed in 1631 and is reported to be Rembrandt's burial place, though his tomb is unmarked. In summer, you can climb the tower for a lovely view of the city.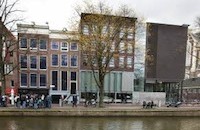 Prinsengracht 263-267
Open daily Sep 15-Mar 14 9am-7pm (Sat 9am-9pm); Mar 15-Sep 14, 9am-9pm (Sat from 9am-10pm). Jul & Aug, open daily until 10pm.
Jewish teenager Anne Frank and her family hid from the Nazis within this house for two years during World War II. Visiting the Secret Annexe where they lived is a profoundly moving experience – those rooms have been left largely intact, while the lower levels provide history and background through interactive displays.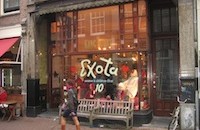 South of Raadhuissstraat, and between the Singel and Prinsengracht canals, this cluster of small, narrow streets is one of the best shopping districts in the city, with dozens of specialty boutiques selling clothing, accessories, housewares, toys, music, books, gourmet foods, and anything else you could wish for. Years ago this district was home to several tanneries, and some of the streets are named for animals whose skins were used in that trade – Reestraat (Deer Street), Berenstraat (Bear Street), etc.
topJordaan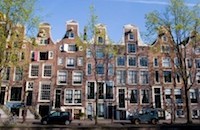 A slightly gritty working-class neighborhood in the 17th century, the Jordaan has been somewhat gentrified but still has an appealing sense of community. Rather than following a strict grid, its narrow, picturesque streets tend to meander, and are lined with houses in a mix of styles, traditional bruin cafés, and convivial bars. There are few important sights here but it is still a very pleasant district to stroll around. Noordermarkt, the square in front of the Noorderkerk, hosts several markets each week, including a Monday flea market and a Saturday farmer's market.
Copyright 2013 MyLittleSwans, LLC. All rights reserved. My Little Swans, the logo and Share a world of experience are registered Trademarks of MyLittleSwans, LLC. Use of this site constitutes acceptance of our Terms of Use and Privacy Policy.