For Kids
From kid-centric museums to parks to pancakes, Amsterdam offers lots of fun stuff for children. You might want to pick up an English-language version of KidsGids, the children's guide to the Netherlands – try Athenaeum Niewscentrum, Spui 14-16, Old Center.
topMuseums and Attractions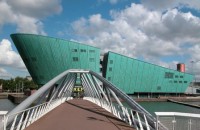 Oosterdok 2
Tel: + 31 (20) 531 32 33
Open Tue-Sun 10am-5pm (Mon in summer and official school holidays). Closed Jan 1, Apr 30 and Dec 25.
The largest science museum in the Netherlands, NEMO features five floors of entertaining, interactive exhibits that explore science and technology. Though it's mostly for kids, adults will enjoy it too.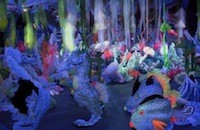 Kattenburgerplein 1
Tel: +31 (20) 52 32 222
Open daily 9am-5pm. Closed Jan 1, Apr 30 and Dec 25.
The National Maritime Museum explores 500 years of maritime history with a wide range of interactive exhibits. Special, kid-oriented activities include Sal & Lori and Circus at Sea, a journey through a fairytale, undersea world, and The Tale of the Whale, showing how man's view of whales has changed over the years. Kids will also like exploring the Amsterdam, an exact replica of an 18th-century East Indian Trading Company ship.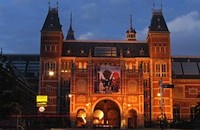 Jan Luykenstraat 1
Open daily 9am-6pm
To help kids appreciate and enjoy their phenomenal collection of Dutch masterpieces, the Rijksmuseum offers a special audio tour for kids age 6-12 (Food and Drink in the Golden Age). There's also a Family Treasure Trail for kids 4 and up (free at the Information Desk), and an activity book for kids 9 and up called I Spy with Rembrandt's Eye. Kids will also enjoy the elaborate dollhouses on display at the museum.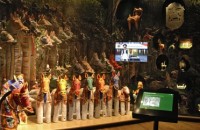 Linnaeusstraat 2
Tel: +31 (20) 56 88 200
Open Tue-Sun 10am-5pm, Mon (public holidays and school holidays, except summer holidays) 10am-5pm
The Tropenmuseum is one of Europe's leading ethnographic museums, exhibiting a huge collection of colonial artifacts from the Americas, Africa and Asia. The collection is fascinating for kids, with several exhibits you can enter or walk through, like a South Asian yurt and a replica of a Moroccan souk. The museum also offers a special activity for children 4-8 called The World Tree, which helps them discover the cultures of other children around the world. Tropenmuseum Junior develops interactive exhibitions and programs for children aged 6 to 13. Exhibitions focus on contemporary cultures, including collection (hands-on objects) and intangible heritage (dance, music, arts, crafts, stories).
topParks and Zoos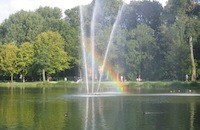 Vondelpark
Central Amsterdam's main green space offers plenty of room to run and play – perfect for blowing off steam after a morning at the nearby Rijksmuseum or Van Gogh Museum. You can rent roller skates/inline skates at Vondeltuin, Vondelpark 7 (entrance at Amstelveenseweg). Bikes can be rented at MacBike on Leidseplein, just across from the main entrance to the park. Within the park, you'll find duck ponds, ice-cream vendors and several play areas, including cool climbing towers and slides at the west end and a big playground in the center.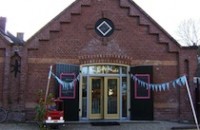 In this café in the Vondelpark, kids do the cooking, serving and cleanup, under the supervision of adults. The meals are not too complicated (sandwiches, milkshakes, cakes and cookies); parents can either drop off their kids or sip tea and watch, and then enjoy the meal the kids have made. Reservations required.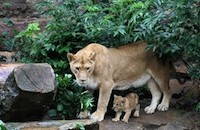 Plantage Kerklaan 38-40
Open daily Nov-Mar 9am-5pm, Apr-Oct 9am-6pm.
"Winternights at the Zoo," late Dec-early Jan, 9am-8pm. "Summer Nights at the Zoo," open until sundown every Sat Jun-Aug.
Founded in 1838, this is the Netherlands' oldest zoo, and features over 900 species of animals as well as some of the most beautiful 19th-century architecture in Amsterdam. Exhibits include an African savannah, Aquarium, Butterfly Pavilion, and Planetarium.
Westerpark
This public green space just north of the Jordaan offers ice skating in winter, roller skating in summer, a climbing structure, and the Kinderboerderij Westerpark (petting farm). In 2005 a new annex was added to the park in what used to be the city gasworks. Called Westergasfabriek, it's now a culture park with restaurants, an art-house cinema, and a fountain pool for kids.
Amstelpark
Europaboulevard
South of the center just outside the ring road, this park is a bit out of the way, but a wonderful place for kids. The vast grounds feature a petting zoo, miniature train rides, pony rides, mini-golf and a hedge maze. (Some of the activities are only open in summer).
De Carrousel
Tweede Weteringplantsoen 1
Great pancakes and poffertjes (mini pancakes), served inside a converted carousel. Located across the bridge from the Heineken brewery.
Copyright 2013 MyLittleSwans, LLC. All rights reserved. My Little Swans, the logo and Share a world of experience are registered Trademarks of MyLittleSwans, LLC. Use of this site constitutes acceptance of our Terms of Use and Privacy Policy.