Northland
Stretching from Auckland to the northern tip of the North Island, this region is the cradle of civilization in New Zealand. Here is where the earliest Maori and European settlements were founded, where the first capital of New Zealand was located, and where the historic Treaty of Waitangi was signed.
topAuckland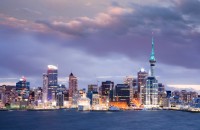 Known as the "City of Sails," this bustling, cosmopolitan South Pacific city is set on the shores of the Waitemata Harbour, which means "sparkling waters" in Maori. It's an apt name – the harbor is one of the world's most beautiful. As New Zealand's largest city, Auckland has a diverse ethnic mix and offers a wide range of cultural experiences. Most international flights land here, and it's a good idea to spend a day or two recovering from your flight and getting used to the time difference, before exploring the rest of the country.
Though greater Auckland covers more than 390 square miles, the city center is relatively compact, with most of the attractions found near the waterfront. The surrounding area features marine reserves, golden swimming beaches and black sand surf. Beyond the harbor, the lovely islands of the Hauraki Gulf are well worth visiting for their wildlife sanctuaries and recreation opportunities.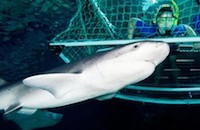 23 Tamaki Drive,
 Orakei, 
Auckland
Tel: Freephone 0800 80 50 50 (New Zealand)
Tel: +64 9 531 5065 (outside NZ)
Open daily 9:30am-5pm (last entry 4pm)
Aukland's best family attraction offers a range of interesting wildlife experiences. The new Antarctic Ice Adventure is a walk-through encounter that lets you observe the King and Gentoo Penguins at close quarters. The Aquarium's features include Stingray Bay, Seahorse Kingdom, New Zealand's only live jellyfish display, and Shark World, with a specially designed underwater viewing tunnel that brings you face to face with some of the world's largest aquarium sharks. You can even go on a cage-free scuba dive with sharks (no diving experience required).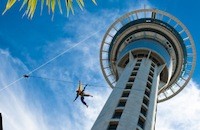 Corner of Victoria and Federal Streets
Tel: 0800 SKYCITY (08007592489) Toll free within NZ
Open Sun-Thu 8:30am-10:30pm (last tickets sold at 10pm)
, Fri & Sat 8:30am-11:30pm (last tickets sold at 11pm)
This 1,076-ft broadcasting and telecommunications facility and tourist attraction is now the tallest tower in the Southern Hemisphere. It has three viewing platforms offering 50-mile views – more intrepid visitors can take the SkyWalk around the tower's pergola, held by a full-body harness, or do the SkyJump, a 630-foot base jump by wire. The tower also features several restaurants, two hotels and a casino.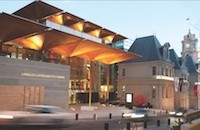 Corner of Kitchener and Wellesley Streets, 
Auckland
Tel: +64 (0)9 379 1349
Open daily 10am-5pm. Closed Dec 25.
First opened in 1888, New Zealand's oldest established gallery recently underwent a multi-million dollar, award winning redevelopment. It is now home to New Zealand's largest art collection, with more than 15,000 artworks.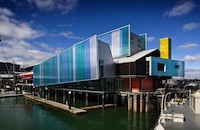 Corner Quay and Hobson Streets, Viaduct Harbour, Auckland
Tel: +64 (0)9 373 0800
Open daily 9am-5pm. Closed Dec 25.
New Zealand has a long and deep relationship with the sea, and this museum's exhibits explore this history, from the migration of the first Polynesian residents, to European settlement, to the nation's yachting heritage. Visitors can also explore Waitemata Harbor aboard a heritage brigantine sailing ship.
topAccommodations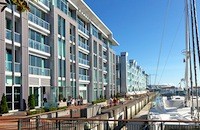 21 Viaduct Harbour Avenue, Auckland
Tel: +64 (0)9 909 9000
Overlooking Auckland's Viaduct Harbour, this is New Zealand's newest five-star waterfront hotel. Its superb location offers sweeping marina views and proximity to restaurants, shops and entertainment. 172 guest rooms and suites (each with private balcony), a range of dining options, fitness centre, indoor pool, sauna and jacuzzi.
topBay of Islands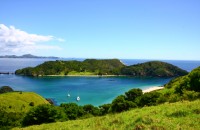 This region is named for the 150 islands scattered across the sparkling bay. It's a place steeped in history – the first centers of European settlement in New Zealand were located here, the town of Russell was New Zealand's first capital, and the treaty of Waitangi, the founding document of modern New Zealand, was signed here. Today, the area is known for its balmy climate, aquamarine waters, and wide range of water sports: sports fishing, sailing, diving, kayaking, and swimming with dolphins.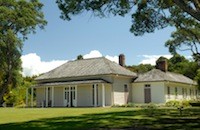 Tau Henare Drive, Paihia
Tel: +64 (0)9 402 7437
Open daily, Dec-Mar 9am-7pm; Apr-Nov 9am-5pm
The Treaty of Waitangi, an historic agreement between the United Kingdom and the United Tribes of New Zealand, was signed here in 1840. This important but controversial document is central to race relations even to this day, making Waitangi a place of great significance for both Maori and Paheka (New Zealanders of European descent). The Treaty Grounds visitor center offers an audiovisual presentation about the event; visitors can also visit the Georgian colonial Treaty House and the Maori Meeting House, marvel at one of the world's largest carved war canoes, and stroll through the gardens or along the mangrove boardwalk.
topAccommodations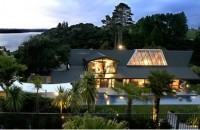 Set on a 75-acre private estate, this award-winning retreat consists of five private, luxurious homes, accommodating groups of 2-8 people. Each property offers beautiful views over the Bay of Islands and comes with the optional services of your own chef, butler, chauffeur or personal trainer. Four of the five homes feature heated, outdoor infinity pools.
topCape Reinga
Located at the northern tip of the North Island, where the Tasman Sea meets the Pacific, Cape Reinga is the most spiritually significant place in New Zealand for the Maori people. After death, all Maori spirits travel up the coast to this spot – Te Rerenga Wairua, meaning "leaping place of the spirits" – and descend into the underworld (reinga) by sliding down a root into the sea below. The lighthouse on the cape was first used in May 1941, and was the last watched lighthouse to be built in New Zealand. One of the country's iconic landmarks, it rises from the rugged shoreline at 540 feet above sea level.
Copyright 2013 MyLittleSwans, LLC. All rights reserved. My Little Swans, the logo and Share a world of experience are registered Trademarks of MyLittleSwans, LLC. Use of this site constitutes acceptance of our Terms of Use and Privacy Policy.